Love it or hate it, decorating your home is something everyone does.
If you have got a flair for the art of home decorating and know exactly how to place your furniture to maximize space and make everything look as if it belongs, you are one of the talented few.
If not, hopefully, this article will give you some ideas.
Where to start?
Whether it is your bathroom, bedroom, nursery, or kitchen, there are different things you can do to improve each room.
You can do something as cost-effective and easy as painting or hanging a piece of wall art.
Even just adding a rug to a room can improve your space and improve how you feel in your surroundings.
You could just add some storage solutions to your room to give you the appearance of more space or help you organize your belongings.
If you need storage solutions, it could be an easy place to start. Do you want somewhere to store your towels and soap?
Do you want a cupboard and spice racks to make your kitchen more organized? Do you have a baby coming and want the perfect nursery, fit to last?
The best place to start is always where ever you have the most inspiration or where needs to be done most.
Does your bathroom look a little dated and worn? Maybe a refresh of paint and some new furniture, a new unit, and some storage solutions will help the room look better?
There are so many ideas, so let's start. In this article, we will discuss some ideas on how to make those small improvements to your home to make it feel new and comfortable and give you an idea of how to maximize the space you have.
Color schemes
There are many things to consider when redecorating a space. Firstly, what colors are you going for?
Do you like vibrant bright colors or soft neutral tones? Do you want to have a feature wall? Maybe you do not know what a feature wall is and are unsure of how to do this.
Maybe for your children's bedroom, you want bright pink or beautiful blues. Maybe you're going for a theme, unicorn or car, dinosaur or princess.
Whatever your plan, colors can help inspire you. If your child wants pink walls, often white furnishing is accompanied.
In your living space, light colors and wood can help make the room look bigger, warm woods accompany creams and soft browns very well.
Living room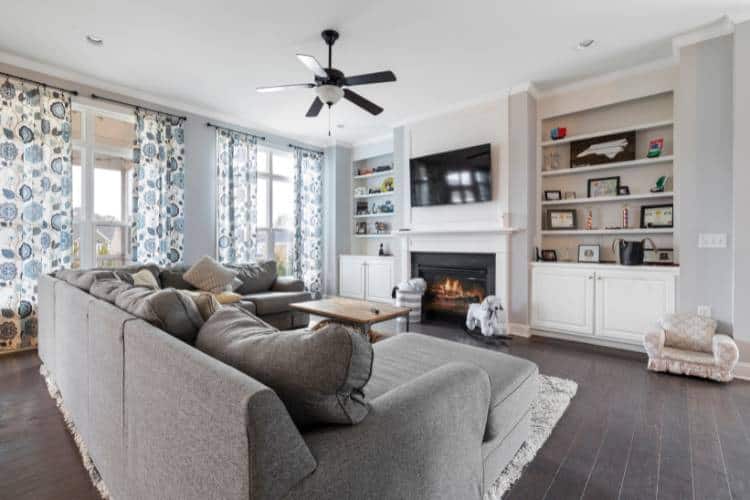 Your living room tends to be where you entertain, you will want the furniture to be comfortable and practical.
A sofa to fit with your desired color scheme and space, whether that is leather or suede, 3-seaters only, or a 3-piece suit.
Whether you want furniture like a side table, a bookcase or a TV unit. Your living room should show a little of your personality.
Whether you choose to show your taste through upgrading your rug or adding pictures and portraits to do smaller home improvements.
Make it your own.
Bathroom ideas
Your bathroom is a room you will spend time relaxing in the bath or shower. Where guests will be visiting, even unexpectedly.
It is not unusual to want space to keep your intimate items out of sight, keeping your towels away from guests.
Shelves can be a fantastic resource in bathrooms, allowing you to have storage crates to keep everything organized.
You can purchase crates and boxes in all colors to fit in with your color scheme and keep things you don't want to be seen out of sight.
Laundry hampers and towel rails are always necessary, just like a toilet brush, all of which can fit with your color schemes.
If you don't have much space, some slimline products, such as a unit to surround your basin stand, will give you added storage while making use of the space you have.
Bedroom ideas
You spend the most time in your bedroom, even if you are asleep when there.
Your bedroom should always be somewhere you want to be, somewhere you can relax.
You will need a bed, something comfortable, this is where you can use some soft furnishings such as throw pillows and bed runners to add color and character.
With some practical storage, a wardrobe, and soft furnishings, your room is complete.
You may also need to get some storage solutions for any personal belongings you have, perhaps a bookcase to store books.
If you're short on space, you can try some slim wooden bedside tables to give you somewhere to keep your bedside lamp and phone through the night.
These types of slim, space saver units can be fantastic if you don't have room to spare in your bedroom.
Kitchen ideas
Kitchens are more for practicality, to add your personal touches and improve your kitchen.
You can add things like fruit baskets and baskets to contain vegetables, such as potatoes or onions.
Add color with a chopping board or color matching your electrical appliances, like your toaster and microwave.
You can also add extra little touches with hand towels and a rug or flooring. Making the space more inviting for those times you are cooking.
If your space is big enough, breakfast bars are a very popular addition, or a nice bistro table and chair set.
Somewhere to sit with a friend and have a coffee.
Nursery/children's room ideas
Children's rooms tend to be more colorful and filled with different items; again, you may like to have slim wooden bedside tables to hold your child's night light or favorite toy.
Storage solutions are always a must in a child's room, anywhere you can store toys and items that your child may have no further use for you but you are not ready to let go of.
You can also use high-rise or mid-rise beds to give your child more space for storage or play.
Summary
To summarize, there are many different ways to do home improvements when you choose to.
Whether you choose to just paint your walls or add some new furniture, there is something for everyone.