Contrary to popular belief, many home renovations are allowed when renting an apartment.
While most of the time you will need approval from your property manager, there are some improvements that require no approval at all.
And those that do are more than worth asking.
The following improvements are fairly easy to do yourself and are all worth considering for transforming that new place, whether you've moved in New York, Seattle or any apartments for rent in Denver, CO or Austin, TX such as these.
Paint
The most obvious improvement is painting. Basically all property managers will allow you to paint as long as you agree to paint the apartment its original color when you move out.
Paint allows you to make the space your own and it's not limited to walls. You can paint outdated cabinets, crown moulding, and floor boards.
Just be sure to get a sample or gallon of the original paint before you paint over it.
Tile
The average cost for a new kitchen backsplash can cost up to $1,000 according to Home Advisor.
Of course, the total cost of tile installation depends on the quality of the tile and the size of your backsplash.
There are actually temporary, removable options to create the look of new tile.
Vinyl stick-ons can be used in your kitchen, bathroom, and even on floors.
Because they are removable, there's no need for approval from your property manager.
Another option is to customize your tile with decals if you prefer a smaller project.
If a big project doesn't scare you, replace your backsplash with modern subway tile or a bathroom floor with a simple large format tile.
While this will require approval from your property manager, in many cases they will approve it.
You get rid of the overused floor and replace it with something that will ultimately add value to their property.
Fixtures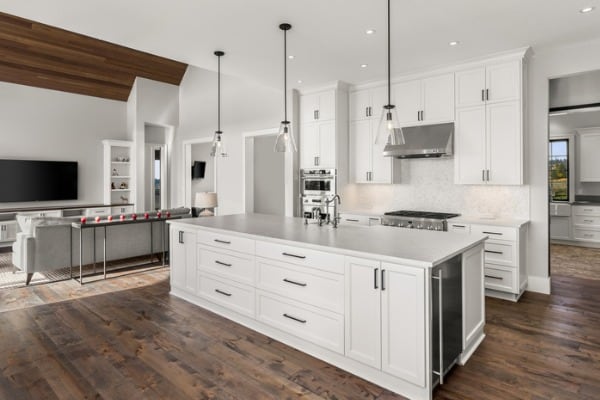 If you have enough space to store old fixtures, no approval is needed to replace those outdated ones.
Replace the showerhead with something fancier, maybe a rainwater or with a handheld attachment.
Replace light fixtures with more modern and energy efficient options.
Replace cabinet and drawer pulls with trendy matte black pulls and knobs.
Any fixture or fitting can be replaced, so long as you save the originals and plan to put them back before moving out.
Wall Art
Don't fear hanging wall art or anything else for that matter on your walls. Walls can easily be repaired before moving out with some spackle and a little bit of paint.
If you opted not to paint your walls, this is an alternative to creating a space that is all your own.
Mirrors are a great way to create the illusion of a larger room. Shelves add room for storage and decorative accents.
Closet Systems
Storage is key in smaller apartment homes. Adding a closet system is easy and you can take it with you when you move out.
Closet systems are available at popular home improvement stores, such as Lowes or Home Depot.
They are easily installed and enable you to create extra storage space for linens, clothing, shoes, and more.
Don't limit the idea of a closet system just to your main clothing closet. They can also be used in hallway coat closets, laundry rooms, and pantries.