In today's age, nobody wants to wake up in the middle of the night to go adjust the thermostat – and we understand that. '
From being a reserve of the wealthy or nerdy techies to being a common feature in many households today, smart home technology has come a long way.
This technology offers more control over your home than you could ever imagine. According to a recent study, 63 million homes in America will be considered 'smart' in the coming years.
Some modern, high-end, furnished apartments in larger cities, are already leading the way.
Whether you hopped on this trend early or are just now looking to dip your toes in, here are 8 essential smart home technologies worth your time and consideration.
Smart Lighting
Gone are the days when you had to brace yourself and walk through your dark hallway at night, scared for your life. Thanks to smart lighting technology, you can now control the bulbs in your home remotely.
This allows you to turn the lights on even before you even get home. This is incredibly useful, especially for people suffering from PTSD and nyctophobia.
Home Security Systems
Smart home security systems are a vital part of the modern home. The best home security systems and units are always working, looking out for your home when you're asleep or away at work.
From security cameras to high quality electronic locks that you can monitor and operate remotely, our smart homes are are more secure than ever.
Since most come wired to the Wi-Fi or integrated into an app, they send you real-time notifications and alerts whenever anything happens.
Who said you couldn't be in two places at once?
Smart Digital Assistants
Alexa, play the new Kanye West album. Smart digital assistants are an incredibly functional addition to the home.
This technology connects to your email, calendar, music, and even your fridge.
Amazon Echo and Google Home are some of the most common digital assistants; since they take voice commands, they are able to handle tasks such as dimming the light, making phone calls, and even shopping online.
Smart Cameras
Smart cameras get a bad rap, sometimes undeservingly. These cameras work hand in hand with smart home security systems to ensure that you always have surveillance over your home's entry and exit points.
If you have pets, investing in indoor cameras will allow you to watch over them even when you're away from home.
Smart cameras connect to the Wi-Fi and send alerts and notifications when someone approaches your door, for example.
Most of these come with SD card slots to store all the surveillance footage, while others upload this footage to the cloud at a small monthly fee.
Smart home technology like this does require a good internet setup for live monitoring/remote viewing so be sure to invest in a good plan with your ISP.
Smart Power Plugs
These aren't as complicated as they sound. Smart plugs go between your power outlets and appliances' power cables.
Like other smart devices, they connect to Wi-Fi, and can therefore be controlled remotely via an app.
This means that you can literally turn off your TV from another room, or have a heater running a few minutes before you get home. Some, like the Amazon Smart Plug, are compatible with Alexa, thus can be controlled using voice commands.
Smart Home Air Purifiers
No one likes to be in a stuffy, dusty room. If you're looking to ensure your indoor air is always clean, and allergen and pet-dander free, an air purifier will be a worthwhile investment.
However, if you're looking to take it even further, a smart air purifier would work much better.
These gadgets have integrated smart technology that allows them to save data on air quality history and personal preferences. They can also be controlled remotely or scheduled to switch on at a certain time.
More importantly, they send out reminders whenever it's time to replace filters or to schedule general maintenance appointments.
Smart Door Locks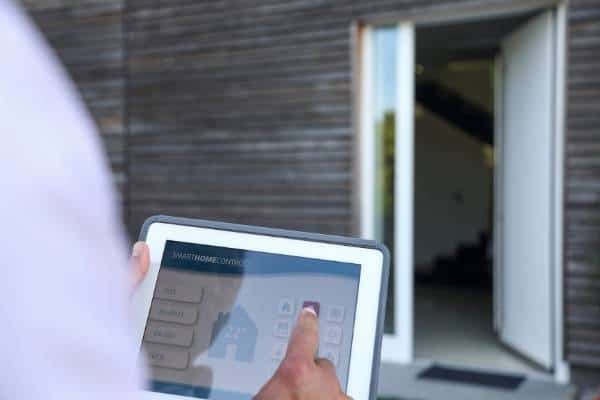 Home keys are so 2016. Imagine never getting locked out of your house again. Smart locks will change your life in so many ways.
Many options are fitted with voice control, allowing you to lock the front door by speaking into your phone. Forget fishing around your handbag for keys!
Self-Cleaning Home Technology
Although robot vacuums have been in the market for years now, older versions required lots of human intervention, thereby defeating the original purpose.
Most didn't have strong enough batteries and often ran out of juice in the middle of a cleaning job.
Today, however, these devices seem as if they have stepped right out of a time machine from the future. They are becoming smaller yet more powerful, and come with a ton of cool features.
Some, for example, go to their charging station whenever they're almost running out of power, before picking up from wherever they left off. Robot vacuums are a smart purchase you'll be glad you bought!
Did we leave out a useful device worth a mention? Let us know your feedback in the comments below.