I am so excited to be participating in the Dear Stella Challenge over at Kollabora! For this challenge several bloggers were chosen to make something creative with fabrics we received from Dear Stella.
My project is a simple decorative box that anyone can make. There is no need for a sewing machine for this one! Plus, this project is a great way to use up fabric scraps, and we could all use a little extra storage space, right?!
Ready to create some fabulous storage boxes wrapped in fabric?!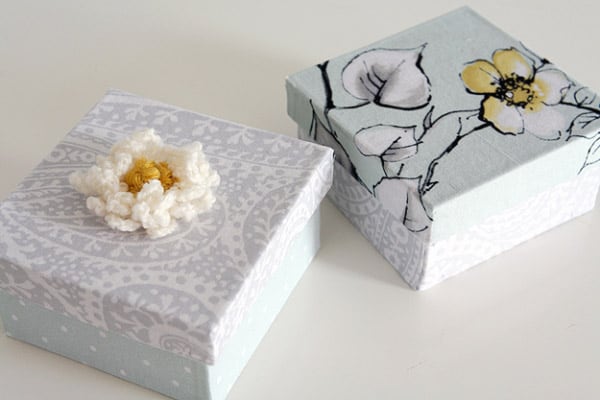 How to Cover a Box with Fabric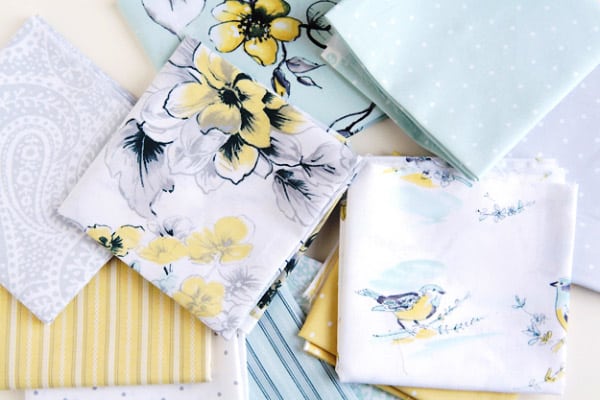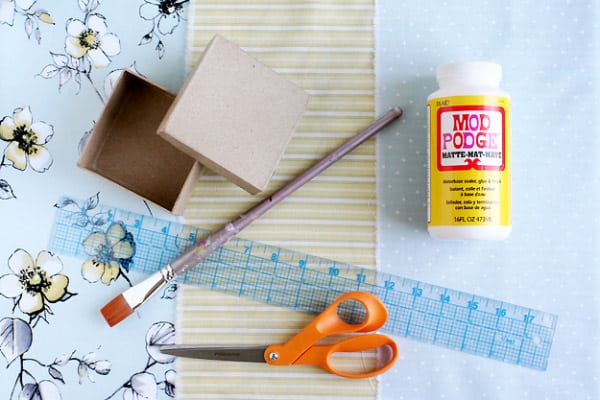 Stuff You'll Need:
Coordinating fabrics of your choice (Mine are from the Dear Stella Paloma collection.)
Matte Formula Mod Podge
Cardboard or Paper Mache boxes (You could even reuse old shoe boxes!)
Scissors
Ruler
Paintbrush
Embellishments (Anything you'd like to add to give personality to your boxes.)
Method:
1. We will need to make a pattern to cover the box. My fabric piece is already cut here, but I'd like to show you how I got the dimensions.
First, put the box top down on the fabric and trace it's outline with a fabric disappearing ink marker.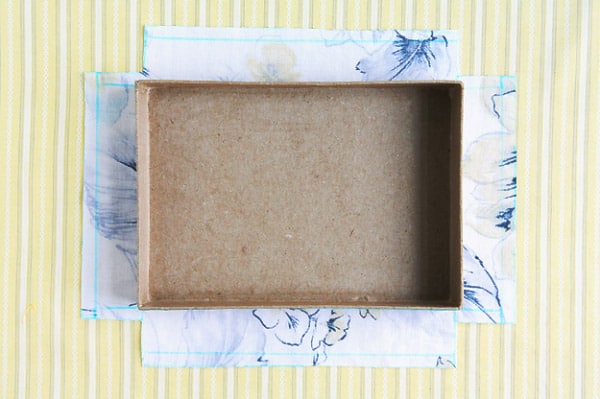 2. Next, turn the box up on its side and trace along the outer edges. You'll need to trace along both long ends and both short ends of the box so that you've covered all four sides. This will create flaps that we can use to wrap around the box.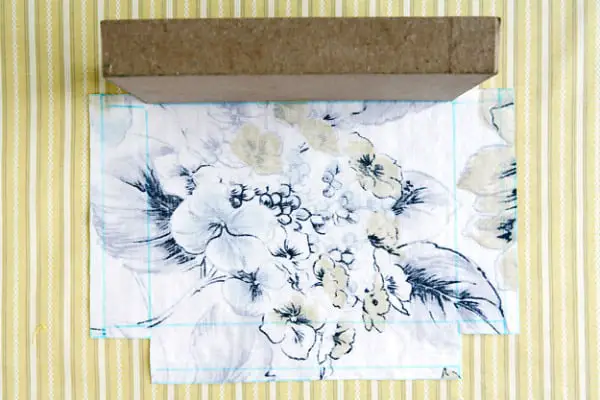 3. Below, you can see that on the right and left sides I added 1/4 inch allowance on all three sides of the flap.
For the top and bottom, I added a 1/4 inch allowance only on the long edge. Once you've added the extra allowance, you can cut out the pattern.
Be sure to snip into the allowance on all four corners (as shown by the dotted lines in the picture below.) This will allow us to wrap the fabric around the corners of the box.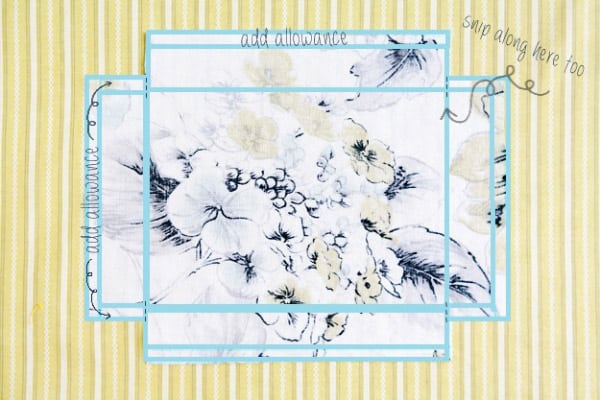 4. Now, glue the fabric to the base of the box. Be sure to use a very thin coat of the Mod Podge and make sure it isn't streaky. You don't want it to seep through the fabric.
Next, wrap the fabric around the short sides. It is a lot like wrapping a present. Be sure to wrap the extra allowance around the side of the box. This will create a nice clean corner.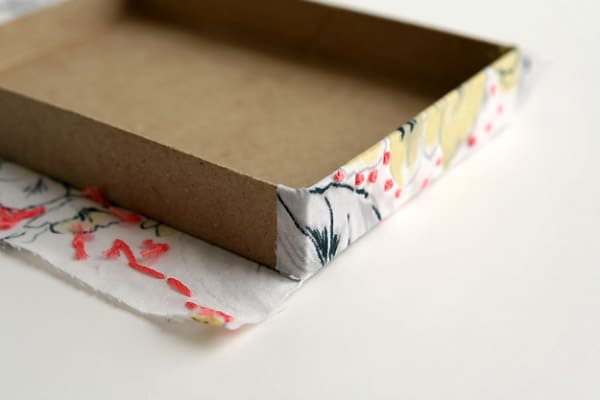 Here is what the inside looks like: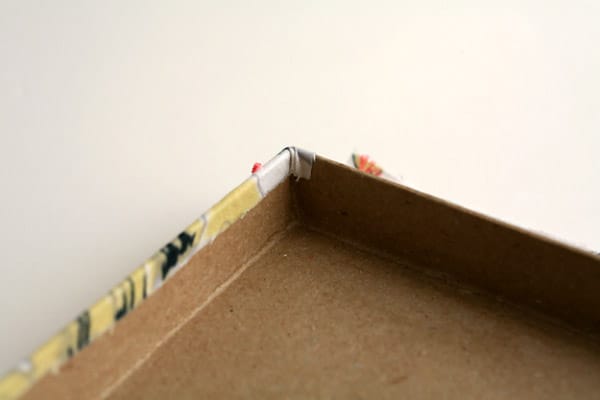 5. Lastly, fold up the long side of the fabric. Use a dab of Mod Podge along the raw edge of the corner to keep the fabric from fraying.
Now that you have the box lid complete, all that is left is to cover the bottom of your box using the same steps. That is all there is to creating a beautiful customized storage box!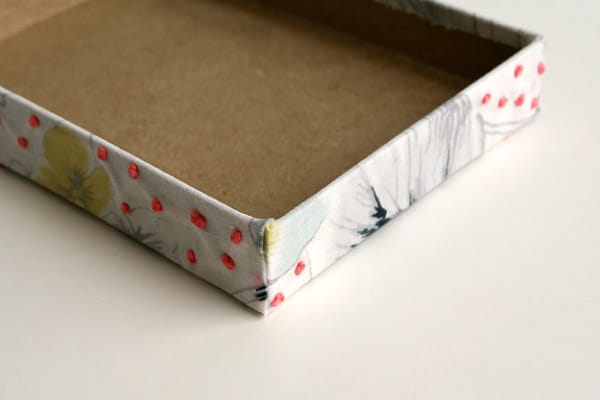 You can have so much fun embellishing your boxes. On this box I did some embroidery before I glued the fabric to the box. These are french knots. I love the texture and touch of punchy color they add to the box.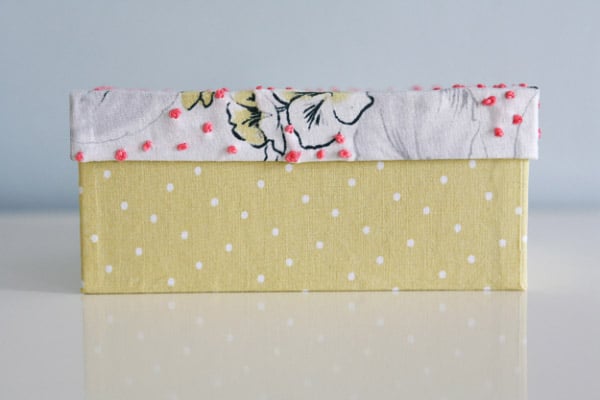 I also had fun embellishing with metallic studs. These were supposed to be iron-on studs, but I wasn't able to get them to stick with the iron. I ended up just gluing them in place, which did the trick!
There is always a way to make things work. (I'm thinking the studs may have adhered better with the iron if I had put them straight onto the fabric before I had attached the fabric to the box. Live and learn!)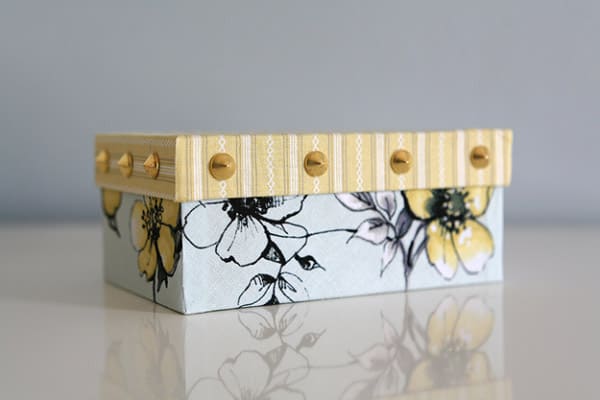 I'm planning to put these beauties in my craft room, because I'm in a desperate need of crafty storage. How is it that us crafters collect so much stuff?!!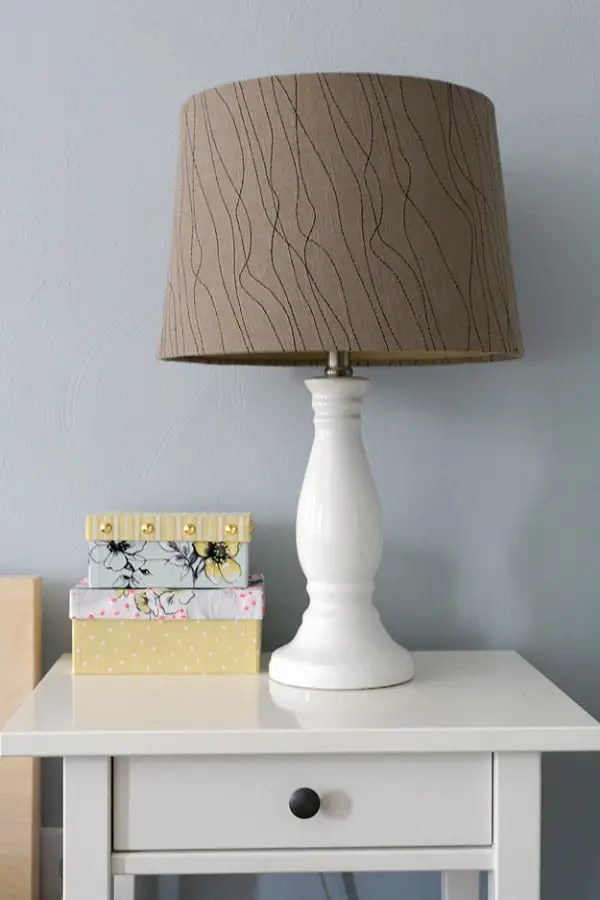 So, how would you decorate your fabric covered boxes? I'd love to hear your ideas! Be sure to check out how to make fabric greeting cards.
You can also make a complimentary bulletin board with fabric on top and cardboard as the backing. Or follow this tutorial for a DIY fabric covered rope basket, and you'll have the normally mundane stuff in your craft room or office looking beautiful.
Any project with fabric is just way too much fun!