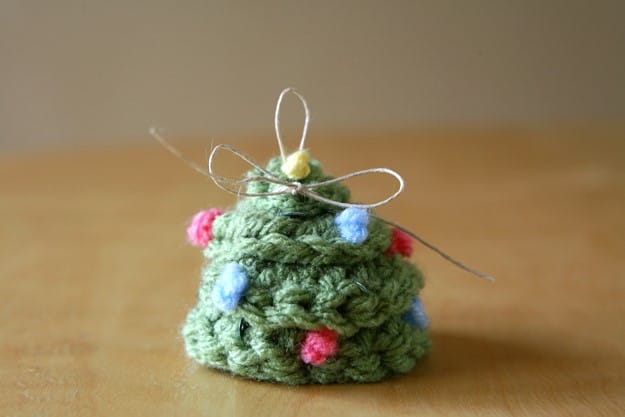 I was so excited when Kelli of True Bias invited me to participate in her ornament exchange this year. Last year's exchange looked like so much fun! I mean, just look at these adorable coat ornaments Kelli made.
I wanted to join not only for the myriad of handcrafted ornaments I'd receive in my mailbox, but also because it was the perfect opportunity for me to give a little something special to some of my favorite bloggers.
After some brainstorming, I decided it would be cute to create Christmas tree ornaments for everyone's Christmas trees! I was inspired by these adorable tree ornaments my friend Emma of Emma Knitted made and decided to create a similar pattern of my own.
Ready to make your own mini crochet Christmas trees?
HERE'S THE HOW TO:
Crochet Spiral Christmas Tree Pattern
I used a worsted weight yarn. (This is a great project for using up those leftover yarn scraps in your stash.)
Ch 25, 3 tr in in 4th ch from hook, 3 tr each of the next 6 ch sp, 3 dc in each of the next 6 ch, 3 hdc each of next 4 ch, 3 sc next 3 ch, 1 sl st each of next 2 ch.
Essentially you'll create a spiral that is wider at the bottom than it is at the top:
Next, twirl the spiral together and shape it into a tree. Tack it into place with some yarn so that it will hold its shape. (P.S. I found a great video tutorial by Crochet Geek who did a similar pattern, except that her tree branches point in an upwards direction. She does a great job of explaining how to stitch your tree so that it will hold its shape in her video here. I tacked mine together the same way.)
Now, it's time to decorate! I added sequins and colorful yarn ornaments to mine. The yarn ornaments were made by creating french knots, which is a fun embroidery technique.  You could also add beads, ribbon and other embellishments as well!
Finally, I used some natural twine to create a loop for hanging the ornament on the tree. A little bow adds a touch of sweetness.
Isn't this little crochet Christmas tree forest just the cutest?!
I've sent most of these beauties off to new homes, but, of course, I had to keep one for myself!  I've had to keep a close eye on it though, as my pup Tanner seems to think these yarn trees make great chew toys. I think Tanner's bad behavior has added him onto Santa's 'naughty puppy list' this year… little bugger!!  😉
I had so much fun participating in this holiday ornament exchange! If you'd like to learn more about the amazing gals I shipped my ornaments off to, you can check them out below. Each of these gals is sharing a tutorial for how they made their ornaments as well, so be sure to drop by their blogs for some more Christmas DIY inspiration!