Exercising is not needed to simply improve the way we look. It concerns the majority of our health priorities.
Total Shape has a lot of fitness compilations for you.
During this time of the latest pandemic, we can't find the practicality to go to the training center. So creating your home gym is one of the brightest ideas.
Since most of the family members are staying at home, space could be very limited.
If that's the case, putting up a garage gym is a great solution. Building a home gym in your garage doesn't have to be expensive.
There are many ideas and recommendations to come up with the best garage gym without breaking your budget.
It is not only a creative project but it will also help you save you so much time and money for the next few years.
You will also be able to enjoy physical activities even more at home.
Follow the tips below and you're ready to go!
Basic Steps to Turn Your Garage Into a Gym

Clean the Whole Area
The garage usually becomes a storage room where everything seems to end up. It's time to declutter all those icky and greasy stuff.
You can throw out useless ones and give away useful items. You can even earn some extra bucks by selling these things.
Measure and Maximize Your Space.
Garage space is often limited so fitting a home gym is really challenging.
You must start sketching a floor plan and figure out where to put the equipment.
Don't forget to maximize the wall space. You can look for a garage organizer which can be mounted vertically.
It can store 5x more than your floor area. It is better to invest in a heavy steel organizer that is extremely durable that can hold lots of equipment.
Prioritize Equipment You Will Use Frequently
Sometimes we get so excited that we apply impulsive buying.
When it comes to workout equipment, you need to stick to those you already use at the gym instead of trying a new machine or equipment.
Staying with the basics like dumb bells, bars and plates is a good idea.
That said if you're short on space, learning about products like TRX or how to use resistance bands will be a great way to train right in your own home.
In reality, cardio and resistance equipment is all that you need.
Make the Garage Appealing
If you have to repaint it, do so. Make sure that your garage has this minimalist or fresh-looking vibe.
Paint it with light gray, white, beige, or any color that is not too bold.
You can also set up speakers and enjoy working out to the beat of the music if you're not a fan of headphones.
It is important to have a space that is not only clean and tidy but is also functional and motivational.
Plan for the Whole Year
If you live in a country with multiple seasons, then you basically have to consider that.
You can buy a portable air conditioner and fan if necessary.
You can also have a heater extension in your garage in case you want to release some extra sweat in cold winters.
Basic Equipment for a Garage Gym
Treadmill
Walk! Run! Jog! This is the best cardio equipment of all time. It will help you burn a lot of extra calories and pump up the heart.
It gives you a whole-body workout while having the chance to watch a movie and enjoy the music. This is a must-have in your garage gym.
Punch Bag
Yes, this includes a good pair of gloves. It will be a dream workout space for men when they have their own punch bag.
It aims for bicep gains and washboard abs. A free-standing punching bag will not consume a lot of space.
If you want to increase your muscle mass, have better stamina and endurance, this one's a perfect match.
Weightlifting Barbell
Weightlifting can increase your bone density. It is advisable to add this to your list if you have the proper training to do so.
Proper posture and barbell pounds have a lot of benefits for your body. If you don't know the proper execution. Then better skip this equipment.
Bench Press
A bench press is multifunctional. Beyond bench pressing, it can be used for many upper and lower body exercise routines in your garage.
When it involves a bench press search for a flexible and portable design just in case you've got to maneuver it around in your garage.
Elliptical
This is another trend for starters. Elliptical benefits the upper and lower body by offering a low-impact workout.
It is someone who is not a fan of high-intensity workouts.
Elliptical gives a good aerobic workout assisting you to burn extra calories for weight loss and maintenance. These are just some good reasons to give it a try.
Stationary Bike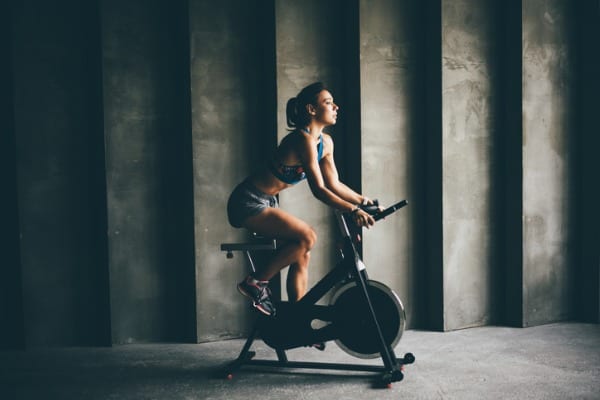 This space-conscious equipment is good for everybody.
A stationary bike is a piece of very efficient and effective equipment for burning calories and body fat while strengthening your heart, lungs, and muscles
Compared to some other types of cardio equipment, a stationary bicycle puts less pressure on your joints, but it still gives a good aerobic workout.