Although it feels like we just made it through the last holiday season, it's time to start purchasing holiday gifts for your loved ones.
Maybe every year, you struggle with what to get for some of the people closest to you, such as your spouse, parent, sibling, or close friend.
While the list of gift ideas can quickly run out for the average person, if you're looking for gifts for food lovers, a whole new world of holiday gift options is open to you.
Today, we're going to tell you all about five holiday gifts for the food lovers in your life, so there's no need to stress about what to get your loved ones anymore.
From high-quality ceramic non-stick pans to a personalized apron and everything in between, you'll know everything there is to know about the best gifts for food lovers this year.
For the least stressful holiday gift-shopping experience ever, keep on reading.
1. Ceramic Non-Stick Pans
Out of all the gifts on this list, any food lover will love this first gift: a high-quality set of ceramic non-stick pans. In general, non-stick pans are easy to cook with and maintain, but not all are high quality.
Getting your loved one a sturdy set of non-stick pans will ensure they last for years to come. Ceramic non-stick pans are the best of the best when it comes to quality, durability, and aesthetics.
Not only can they cook some delicious food, but they look stunning hanging up in the kitchen, too. Any food lover will fall head-over-heels in love with this holiday gift, so order a set of ceramic non-stick pans before they're out!
2. Waffle Maker
Is the food lover in your life a big fan of breakfast? If so, an electric waffle maker would be a great gift idea for them.
There are many size options for waffle makers; you could get them a small, portable waffle maker that they can take with them anytime they go on vacation, or you could get them a hefty one to keep in the kitchen and make whopping Belgian waffles with.
Mouth-watering breakfasts are only a pour and a flip away with a waffle maker, so get one for your breakfast-fan loved ones; they'll be thanking you for a long time to come.
3. Cookbook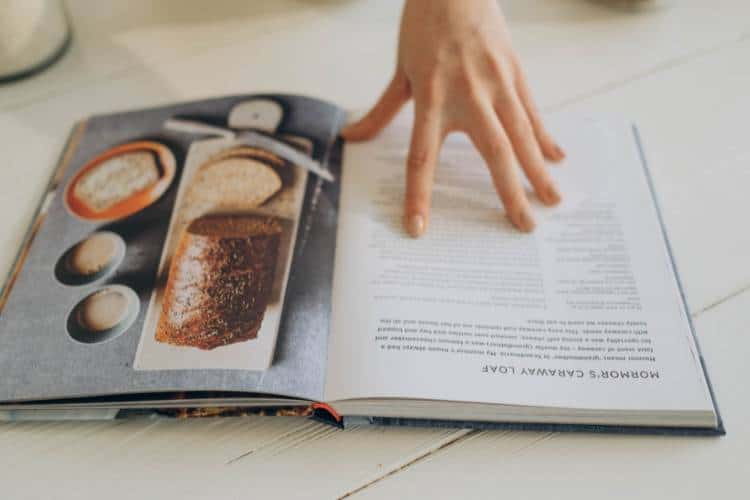 Even the most creative food lovers can occasionally fall into a cooking slump; this usually happens when they make the same recipes repeatedly and start to get bored with cooking.
A fantastic way to inspire a food-lover to get out of that slump and start making delicious meals again is to gift them a fun cookbook.
We recommend getting them a cookbook with an entirely new cuisine or cooking style they haven't been exposed to much. This fresh take will inspire them to try new things, and they'll find so much joy in the process.
4. Seasoning Kit
All types of food need a little seasoning—a pinch of cumin here and a light sprinkle of dried oregano there. No food lover can ever get enough seasoning to spice up their food, so you could get your loved ones a seasoning kit this holiday season.
These seasoning kits often come with multiple bottles of different herbs and spices, so feel free to buy a kit as bold as the food lover in your life.
5. Personalized Apron
Last but not least, the ideal gift for that person who always makes a mess when cooking is an apron, but not just any apron; consider a personalized apron.
There are many ways to order aprons with personalization, such as a name or particular date embroidered on it.
For example, you could order a personalized apron for your spouse with your wedding date embroidered on it, or you could get one for your friend with her name.
Personalizing an apron with a date, phrase, or name gives it that extra special touch they'll cherish forever.
Conclusion
We hope this article has inspired you to give the food lovers in your life a creative cooking-related gift this holiday season. Get ready to see a big smile on their faces when they open these thoughtful gifts!