Your home's curb appeal can make or break a potential sale. A poor curb appeal can significantly reduce your home's value and make selling difficult.
That's because an untidy, neglected exterior can discourage potential buyers from viewing your house or make them try to lowball you on price.
On the other hand, a strong curb appeal can create a lasting first impression that draws potential buyers to your house.
It also increases your home's value, fetching you good money when you sell.
Before you put your home on the market, consider making some improvements to the exterior.
You don't have to complete a major overhaul to perk up your home's exterior.
Small, inexpensive updates like installing low voltage deck lighting can amp up your home's curb appeal and boost its value.
When it comes to improving your home's exterior, it's easy to get carried away with expensive upgrades and renovations.
However, not all home improvements need to break the bank.
In fact, there are plenty of inexpensive ideas that can give your home's exterior a fresh new look while also boosting your return on investment (ROI).
Here are some low-cost, high-ROI home exterior improvement ideas you should consider:
Install new lighting
Outdoor lighting not only enhances the look of your home but also improves safety and security.
Installing new lighting fixtures can be a relatively inexpensive upgrade that can have a big impact.
Consider adding solar lights along walkways or installing new porch lights to brighten up your entryway.
Upgrade your front door
Your front door is one of the first things visitors see when they approach your home, so it's important to make a good first impression.
Upgrading your front door can be an affordable way to boost your home's curb appeal.
Consider painting your door a bold color, adding decorative hardware, or replacing it with a new, energy-efficient model.
Add landscaping
Adding some greenery to your yard can be an inexpensive way to improve your home's exterior.
Consider planting a new garden or adding some potted plants to your porch or entryway.
Adding mulch or rocks to garden beds can also give your yard a polished, professional look.
Clean your gutters
Cleaning your gutters may not seem like a glamorous upgrade, but it can have a big impact on your home's exterior.
Clogged gutters can lead to water damage and even foundation issues, so it's important to keep them clean and clear.
You can either do this yourself or hire a professional to do it for you.
Power Wash the Exterior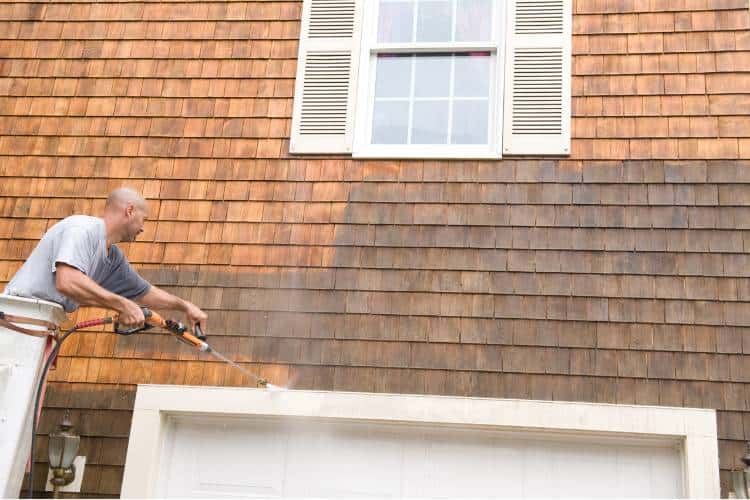 A dirty, unkempt home exterior covered in all sorts of grime can negatively impact a potential buyer's first impression.
Power washing is a quick, easy, and inexpensive way to give your exterior a good shine and polish. It's even less costly than a full-on paint job.
If you don't own a pressure washer, you can rent one from your local improvement store for a few dollars instead of purchasing a new one.
Using your power washer, thoroughly wash your home exterior, including the walkways, sidings, deck, and driveway, and remove grime on your windows.
Power washing will instantly transform your exterior's look and feel while adding significant value to your house.
Consider your home's exterior material before you power wash since a pressure washer can damage some surfaces.
Paint the Front Door
Another inexpensive exterior update that can give a high return on investment, improve curb appeal and increase your home's resale value is painting your front door.
As the main passageway to your house, the front door provides an initial focal point and sets the tone for your home exterior.
Instead of replacing your front door entirely, consider giving it a fresh coat of paint to instantly refresh your home's exterior.
Step out of your comfort zone by picking a bold color for your front door.
Painting your front door a bold color that expresses your unique personality can make it appear more modern, make your home stand out among other homes, and draw immense attention.
You can even take it up a notch by installing a new, modern light fixture and a uniquely-shaped door knocker for a pop of style.
Improve the Landscape
Besides power washing the exterior and painting your front door, you can improve your home's curb appeal and add resale value without breaking the bank by landscaping.
Start with mowing the overgrown lawn, pulling weeds, and edging. Add colorful flowers, plants, and greenery along the walkways and near the house's front to brighten your yard.
You may also want to trim overgrown bushes and trees and add fresh sod to bald spots in your yard to complete the new look.
Enhancing your home's curb appeal isn't difficult and shouldn't cost a fortune. Completing the above inexpensive home exterior improvements will help improve your home's curb appeal and value.