Your bed is the not only the piece of furniture on which you spend at least a third of your day, it ideally is also one of the most comfortable objects that you have around the house.
Picking a bed that suits all our requirements is not an easy task, especially with the abundance of different options available out there in stores.
It therefore becomes key to look at some of the most important factors that you need to be considering before you go ahead with picking the right bed for you and your sleeping partner.
#01 The Right Size
There are a number of different sizes available when it comes to beds such as Twin, Single, Queen, King, etc.
Therefore, you must be aware of the overall size of the room so that you can pick a bed that leaves enough space for other objects as well.
Failing to leave adequate space in the room can interfere with proper air circulation.
It is important however to keep in mind the body dimensions of both you and your sleeping partner(s) while considering the appropriate size of the bed.
It is also crucial to have a set of different furniture placed in the bedroom like a chair or an ottoman so that you can maintain minimum contact with the bed for activities that do not involve sleeping.
Placing a few plants in your bedroom can also be considered as one of the decorative ideas that are damage free and improve air circulation in the room.
#02 Storage Beds
In the absence of enough space, you can also go for beds that come with underlying storage space.
Such beds are considered ideal to store away stuff that you won't be requiring for some time.
Getting yourself multipurpose beds or the ones with a hydraulic system that can store clothes and other objects removes the need of having an extra cupboard or wardrobe in the bedroom.
If you are short on space or budget, we would recommend going through this handy list of interior design tips built specifically for your need.
#03 The Look Matters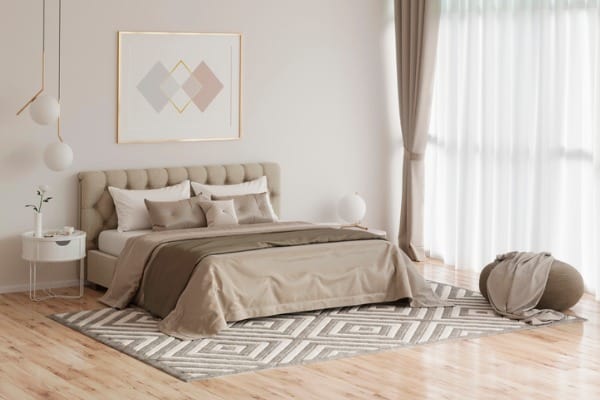 While comfort and support are considered paramount when it comes to a bed, it is equally important to choose a bed that looks appealing.
The side rails, the footboard, the headboard, and even the sheets and pillows that you use should be selected with utmost care.
Be it a cabin bed, a hammock, a divan bed or a sofa bed, make sure that the type of bed you are picking matches the general theme of your bedroom. While buying a bed for yourself, it is important to keep in mind the size and style of other furniture pieces in the house so that your bed doesn't appear out of sync.
It is also recommended that you consider the color of the walls and the general décor of your bedroom so that the bed can blend in with the overall theme.
#04 Pick the Right Material
Once you have a complete picture of the size and appearance of the bed you are aiming for, you can go ahead with picking the material that best suits your requirements.
While selecting a wooden framework is ideal for a lavish and sturdy look, investing in a metal bed frame allows increased durability and ease of movement.
You want a base that is ample size and sturdy enough to accommodate a large, comfy mattress so that you or your guests feel like they're on a regular, hotel-grade bed.
Make sure to choose the mattress wisely by checking detail reviews like this one https://www.talkaboutsleep.com/best-mattress-under-1000/ before making a purchase.
While selecting the mattress type though, you may possibly find yourself a little confused, considering all the different types of materials that are being used nowadays.
Let us therefore have a quick glance at some of the most popular types of mattresses used in beds.
What about foam?
Foam beds are liked widely because of their lightweight nature and comparatively cheaper rate.
These mattresses are made using polyurethane foam like those used in memory foam mattresses which helps in proper heat redistribution and provides ample support to the back.
They are also great at relieving body aches and may prevent formation of pressure points.
While memory foam mattress can also be placed directly on the floor, it is recommended that you use a good bed foundation for the mattress to prevent the risk of contamination from dust, mites, and other allergens.
Innerspring:
Innerspring beds are generally considered highly durable and provide ample support to maintain the natural alignment of the back.
The steel coils used in the mattress come wrapped with layers of fiber padding that helps redistribute the weight of the body and are hence considered ideal for people who can be considered heavier.
People suffering with an aching back should opt for pocket sprung mattresses because the large number of individually sprung pockets provide better response to different parts of the body.
Latex:
Latex mattresses can easily be considered as the most durable of all thanks to their natural rubber covering.
Although latex mattresses can be comparatively costlier than innerspring or foam, they ensure full protection against allergens like dust mites and bed bugs.
While buying latex mattresses, make sure that the latex is totally natural and not of a synthetic or blend quality as the latter can be made using certain chemicals like petroleum-based components and volatile organic compounds (VOCs).
Organic:
Using mattresses made out of organic components ensures that you are not bringing in any harmful chemicals into your household.
While organic mattresses can be considered a little expensive than other choices, materials such as natural wool, eucalyptus fibers, organic cotton, cotton fibers, etc., can be considered value for money because of their non-toxic nature and improved breathability.
Bottom line:
Even when you think you have selected a suitable bed for yourself, it is important to stick to reliable brands or stores that provide proper warranty under the right budget.
We hope that the points mentioned above help you select the perfect bed for yourself that help improve your sleep health.