As the housework piles up and you feel overwhelmed by all that you have to do to keep a tidy home, you may want to find a professional cleaning service.
By hiring a maid company to clean for you, you get more free time and open up your schedule again, and you get to enjoy a cleaner-looking home.
But how do you go about choosing the right home cleaning service?
How do you pick from the different options, and what do you look for to determine which one is the better choice?
Here are a few things you can do to help pick the best cleaning service for your home.
1. Compare Prices
Probably the best place to start comparing different cleaning services is in their pricing structure.
Many of them will list their rates on their website or in their ads. If they don't, you can always send them an email or call their phone number and get a quote from them.
Our advice here is to get several quotes to compare before you go any further.
This way, you can easily see which cleaning service is out of your price range and charges too much, comparatively speaking.
The cleaners will likely charge an hourly rate for their services, and that rate may be higher depending on the kind of tasks you want them to do.
For instance, they may charge a lower rate for basic cleaning like taking out the trash, sweeping floors and wiping down counters, and then they may charge a higher rate for deep cleaning services like oven cleaning.
How much you pay for the entire cleaning service will be based on how many rooms you want them to clean and how long it takes them to clean the rooms.
Get an estimate from the cleaning service before they start, but keep in mind that the home cleaning may take longer than they expect and could be more expensive than that initial quote.
2. Compare Reputations
You may not know much about a particular cleaning service before you start to use them in your home, but their previous customers will know a few things about them.
If you want to know what to expect before they come to your home to work, then you can look for customer reviews online.
If the company has been around for a while, there should be some customer reviews available for you to read.
Take time to look at these and compare the customer service experiences between different cleaning companies.
This gives you some indication of how they might serve you and what your experience might be like.
If the cleaning company has a poor reputation, you may want to steer clear of them, even if their rates are low.
We urge you to take some time to look into the reputation and customer reviews of any cleaning service you are considering.
This can help you catch red flags ahead of time and allow you to avoid having a bad experience with a home cleaning company.
3. Compare Services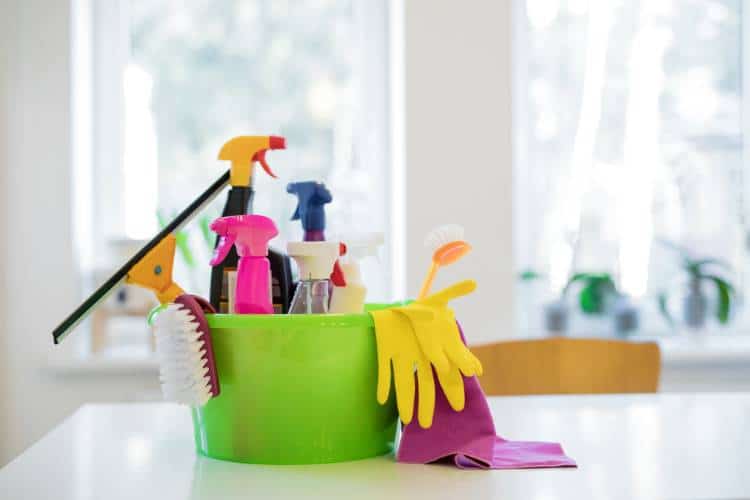 Did you know that different cleaning companies will offer a different selection of services?
Some of them may only do basic cleaning, whereas others may offer a wide range of services that include rubbish removal, end-of-lease cleaning, deep cleaning, and more.
If you know the kind of services you need to have done in your home, then be sure to check cleaning companies to see if they offer those specific services.
If a cleaning company does not usually offer the kind of cleaning service you need done, they may charge a much higher fee than their regular rate, so keep that in mind.
Some cleaning companies offer green cleaning, which is environmentally friendly maid services.
This means they will use eco-friendly cleaners and will work responsibly, often using recycled or recyclable materials.
If this is something you would like from your cleaning company, be sure to ask about it. In many cases, this particular service will only be offered if you request it.
4. Save Money with Regular Cleaning
If you like a particular cleaning service and the work they do, then it makes sense to have them clean regularly for you. There are definite benefits to this.
Many cleaning services will give you a preferred rate for routine cleaning. If they know you will want them to come clean in your home frequently, they can afford to charge you a little less for their services.
This is something to keep in mind, once you find a cleaning company you prefer.
Don't commit to regular cleaning if you have not compared rates between different cleaning companies, though.
You could miss out on some great savings by locking yourself into a contract with a particular cleaning service.
5. Know Where to Look
Maybe you have had some trouble finding cleaning services for your area. How do you go about locating a home cleaning company to begin with?
One of the best places to look is online, using Google or other major search engines to locate cleaning services in your area.
To find relevant results, don't just search for "home cleaning services". Be more specific and add in location keywords like "Chicago" or wherever you live.
This can help you to get results for cleaners in your area.
You can also check your local phone book and see if any home cleaning companies are listed there.
Rates may not be listed in the book, so take the time to call up each company and get some quotes.
You can also look at local businesses for advertisements for cleaning companies.
The grocery, hardware, and post office may have a board for local businesses to advertise on, and that can be a good place to find cleaners in your area.
We hope this guide helps you as you look for reliable, high quality cleaning services for your home.
If there is some cleaning you want to get done but you don't have time for it, then you should consider hiring a professional maid service.
6. Choosing the Right Pest Control Service
Selecting the right pest control service is crucial for a pest-free home.
Research reputable companies with a track record of success and positive customer reviews.
Ensure they use safe and eco-friendly methods and possess the necessary licenses and certifications for a reliable and effective solution.