When you think about a home upgrade or plan an extensive overhaul of one of the rooms in your house, installing interior doors probably is not the first thing that pops into your head.
However, it should.
Interior doors do much more than play a huge role in determining the look of a room or every room that defines a home. The home décor feature also separates both public and private spaces, such as dividing the amount of space you devote to an office study and an entertainment room.
Whether you want to add interior doors to create a seamless transition between the dining room and living room, or replace doors that have seen their better days, you should know about eight popular styles of interior doors that can breathe new design life into your house.
French Doors for an Elegant Look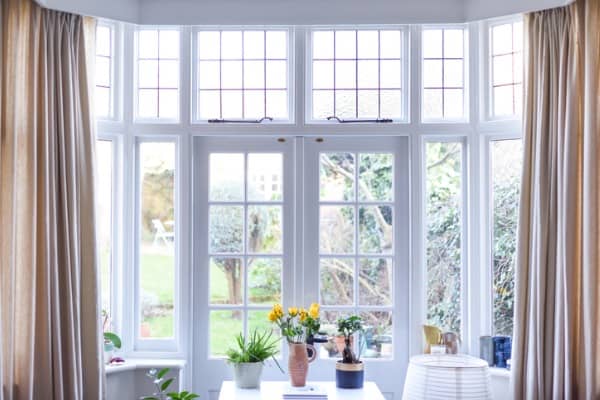 According to https://www.internaldoors.co.uk, internal french doors are a great way to add style and sophistication to your home. They can be used to separate two rooms or to create an entryway into a room.
When choosing internal french doors, it is important to consider the size of the door, the style of the door, and the material. The most popular size for internal french doors is 80 inches by 36 inches.
The most popular styles are barn doors, glass panel doors, and solid wood doors. The most popular materials are oak, maple, and cherry.
When choosing internal french doors, it is important to consult with a professional to ensure that the doors will be installed correctly.
With a classic European look that consists of a door panel and glass panes extending throughout the length of the wooden frame, French doors work best as interior home accessories that act as entry ways to patios or two distinctly separate interior spaces.
The biggest advantage of the visually appealing doors is creating private spaces for guests to relax during parties.
The doors add a glamorous touch to any room that you want to feature, such as the living room or the master bedroom. French doors typically include glass inserts that present a decorative design that enhances a finely glossed wooden frame.
Dutch Doors for Limited Spaces
If you have spent time in a horse stable, you probably have seen what is referred to as a Dutch door.
Also called half doors, Dutch doors are manufactured to split in half between the top and bottom sections. This means you can open the lower section to enhance the circulation of air, and then open the top section to provide a view into a room that you want visitors to see, but not enter.
Dutch doors work especially well as entry points from the primary kitchen. For homes that have space restrictions, Dutch doors make the ideal doors for connecting the limited spaces.
Pocket Doors for Hidden Doors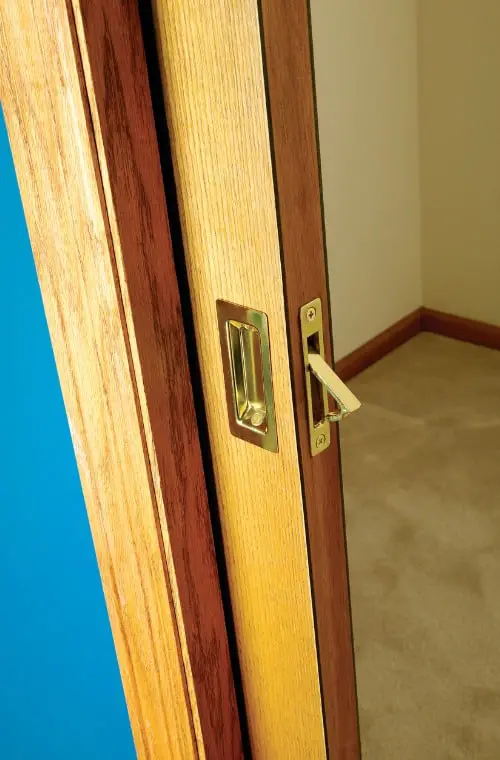 Mounted as a single piece on to an overhead track, pocket doors slide into a space that interior designers have dubbed a "pocket" that is located in a wall.
The frame of a pocket door consists of a side jamb that splits to receive the door and a top jamb allowing the door to move flawlessly on a metal track.
Considered a traditionally designed type of door, a pocket door produces an ambiance of nostalgia that works well with design elements such as copper vases and mahogany furniture.
Glass Doors to Open up Your Living Space
According to the door experts at ETO doors, glass doors work best for homeowners that want to present an open appearance.
Simple to upgrade, glass doors generate a contemporary ambiance that maximizes the visual benefits of both natural and artificial light. Just a couple of installed glass doors can open a room up to abundant amount of sunlight.
Tempered glass panels that run up to three-quarters of an inch thick resist the damage caused by strong impacts. You can opt for swinging or sliding glass doors to match the functionality needs of any room.
Double Doors for Dramatic Effect
As a pair of vertical doors that connect at the center of the door frame, double doors present a head turning appearance that increases the value of a home.
With twice the open space, double doors are popular in larger homes where the homeowner wants to increase the amount of space that connects two rooms.
With numerous customization options, such as size, color, and material, double doors ensure homeowners improve the appearance of the home interior, without busting the home improvement budget.
Flush Doors for Flexibility
Considered one of the most basic styles of interior doors, flush doors contain flat surfaces on both sides that do not include any panels or decorative features.
Manufactured with solid wood, the doors usually are lightweight and easy to move to different locations in the house.
With a wide variety of finish options, you can install these doors just about in any room, which gives you the ultimate in interior décor flexibility. You can install a flush door leading into a home office, and then move the door to one of the guest bedrooms on a moment's notice.
Sliding Doors to Save Space
Effortless to open by moving them horizontally is a sliding motion, sliding doors glide on trolley hangars that remain unseen under the track.
The doors often are installed to replace swinging door to increase the amount of space for smaller rooms. This makes the doors ideal for addition in flats, apartments, and condominiums.
Sliding doors also work great for separating the interior of a home with a deck or a patio. You have a large number of material options that include stained glass and renovated wood.
One type of sliding door that has gained immense popularity in the last decade are interior barn doors. With a twist on some hardware, you can install a barn door in your open between rooms and at entrances to closets, laundry rooms and more.
Accordion Doors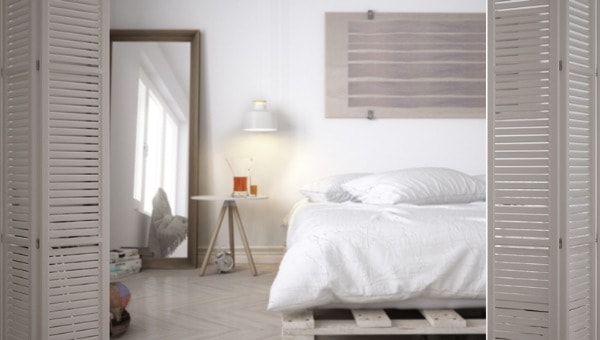 As another style of door that saves interior space, accordion doors swing in and out on hinges that create an accordion like appearance.
Different than a pocket door that disappears into a wall, accordion doors fold up on one side of the area the doors divide. Like sliding doors, accordion door or bi-fold doors, provide homeowners with more space in smaller rooms.
Multiple material options like fiber, plastic, and vinyl give you plenty of interior design flexibility.
Guido Materials has some custom door ideas to elevate the feel of your home.
Whether you plan to upgrade the appearance of a room or you want to maximize the space separating two rooms, the style of interior door you choose goes along way towards making your interior décor vision happen.