The kitchen soffit or the "above kitchen cabinet" area is a huge waste of space. The bulkhead looks dull, is unreachable, and looks like a huge dark blot in the kitchen.
However, there are ways to deconstruct it and use it as a functional or decorative (or both) space.
Let's look at the options on how to decorate top of kitchen cabinets.
#1 False Cabinet Doors
The exposed mechanical ductwork and pipeline look awful! The top recommended among kitchen soffit ideas is to install false cabinet doors above the normal kitchen cabinets.
Use the same wood and color for the soffit decor to blend in. Avoid sealing the soffit cabinet doors as they have to be accessible for future repair works.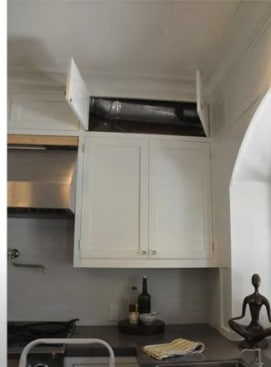 The video by Design Chickee shows how to design around kitchen soffit. It has two more kitchen soffit decor ideas.
#2 Miniature Bar Cabinets
A bit of woodworking effort on the soffit gives a nice space to store bar items.
Depending on the available space area, you can build small wooden cabinets with glass doors to keep barware sets, cocktail shakers, corkscrews and openers, glass markers, wine accessory sets, ice buckets, tong sets, bottle openers, and more!
Install miniature LED lights in the cabinets to show off your collection!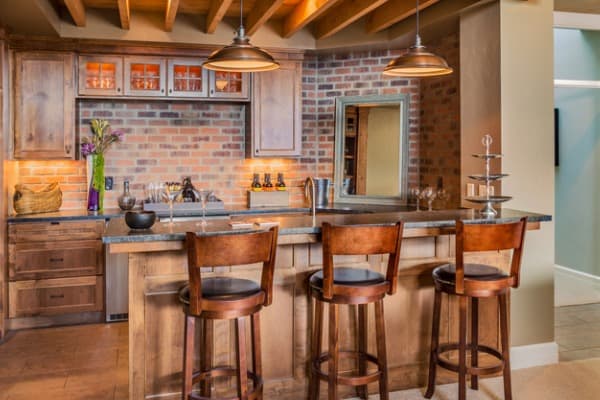 #3 Plants and Photo Frames
An above cabinet area is a fantastic place to keep miniature planters.
Use small or medium planters; plants that do not require daily watering and minimum sunlight like English Ivy, Dracaena, and Bromeliad suits best.
Throw in some photo frames of old family photographs to complete the look. Use metal or glass photo frames than wooden ones.
Take a look!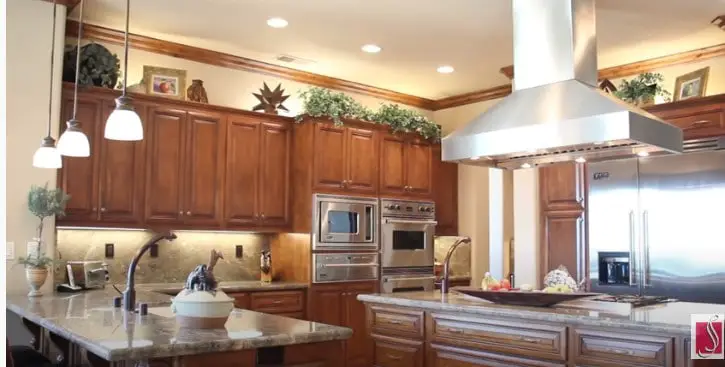 #4 Loft Kitchen Cabinets
A perfect way to extend the kitchen's storage capability is by installing additional storage cabinets in the loft area.
If the usual kitchen cabinets are of a lower height so that the space between the cabinets and the kitchen worktop area is squeezed in, you have a lot of soffit space going waste.
Remove the existing kitchen cabinets and remodel them vertically to have a long and spacious storage space in a single piece. Have glass pane doors, install the lofty storage cabinets, and use all the available space.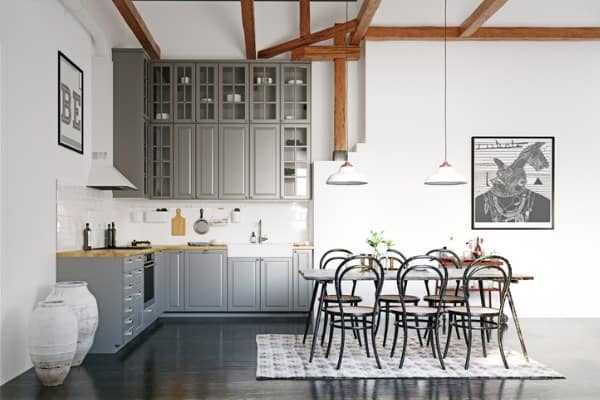 #5 Wooden Shelf for Jars
You can install open or closed wooden shelves above the kitchen cabinets to create additional storage space for long-term storage.
For example, if you want to store pickles, flour, dehydrated food items, or any kitchen tool, the converted soffit storage is the ideal place.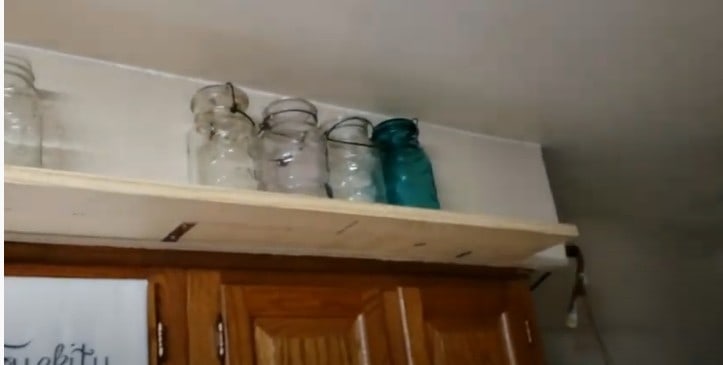 The Homesteading Hijinks video shows how the video creator utilized the empty and hollow soffit wasted space to install wooden shelves to store mason jars.
#6 Wallpaper Soffit Area
Kitchen wallpapers were so in vogue in the 50s. It adds an old-world charm to the kitchen.
If you don't wish to put in hours to build anything in the soffit space, the easy decor idea is to wallpaper the open soffit areas. Wallpapers with quirky geometric backgrounds or images of fruits/vegetables blend in well.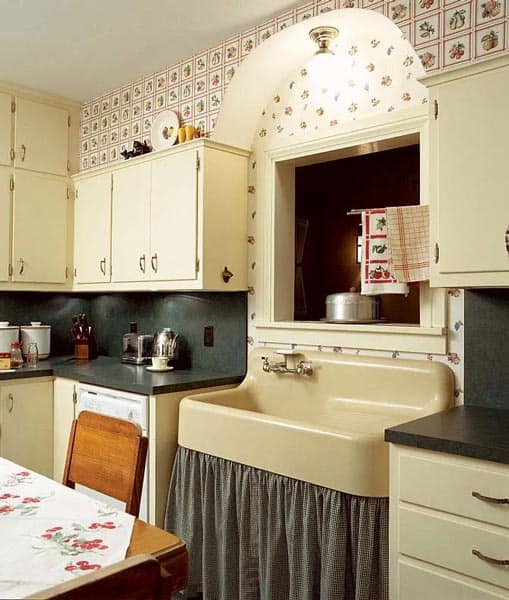 Old House Online writes about the merits of using wallpaper in the kitchen and how the soffit area and other kitchen corners can be improved.
#7 Spoon and Fork Wall Clock
Make use of the spare plastic spoons and forks collected from endless takeaways by turning it into a fun DIY project.
Take a big sheet of polystyrene and cut it in a circle – it should fit the soffit space. Color it black, and attach the spoons and forks as clock hands alternatively.
Add minute and hour hands with a small battery attached at the back, and place it somewhere on the soffit from where it is always visible.
See how to make this fun and easy DIY wall clock in this video.
#8 Faux Lavender Planters
If real plants seem like too much maintenance, you can place faux planters in the kitchen soffit area.
The wooden planters contain faux flowers, lavender in this case, and they would look pretty and beautiful high up on the soffit.
Check these out on Amazon.
#9 Install Recessed Lights
Also known as a downlight, recessed lights are light fixtures installed from a ceiling's hollow opening.
Improve kitchen lighting by installing recessed lights from the soffit area; it will make the kitchen look brighter. Do this even if you've stored anything in the soffit area.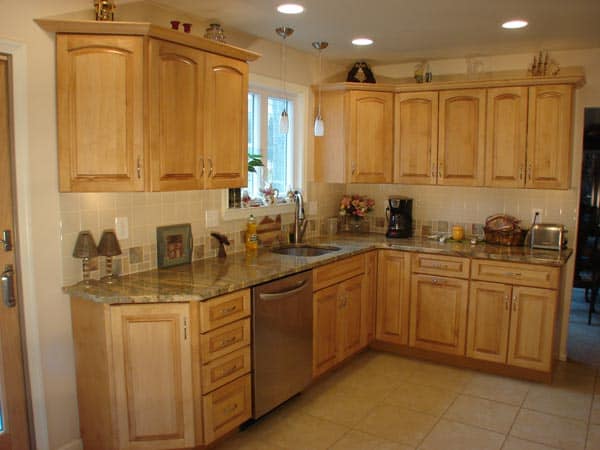 Kenneth Mansley shows the difference between recessed and normal lighting in the kitchen.
#10 Wooden Kitchen Sign
The kitchen is the heart of any home. It is perpetually open, right?
Hang this kitchen sign on the soffit area for a better appeal. It is made with baltic birch wood and would never peel or chip away.
Check this sign out and many others on Amazon.
#11 Open Book Shelves
A soffit is a pretty inaccessible location in the kitchen, right?
If you're creative enough, you can turn the soffit space into a book library or a place to display exclusive miniature sculptures or other works of art.
Construct horizontal wooden shelves above the soffit with superior trimming and inbuilt LED lighting and temperature control measures to display books or art. Don't forget to vacuum the area once in a while.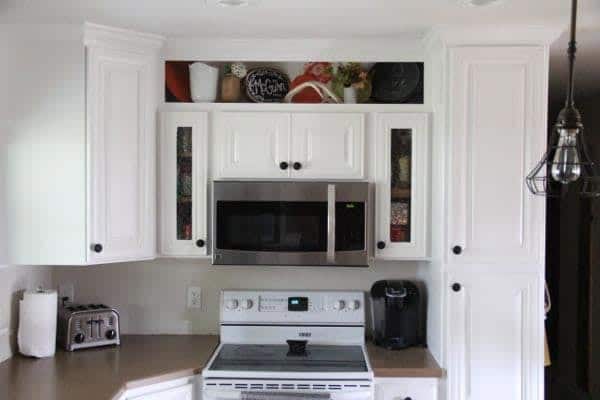 Blogger Jess at Bright Green Door shows how to build open shelves in the kitchen soffit area.
#12 Soffit Kitchen Windows
This kitchen soffit decor idea depends on the location of the kitchen and whether you intend to remodel it or not.
You can turn the soffit into windows. If not fully openable windows, you can install glass sheets/mirrors to invite ample lighting and make the kitchen bright and sunny.
Of course, you need a skilled team for this; do not attempt this without knowledge.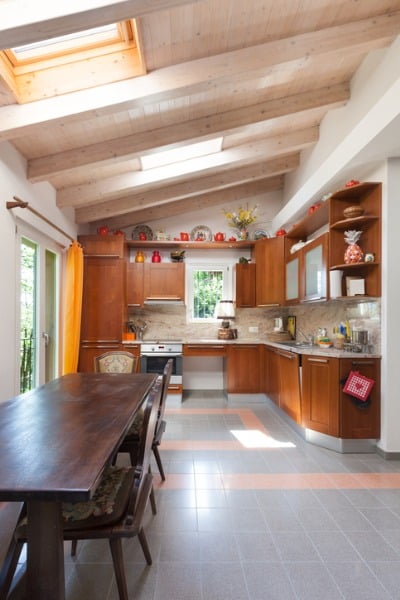 #13 Soffit Canopy or Ceiling
Use the kitchen soffit as a bulkhead extended as a canopy to give the area a complete wholesome look. It is like installing a false ceiling with recessed lights.
Or, you can hang lights from the canopy to make the kitchen brighter. A canopy will give a feeling of enclosure in the kitchen. The idea works very well if the kitchen has a higher ceiling.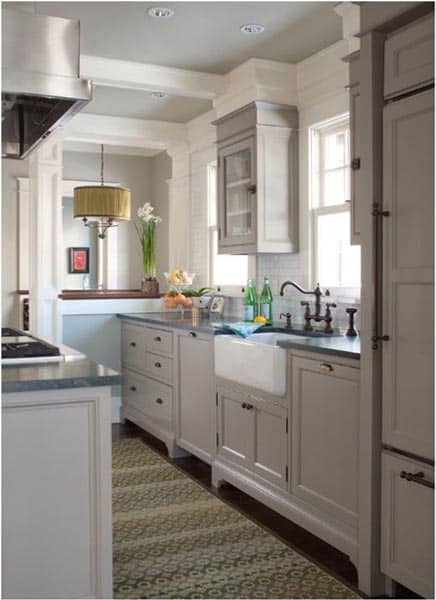 Kate is a renovator who documented how to add a false ceiling or canopy to the kitchen soffit area at Centsational Style or watch this video on the Armchair Builder channel for a video tutorial.
#14 Crown Molding on a Soffit
Crown molding is a form of decorative molding to create a cornice installed atop an interior wall.
It offers a flexible design solution to give the soffit a personalized appearance. The space between the upper cabinets and the ceiling is transformed.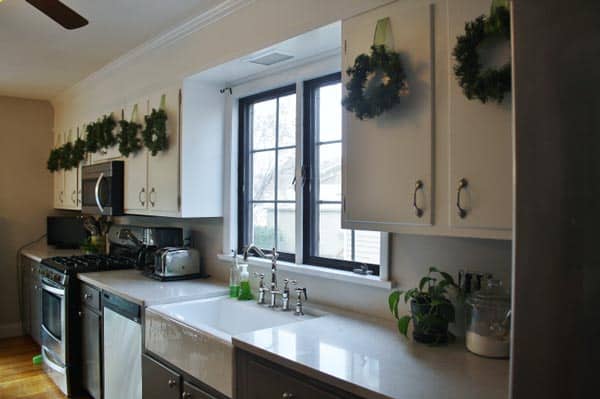 Jessica from Park and Division shows how crown molding on a soffit was done to her mother-in-law's kitchen.
#15 Empty Space to Usable Space DIY
This is a great share of someone who transformed the top of their kitchen cabinets into something that looks WAY better and can serve as storage.
In their case, they chose some small decor items but who says you can put some extra glasses or nice china up there? (Just get your ladder!)

—
We hope you loved and adored these creative and functional kitchen soffit decor ideas. These not only hide the ugly pipes and wires but transform the whole soffit space.
It reminds us of decorating half wall ledges, where you have these small but important spaces that you want to adorn with just the right touches.
Which ones are your favorite kitchen soffit ideas? Share with us.