Whether you're moving home or simply looking to live with a little bit less, there's a good chance you have had 'decluttering' on your to-do list for quite some time.
We know that it can be difficult to get into the groove and really start decluttering your home, and finding the motivation to get started can be a little tough. Though, with the right pointers and tips, getting a head start on those decluttering chores won't be too difficult at all.
Those above points noted, we have a great, simple six-step guide to decluttering your home that will make moving or just living a little more minimally a breeze this year.
Take a look below.
Kick Things off in Stages
Our biggest tip to start off our list is to start going in stages.
No one wants to begin a huge decluttering project trying to attack every part of the home at once, and so you should work to set up a small to-do list that goes in stages, these stages should only take between 5 and 30 minutes.
For example, if the bedroom is a mess, pick just a few parts of the room you would like to declutter and set a timer for around 30 minutes or so and stop once it's done.
You'll be able to condense your decluttering into bite-sized and productive chunks and get things done a whole lot faster and without too much stress.
Make Use of Charities
A second step or tip from us is to make use of local charities like St Vincent de Paul or the Salvation Army.
For many of us, decluttering means throwing things away, though not everyone wants to get rid of some perfectly good clothes, furniture or other items simply because they go unused – and this slows down the process of cleaning and decluttering the home.
That in mind, don't let this stop you from moving forward and work to build a pile of items that you can donate, rather than letting these things stop you from decluttering the house entirely.
A few good items that can easily be given away include clothes, pots and pans, undamaged furniture and more.
A Note on large items
When it comes to the items and the 'junk' that can be difficult to throw away, such as old furniture, or damaged items in the garage or the shed, you can consider rubbish removal professionals. 1300 Rubbish, for example, have all the man power and trucks required to clear out any rubbish you need taken out of your home.
You may also be able to use these sorts of services to actively help you with your decluttering process.
View Your Home as a Visitor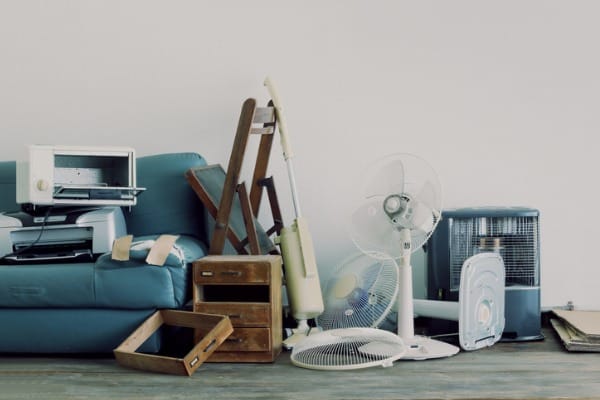 A big tip, or a new way of thinking, rather, is to take a step back and look at your home as if you are seeing it for the first time.
This is our biggest step when it comes to finalising your decluttering. Sometimes toward the end of a big spring clean or throwaway challenge, we get stuck and can't completely finish a project. And this is where a change of thought process comes in.
Take a look at your home, bedrooms, outdoor spaces and bathrooms from a new perspective and judge based on whether you're seeing a little too much 'junk' or 'stuff' and go from there.
You might find that you have one too many throw pillows, or far too much decor for your liking and you can then work to throw some of these items away.
Do a Final Checkover
To end our steps to decluttering your home, we suggest that you run through a final check-over.
You likely had a rather in-depth to-do list or list of things you wanted to throw away, and with that in mind, have a look at whether you've checked everything off, or whether there is a little more to do and you'll be all done!