Selling a home can be a stressful time in your life. Perhaps your family is growing, and you need to upsize a bit to make room for everyone.
Maybe you got a job in another community and have to relocate for the commute.
Perhaps all your children have moved out and it is time to downsize to fit your current lifestyle.
No matter what you are selling your Paradise, PA home, your goal should be to get the best deal possible so that you can take a substantial profit with you to your next home.
Getting the best deal for your home means appealing to buyers in a way that attracts larger offers or even bidding wars.
You will likely have to put a little work into your home to make it appealing to modern buyers, especially if the property is on the older side.
Here are some strategies to make your Paradise home more appealing.
Keep Up With Lawn Maintenance
The condition of your yard plays a big role in curb appeal. The more clean and attractive your yard is, the more likely buyers are to want to see the inside.
Plus, a clean lawn can make it easier for buyers to imagine what their lives will look like in the exterior parts of the property.
Keep those gardens weed-free to allow plants to flourish. If your mower is having issues, take it to a lawn mower repair service so you can keep up with mowing to make the yard look crisp.
Use a sprinkler to shore up those brown patches or areas that are not receiving enough water.
Simple lawn maintenance can convince a buyer to check out the interior since the exterior is enticing.
Functional Remodels
Renovating your home is another way to appeal to future buyers.
First, it replaces older elements with updated features, so the buyers will likely not have to deal with maintenance. Second, it can make the value of the home increase to fetch a higher price.
Thirdly, in the meantime, you can enjoy the upgrades yourself.
Some projects fetch a greater ROI than others.
For example, a full bathroom remodel with new vanities, flooring, and a gorgeous walk-in shower could recoup over 70% of your investment at sale, and sometimes even more.
Potential homebuyers love to see recent upgrades in the home that they are considering, so ponder the idea of investing in big home improvements.
Clear the Clutter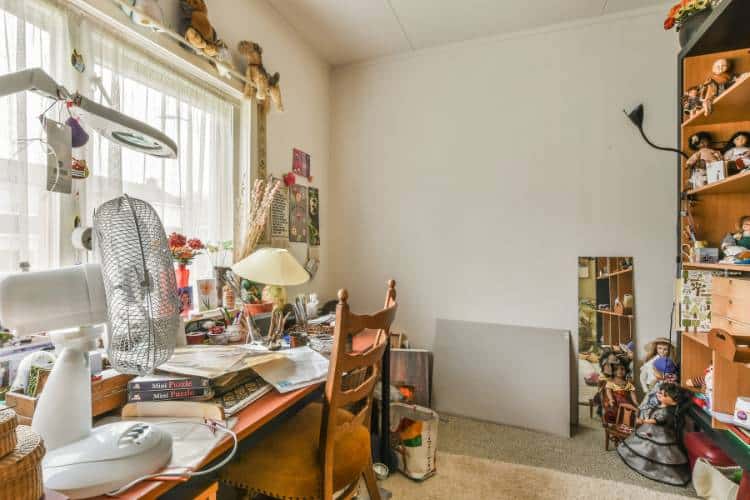 Part of the selling process involves potential buyers visiting your home. It may be for an open house event or a privately scheduled viewing with their realtor.
In any case, this is your chance to show off the potential of the home. The first step in doing so? Cleaning up the clutter.
If your home feels cluttered and busy, it might feel smaller to the buyers than it really is.
The more open and clear the interiors are, the easier it is for buyers to imagine their stuff in the home and how that might look.
Plus, a cleaner home makes for better pictures, which play a huge role in initially enticing buyers to visit the property in the first place.
If decluttering means cleaning more than you usually do, this is what it takes to appeal to more buyers, so it is worth the effort.
Speaking of Property Photos…
The first impression that people have of your home is usually from pictures on a listing site.
Many buyers browse platforms like Zillow or Realtor.com when they are in the market, and the visual representation of your home will be the first thing that makes them click on the link to learn more.
If these photos are not professionally done or taken with poor lighting and framing, your home will look less appealing.
It might be worth hiring a professional property photographer to take the most flattering pictures of the property.
At the very least, if you are taking photos yourself, do some research to learn property photo tips that will result in a better first impression on buyers.
You Will Get Out What You Put In
When you first bought the home, it was a huge investment.
Now, when the time has come to sell, you get to reap the rewards of that investment. However, taking steps to maximize your profits takes a little extra effort.
If you do not put any work into making the property more appealing to buyers, then you are less likely to get the best deal possible.
Make sure that the lawn stays clean and maintained to present positive curb appeal to passersby.
Invest in remodeling projects with great ROI to increase property value and entice buyers with upgraded features.
Keep the home clutter-free for viewing purposes and don't skimp on the property photos. With these strategies in place, you will be in a prime position to receive great offers for your Paradise, PA home.