Relocation, especially if you're moving out of state, often conjures images of chaotic rooms, lost items, and mounting stress.
Yet, with the right planning, this significant life transition doesn't have to be a daunting ordeal.
Imagine the sense of accomplishment and relief that comes with executing a seamless, organized move.
The magic wand that transforms this hectic task into a manageable process?
Preparation. If the journey ahead feels like a maze, fear not.
We've crafted a detailed moving day checklist designed to be your compass, guiding you toward a stress-free move, whether it's to a neighboring town or across state lines.
1. Eight Weeks Out: Research, Compare, and Declutter
As you stand on the eight-week threshold before your move, diving into meticulous planning can set the trajectory for a smooth relocation. Researching moving companies is essential.
Taking cues from resources like Verified Movers Reviews, which emphasizes the importance of a detailed moving day checklist, can guide you in sifting through genuine customer feedback, ensuring you make an informed choice.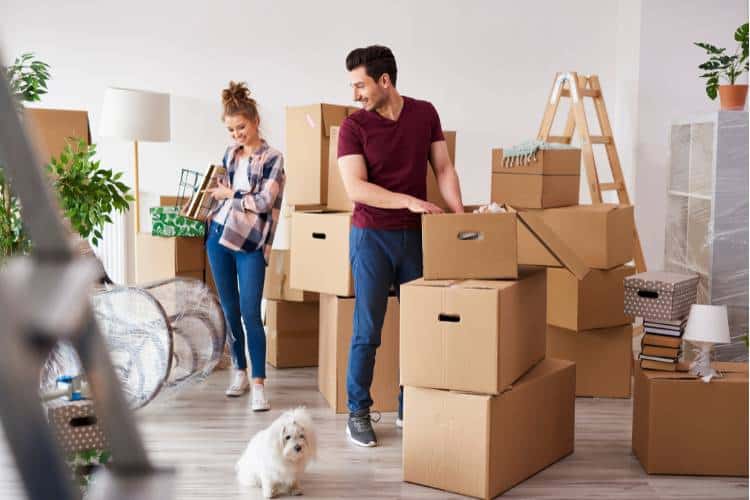 After all, you can never be too careful with so many scams out there.
Caption: Decluttering is not just about space; it's about shedding old weight to embrace a fresh start.
Alt-tag: Woman carrying a pile of boxes after decluttering before a move
Parallelly, address the personal inventory in your home. This is the opportune moment to shed what's unnecessary.
Methodically progress through each space, discerning between must-haves and items that can be donated, recycled, or discarded.
By balancing diligent company research with a thoughtful decluttering process, you're laying down the foundation for an efficient relocation.
2. Six Weeks Out: Procure Supplies and Communicate Changes
With a month and a half to go, your focus should sharpen towards tangible moving tools.
Acquiring moving supplies is not just about boxes; consider specialty packaging for artwork, electronics, and fragile heirlooms.
Maybe even consider protective furniture covers, especially if you're moving out of state, which can demand more rigorous transport conditions.
Side by side, initiate the administrative legwork. Informing key institutions, such as banks, healthcare providers, schools, and subscription services, about your change of address during this period ensures a smooth continuity of essential services.
3. Four Weeks Out: Strategize Packing and Label Smartly
With the one-month mark approaching, the tactical aspect of packing comes into play.
Establish a hierarchy based on utility: pack items that you seldom use first, allowing your day-to-day life to continue with minimal disruption.
Delicate items deserve special attention; hence, allocate time and resources to pack fragile items when moving to ensure they reach their destination unscathed.
As your home gradually transforms into a maze of boxes, detailed labeling becomes invaluable.
Each box should contain information about its destination room and a succinct content description, facilitating a seamless unpacking process later.
4. Three Weeks Out: Sync Utilities and Plan for Moving Day
Three weeks might seem distant, but it's a pivotal juncture to align your utilities for a flawless transition.
Engage with your current and prospective utility providers to orchestrate the seamless cessation of services in your old home and their initiation in your new abode.
Beyond just water and electricity, think of smaller details like internet connectivity, trash collection, and any subscription services that hinge on location.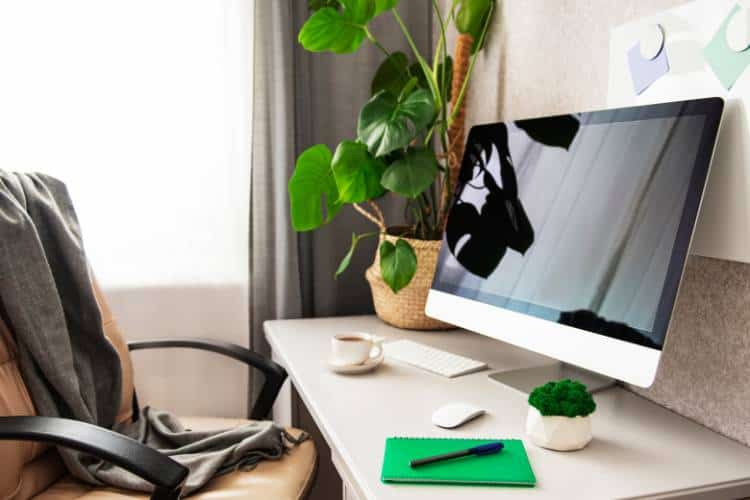 Additionally, as moving day often brings with it unforeseen challenges, plan for any contingencies.
If you have children or pets, sketch out a care plan to ensure their day is as undisturbed as possible.
A little forethought now can prevent last-minute scrambles and ensure a seamless shift.
5. Two Weeks Out: Prioritize Essentials and Stay Connected
Drawing closer to moving day, it's time to zero in on your immediate necessities.
Packing daily-use items requires a strategy. Think about the first 24 hours in your new place: which items will you need urgently?
From nightwear to toothbrushes, these essentials should be easily accessible.
On the logistical side, any pending address updates for online accounts, shopping platforms, or personal connections should be addressed now, mitigating the risk of misplaced deliveries or communications.
6. One Week Out: Finalize with Movers and Begin Farewells
With the seven-day mark now upon you, clarity in communication and a touch of sentiment become paramount.
Reach out to your chosen moving company to solidify every detail.
This includes confirming schedules, understanding any specific equipment or procedures they'll be employing, and addressing any latent queries about the move.
While the logistics are being ironed out, allow yourself to embrace the emotional spectrum of the transition.
Dedicate time to visit favorite local spots, perhaps those cafes or parks that hold cherished memories.
Maybe even engage in heartfelt conversations with neighbors or acquaintances, setting the tone for meaningful goodbyes.
This week is about blending the concrete details of the move with the intangible moments of closure and reflection.
7. Two Days Out: Wrap Up Packing and Strategize Unpacking
The last 48 hours can be a whirlwind. Ensure every item has found its way into the appropriate box.
Now's also the time to strategize your arrival. Plot out the unpacking sequence, maybe even drafting a tentative floor plan.
Also, consider immediate necessities in your new space, such as where the coffee maker will go or the arrangement of your bedroom.
Reflect on the broader picture, considering things to do before moving into your new place that could make unpacking and settling in that much easier.
8. Moving Day: Oversee, Document, and Stay Calm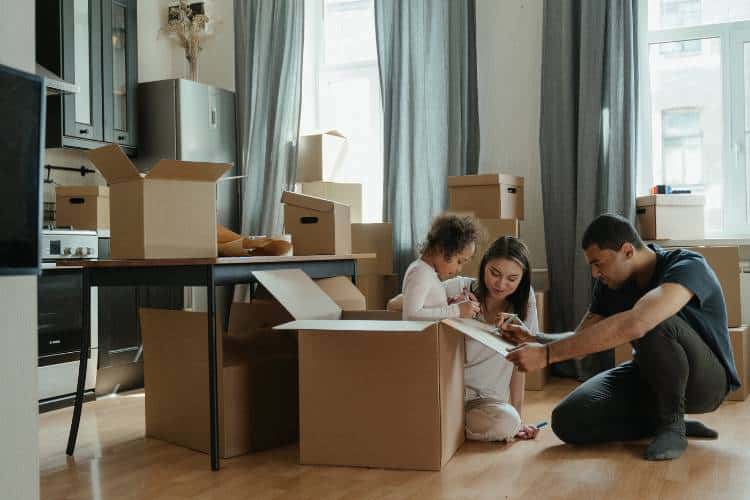 The culmination of weeks of planning is here: moving day. It's more than just transportation; it's the pivotal moment to ensure each box, each cherished item, is handled with care.
Vigilant oversight of the moving process guarantees the safety of your belongings and provides peace of mind.
Consider documenting each stage, from the loading of boxes to the condition of large furniture items, as this can be invaluable for both inventory tracking and potential insurance purposes.
As the day unfolds and the final item gets loaded, take a breath.
With the last task checked off your moving day checklist, relish the satisfaction of a well-orchestrated move.
Now, all that remains is the exciting journey of settling into your new space.
Embracing New Beginnings with a Moving Day Checklist
With a well-thought-out moving day checklist, the complexities of moving can transform into an organized dance.
As you settle into your new space, remember that each item unpacked, each picture hung, is a step toward making a house a home.
The future is bright, and new adventures await.