If you've recently decided to give your kitchen a makeover or even a complete overhaul, chances are you're thinking about decking your new space out with only the coolest of kitchen appliances and gadgets.
With so many options out there, it can sometimes be a little intimidating trying to find what suits your kitchen best, which is why we are here to help.
Today, we have a look at the 7 essentials of a modern kitchen, so read on to find out more!
1. A High-Quality Stand Mixer
An absolute essential in any modern kitchen is a high-quality stand mixer like these that not just looks good but also performs like a champ.
Stand mixers are perfect for whipping up the most delicious cakes, meringues, whipped cream and brownies, but it doesn't just stop there.
Many stand mixers now come with various attachments that allow you to transform your humble mixer into a pasta machine, ice cream machine or even a meat grinder, so this is definitely something you want to look into if you're an avid cook who is trying to maximize your kitchen space without compromising on flavor!
2. You Say Espresso, I say YESpresso!
If you're a coffee lover and just can't start the day without a quality blend, then an espresso machine is the perfect option for your modern kitchen.
Depending on your budget, you could opt for a pod machine, a fully automatic espresso/coffee machine or even a drip coffee maker.
There are dozens of options available, so be sure to head to your nearest appliance store to have a look at what is on offer, because nothing beats a cafe-worthy latte in the comfort of your own home.
3. Masticating Juicers
Juicing is back in trend, and preparing your own fresh juices at home is one of the most economical ways of injecting some vital nutrients and vitamins into your daily diet.
The best juicer for any health junkie is, of course, a masticating cold press juicer.
Masticating juicers crush your ingredients gently, thus reducing the level of oxidation in your juice and preserving as many vitamins and minerals as possible.
Most juicers in 2021 also come with a medley of other functions such as the ability to make nut butters, nut milks and even frozen fruit ice cream!
4. Electric Pressure Cooker
Guess what, pressure cookers aren't just for your grandparents. In fact, electric pressure cookers (learn more) are third-generation kitchen superstars that are essential in any kitchen.
An electric pressure cooker can help you cut down on cooking time by up to 50%, especially when you are cooking meats, beans and other foods that may otherwise take hours to prepare.
There are quite a few sizes of electric pressure cookers available on the market, to consider your kitchen space when choosing the right one for your needs.
5. Amazing Air Fryer
It seems like everyone has hopped on the air fryer trend in recent years, and we certainly don't blame them.
Air fryers are amazing appliances that allow you to cook foods with up to 80% less fat or oil, without compromising on texture, crunch or flavor.
Air fryers are also much easier and safer to use than a conventional deep fryer and may also reduce the risk of toxic acrylamide formation which happens in the deep-frying process.
If you don't have an air fryer, you certainly need to get one now!
6. Microwave Oven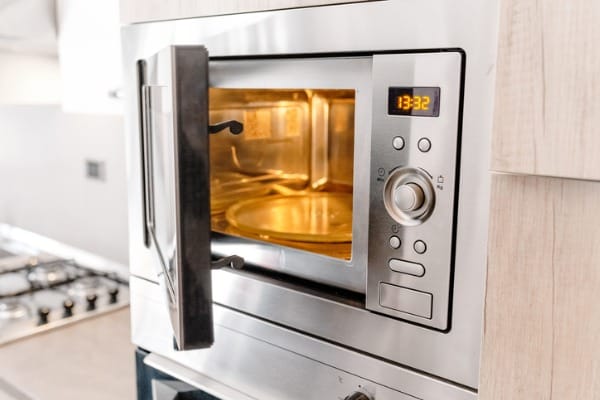 You probably already have one of these at home, but considering a microwave upgrade could not just transform the look of your kitchen but also how efficiently you are able to heat food up.
Modern microwaves are a far cry from their bulky white ancestors and now come in a variety of finishes including stainless steel and glass.
Many modern microwaves also come with other functions such as toasting, baking and steaming which is helpful for anyone who doesn't have a massive kitchen or space for numerous appliances.
7. Water Purifier
Although tap water is generally safe to drink, it still contains impurities which can impact its makeup and taste, among other things.
This is why we always recommend utilizing a ceramic water filter. A good water purifier will be able to filter any contaminants out of your drinking water, allowing for the purest drinking experience possible. One of Tyent water filters is sure to meet your expectations, so go ahead and take your pick
No modern kitchen is complete without the addition of at least one of the above appliances, and we hope that this article has inspired you to head out and explore all the amazing kitchen appliances that are at your disposal.