Painting a room is often thought to be a messy job, but if you use the right equipment, it doesn't make that much of a mess. If you're thinking of giving your home's interior a new look, we've got some suggestions that will make it easier for you.
But not everyone knows which paints are best for your walls, and some certain brands and formulations last longer and hold up better. Let us help you get some simple tips that will help get you started.
Best Practices for DIY Painting
It used to be that painting a room was a rough and dirty job that most people want to avoid. This is why it's one of the few dirty jobs that are put-off to the last minute and usually takes forever using conventional painting tools.
Here are some tips that you can use that make it more ideal for painting any size room.
Lay down plastic sheeting
Even though the paint is easy to wipe up with a sponge, it's much harder to get out of carpet, fabric, and everything else it splatters on. Plastic sheeting comes in different thicknesses but most people choose the wrong thickness.
Buying a thick plastic-like tarp is fine but it's expensive and not so flexible to drape over furniture. There are cheaper foil-like sheets that work just as good as a one-off sheet for each room.
Wear proper protective equipment
Paint stains can be incredibly difficult to remove on clothes and skin; hence, you should wear proper equipment to protect yourself. These include a pair of well-fitting disposable gloves, a respirator, eye protection, and a paint suit.
These safety equipment for painting are readily available in most hardware stores. If you're going to do DIY home improvement projects frequently, you may as well stock up on them. They're going to come in handy in the future.
Make some room
Painting a room is a lot more effective if you move everything temporarily to the center of the room. Or at least away from the walls about 3 feet, so you have room to work on each wall.
This way you don't have to take anything out from any room that you intend to repaint.
Paint pad Vs paint roller
We already know that a paint roller is one of the go-to items for quickly painting a wall. It's also a problematic item because it creates splatter as the roller goes over the surface.
Because it creates a pebble-like texture, this attracts dust due to the subtle peaks and valleys. This is why your walls end up attracting dust much more than smoother walls.
If you use a paint pad, this leaves a smoother finish that is easier to maintain over the years.
Best uses for paintbrushes
Don't ever use a paintbrush to paint a room, since there are too many pitfalls that go with any brush that is used to paint. They can leave behind brush strokes, paint bristles, and uneven coats.
You're not painting the Sistine Chapel, although a 1-inch chip brush is perfect. This can be used to get into door jams and tight spots that your paint pad cannot.
Easiest colors to upkeep
Despite what interior decorators advise, they want to turn everything into an artsy post-modernistic version of Fantasia. While this is fine for a growing rainbow-driven generation, your home should maintain a positive feel.
Here's the colors that work best:
Chose correct tones of white
Bright white often sounds like a good idea, but you don't want to use glossy white since this can create too much glare. Choose a decent semi-gloss that gives just enough shine and is easy to clean with a soft sponge.
Try to avoid whites that have yellow or brown tones unless you want to have an antique look.
Skip pastel colors
These colors are largely outdated and look awful in any home. Not only do pastel colors inspire bland thoughts, but they also make your walls look faded and aged.
These colors are also harder to keep clean because of their specific tone. It's also a bad reminder of the 1980s that should never be repeated.
Avoid earth tones
This is another mistake that will make any room appear smaller and dirtier. If you have the intention to give a weathered effect, brown tones are fine. This would fit-in for accent rustic looks, but not for an entire wall.
Combine light with dark
Your wall may or may not have decorative trim that runs along the edge of the ceiling or at the edge of the floor. These are excellent spots to add darker lines that define your room.
The combination of light and dark tones works best using variations of whites with darker whites, grays, and shades in between.
Room colors that inspire your mood
Colors play a big role in how you feel and can trigger emotions that will not be good in your home. This is why certain government offices, police stations, and local businesses are careful about the colors they use for their interiors.
Steer clear from angry colors that are too exciting looking. White and cream colors are always best since these are typically soothing. You'll want to search out websites that feature painting inspiration ideas; the web is packed full of articles to help with creativity.
Best paints that last longer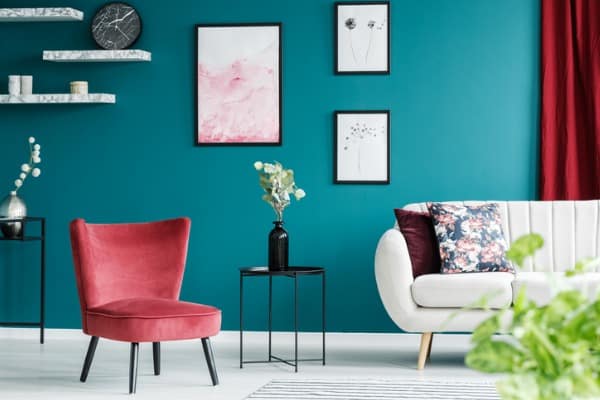 You want to use paint that is washable in every room. The reason is simple since this type of paint lasts a lot longer than the cheaper brands you see at the paint store. It might be pricier but the results you get from using Matt Emulsion paint are best.
Brands such as Dulux and Farrow & Ball are top picks. They are especially important if you have kids or pets and can be repeatedly cleaned over and over with a soft sponge and light soap.