When we design our homes, either from scratch or during a renovation, there are only really two interior styles to go for, and that is open plan or closed plan.
And given that we're in 2021 and have lifestyles that demand the most versatile living spaces possible, there's a good chance that an open plan is all that's on your mind.
However, if you're looking to convince a partner, or yourself that an open plan is the main way to go, we have some great benefits of an open plan living space below.
Take a look.
1. You're Getting a Ton of Light
Off the top, one of the best perks of an open floor plan is that there aren't too many internal walls that are going to cut up the light entering your home.
This means that one large window can effectively light the entire home without too much trouble at all, and this can reduce lighting bills and keep your home nice and welcoming all day long.
Added to this, an open floor plan is far more effective to use as more than one space when it comes to lighting.
For example, a lot of us will have specific zoned spaces in our home as a result of poor or good lighting conditions.
No one wants to eat in a dark and dull living room, and with an open floor plan that ensures excellent lighting for the entire space, you're getting the ability to sit and use any space in the home for dining and living.
One final thing to keep in mind, which isn't too surprising, is that open plan living's improved light penetration allows all of your spaces to feel a lot bigger than they are, especially when paired with white paint and well-styled and furnished rooms.
2. Entertaining is More Effective
Another big perk of an open floor plan is the fact that entertaining friends and family is near-effortless.
You're going to be able to keep everyone in one large, open space and this means that there's little chance of some people feeling secluded or left out in small zones of the home.
Think of the entire home as being one open space, aside from private bedrooms, and you effectively have a hosting floor that is uninterrupted and ripe for a great time.
And the best part is all you really need to get started is a bunch of great home DIY demo tools like hammers, to knock out a few walls, and you're all set!
A builder or team of contractors can then seal up spaces where non-load-bearing walls were and you will have a magnificent open space.
3. Uninterrupted Communication
There's a good chance when you were a kid, hearing your parents yell out for you was just about as far as they got – given that all the walls on the way to your bedroom were essentially blocking anything else they were saying.
With that in mind, an open plan home effectively means that you're able to hear and see everyone who's talking and will know what is going on at all times.
This is also great for safety for small children and pets too as it's a lot easier to keep a close eye on everyone.
4. There's No Traffic Bottleneck
If you have a family of four or more, you'll know that the morning rush can be hell if you're all starting off the day in the same rooms and spaces.
A non-open plan home effectively jams everyone into the same place in the morning and this means that you're bumping into people, waiting for someone to step out of a living room before you can enter and so much more.
These issues are exacerbated if you have roommates that you don't really want to bother in the wee hours of the morning too.
With that in mind, in an open plan home, you're going to have space, and lots of it to move about without needing to shuffle aside to get by someone with all of your grocery bags, for example.
5. An All-open Design is Freeing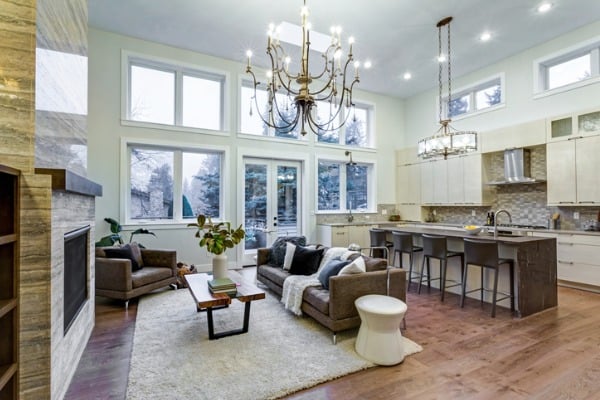 We know that many open floor plans consider the dining and living space, but if you're looking to really push your home's liveability to new limits, then keeping the living, dining, kitchen, rumpus and home office in an all-open layout might be something worth considering too.
With every space open and featuring no harsh walls or blockages, you're letting in a tonne of light, allowing free movement through the home and also giving yourself one single large space to live and work within.
One downside to these types of designs is that they can be a little expensive given that structural support needs to be more carefully engineered if you have little to no support pillars in the center of the home.
The Takeaway
With our benefits listed out above, it's clear to see that there is a tonne of perks to designing an open floor plan for your home. It's always good to get the most out of a space, and with no walls, you're free to do basically anything you'd like!
Keep in mind that open floor plans can cost a little more than their old-school closed and broken plans, but the lifestyles that come with open plan living are unmatched. However, an open plan home is likely to fetch more at auction than those closed plan homes.