Primitive ladder décor never gets old, though it has been in fashion for decades. As the saying goes, "old is gold," this type of décor never goes out of style.
Whether you want to use it in your kitchen, hallway, living room, bedroom, or any other part of your home, there are endless possibilities for making a unique yet stylish rustic or "throw-back" ladder.
In this article, we'll explore a collection of fabulous DIY ladder ideas that you can make at little or no cost at all.
More interestingly, you don't need to be an expert in carpentry or woodwork to get your antique or old farmhouse fashion in place.
So, grab a cup of your favorite drink or something yummy, get to a comfy spot, and explore. Perhaps you can make one or a few for yourself or someone else as a gift.
Ready? Let's dive in!
1. Keep the Cost Down—Use What You Have
The cheapest way to have a fantastic ladder be a part of your décor without spending much is by making use of any idle materials around you.
You can get a used ladder, set it up, and add a touch of personality. Perhaps you can add some plants or some interesting accessories, and you'll have yourself a masterpiece!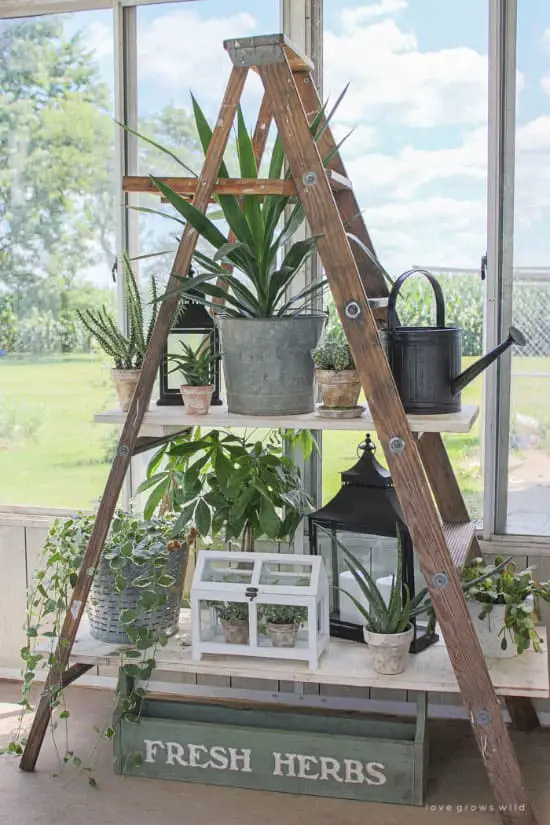 Take a stroll over to Love Grows Wild and learn from Liz how to make this type of primitive ladder décor pretty quickly.
2. Take It to Your Style
Getting a perfect little ladder and giving it a touch of style and beauty can provide a true definition of uniqueness.
And of course, it's one of the most fabulous ideas to go.
To make your own rendition, you can purchase a simple ladder, or repurpose a perfect little ladder if available and give it a stunning appearance using your favorite paint or stain color.
With that done, stylize it to get that perfect ladder décor you've always longed for.
You can choose to give it a stylish garden arrangement. This brings the outdoor beauty of nature into your indoor setup.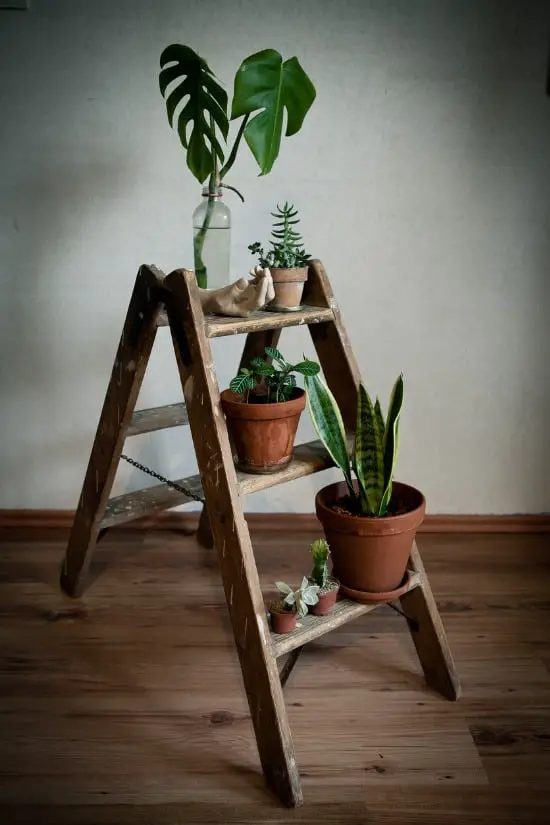 This is one DIY ladder project you can do without strain.
3. Use Forgotten Materials
Working a primitive looking ladder into your home's décor doesn't have to be expensive and complicated. Instead, you can use some of the materials that aren't being used around your house, garage or yard.
If you have a bunch of scrap wood around your property, you needn't think hard. You can use the scrap wood to make just about any stylish rustic ladder that you want.
You can start your project and be finished within a day. When done, you can display anything on it, ranging from pots and pans to towels and blankets.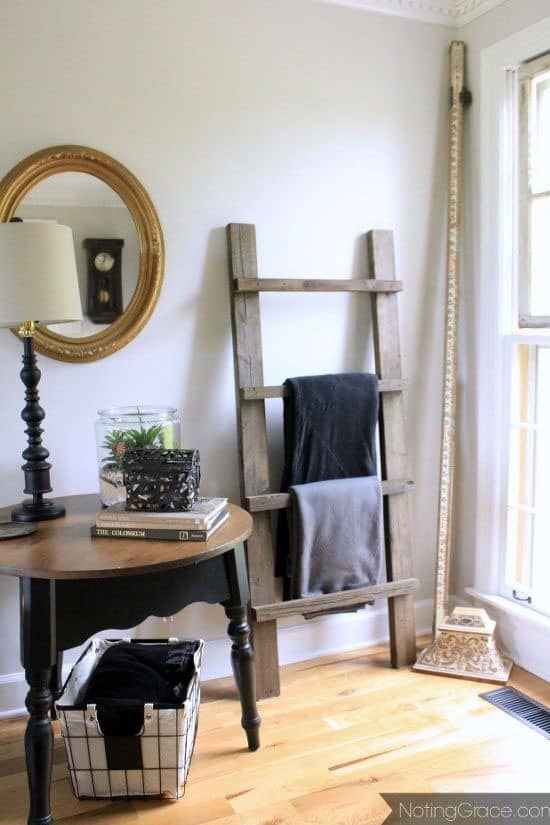 Venture on over to Hometalk and learn how to make a fantastic DIY old-looking ladder.
4. Hang It Up
Bring on your rustic design by hanging an aged ladder from the ceiling with chains or rope. It's both intriguing form and clever function as you hang an assortment of lanterns for an eye-catching look to your overhead lighting.
This adds such a great sense of elegance and vintage style for your kitchen, farmhouse dining area, or outdoor patio.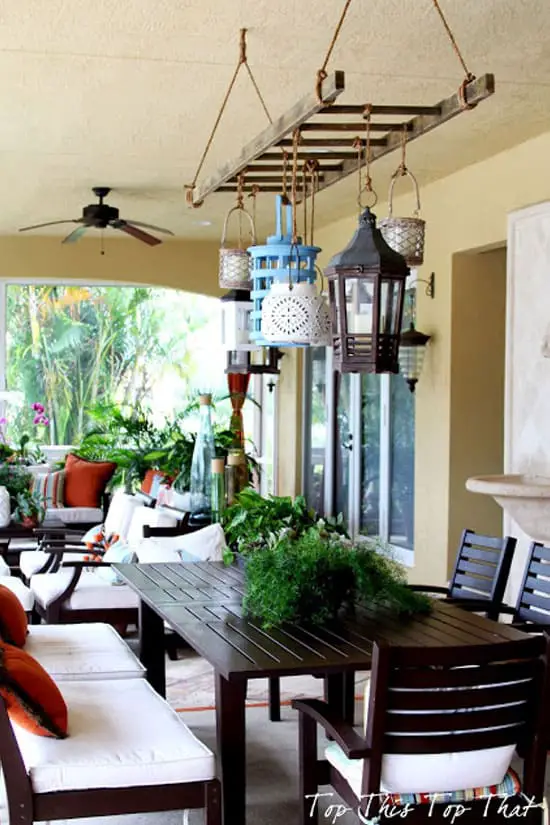 Take a look at Duke Manor Farm and explore the fantastic pieces of ladder décor that Laura makes. Stylish and pocket-friendly!
5. Get Innovative with Your Style
When it comes to primitive ladder décor, the sky is the limit! You can use whichever combination to get that fantastic rustic feel.
By using just locally bought Dollar Tree rolling pins, hack glue, and a few pieces of string, you can get your first ever fantastic DIY ladder décor at a cheaper cost.
And after a few hours, you can get a ladder décor that looks like the one below.
Learn how to make this fantastic piece in this video:
6. Make It Functional in Your Kitchen
Using ladders to decorate your home can have a wide range of uses, depending on where it's placed. Interestingly, a fabulous ladder décor not only adds beauty to your kitchen but also adds a storage functionality.
As such, you can add S-shaped hooks and add pans, pots, colanders, and much more, as shown in the image below.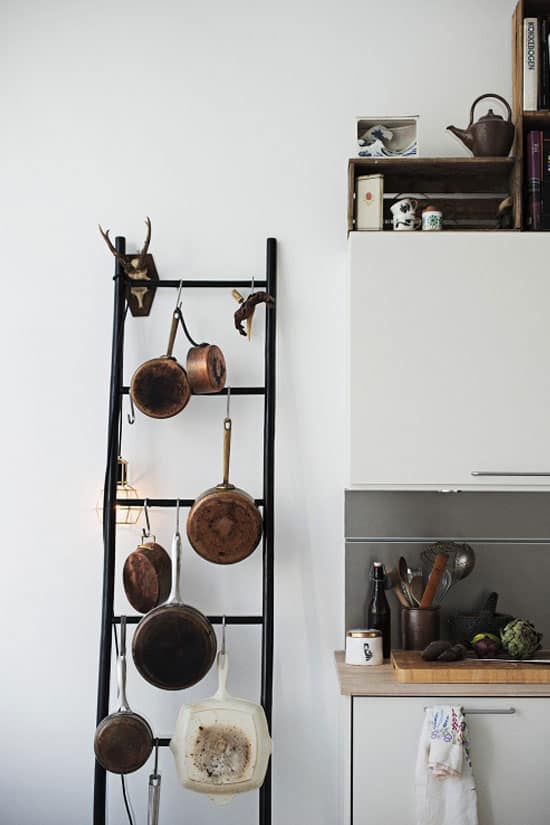 Take a look at the Design Sponge blog and learn how to make this fabulous piece just in your free time and make the difference.
7. Use Branches to Make a Fabulous Ladder with Photo Frames
There are many approaches to use when making DIY ladders. For example, using branches can make your ladder sizzle with a rustic beauty.
Just by using 60-inch long branches for your ladder length and 16-inch pieces, three picture frames, a long length string, long wood screws, and some hooks, you can make a fantastic picture frame ladder.
Below is a sample of picture frame ladder, which will for sure inspire you. And perhaps, you can design a prettier one.
Take a look at this video and see how easy you can make yours.
8.    Use Round Posts
Round poles can give a perfect ladder décor for hanging your towels or blankets.
To make such a decorative yet functional ladder, you need:
A few long wood screw,
Get 2 round poles measuring 60 inches each in length.
Get a few short pieces of about 15 inches long to make the middle pieces.
A drill
Request for the middle pieces to be cut into the required sizes before getting them home to make your work easier.  If done well, you may end up with a fabulous ladder that looks like the one below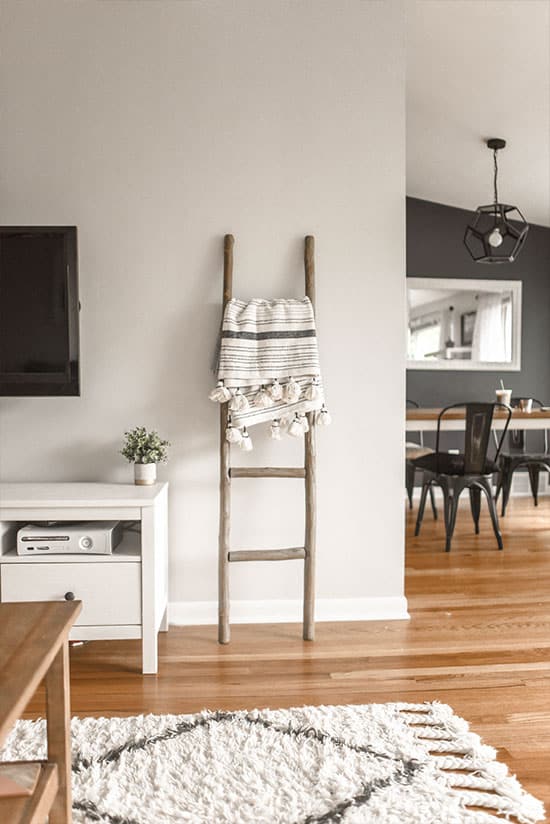 Try this out and fall in love with its appeal.
9.    Make It Speak
Forget about using it as a towel stand or as a storage accessory in your house. A ladder design can speak a thousand words.
With colorful ribbons or other types of décor, you can make your ladder classy and lively with some love or inspiring tags. And of course, this fantastic piece is no match to most of the old wooden ladders for sale.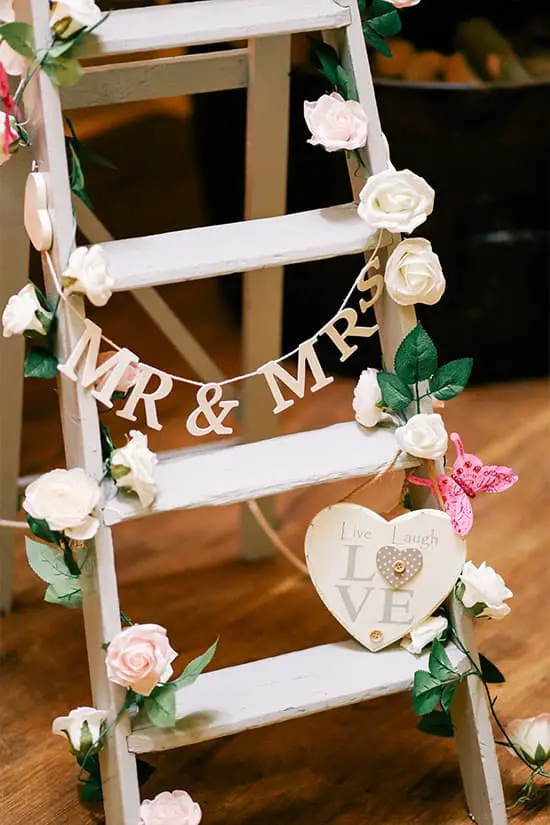 With this kind of ladder décor, you can send a message more concretely.
10. Make It With a Crisscrossing Design
With a crisscrossing design, you can take your ladder décor to the next level at the cost of less than $10. Moreover, this design and style needs no miter cuts that can perhaps make the work tricky.
Without a doubt, it's one of the best antique wooden ladder that you can ever have in your house.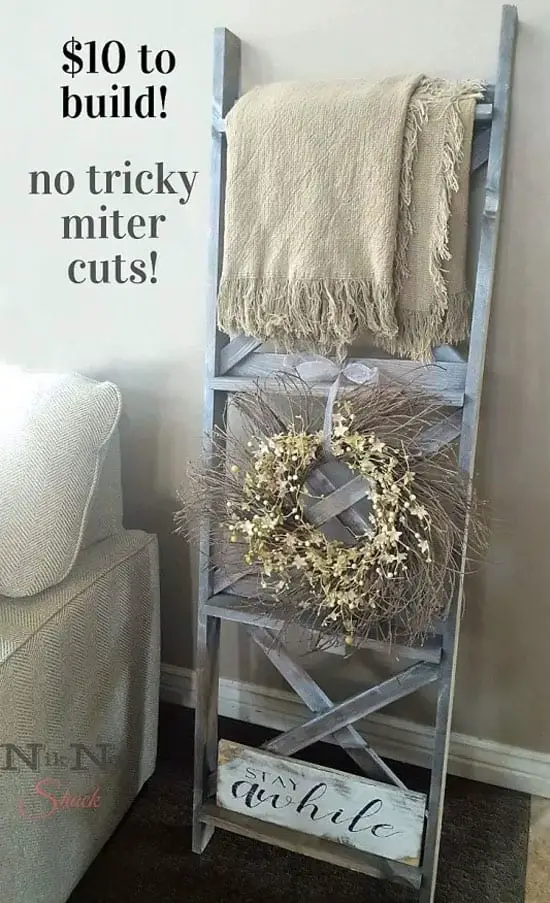 Take a look at Nik Nak Shack and learn more amazing DIY primitive ladder décor ideas.
11. Complement Primitive Ladder Décor with Vintage Accessories.
You can give your bedroom a unique touch with this type of rustic ladder décor. After setting up the ladder, you can stock it with necessities as well as the vintage accessories.
Take a look at Funky Junk Interiors and see how Donna made this fantastic piece.
Bottom-line
Primitive ladder décor is timeless. With a wide range of customization, you can create a perfect piece that fits your lifestyle and décor.