You may be planning to buy new appliances and furniture as an upgrade, replace obsolete ones, or declutter your home or office.
Regardless, doing any of these will leave you with extra items that require proper disposal.
Unused items take up space unnecessarily and make your area lose its aesthetic appeal.
So, it's best to find a suitable method to dispose of these items and free your house or office from unnecessary clutter.
You can't just throw them in the trash or dismantle them because some contain toxic substances harmful to the environment.
Leaving them on the curb does not guarantee that pick-up services will collect them due to their nature or size.
So to handle the situation professionally and responsibly, here are some ways to get rid of unwanted appliances and furniture:
1. Hire Removal Services
Hiring junk removal services is one of the fastest and most convenient ways to eliminate unwanted appliances and furniture.
You can hire a roll-off dumpster to load your unwanted items and call for pickup when ready.
Or you can schedule a one-time collection when you've gathered the appliances and furniture you want to take away.
If you live in Los Angeles, hiring a local junk removal company like Junk Removal Calabasas is a good option for disposing of several large items.
It's suitable for those moving out of town who don't have time to dispose of the items or who have bought new appliances and furniture but have no space to store the old items.
Junk removal services will give you peace of mind knowing that the removed items will be disposed of responsibly.
2. List The Items Online
Advertising online is a great way to source buyers. If the unwanted items are still usable, you have enough storage, and aren't time-constrained to remove the appliances and furniture; you can list them online.
Many online sites exist for such purposes. You should take good photos of the items at the right angles with proper lighting, write an outstanding description, and post.
Being honest about their true condition is crucial so buyers can set expectations.
Local buy-and-sell online groups are also a great way to sell unwanted items to people in your neighborhood and around your area.
Ensure the items are in a garage or driveway and not inside your home for safety purposes.
Items listed online have the advantage of a larger audience and, therefore, a faster sale.
3. Trade-In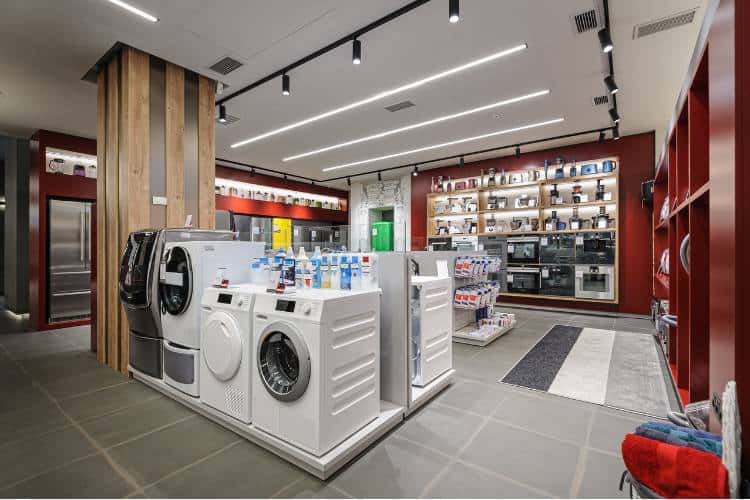 Trade-ins are a convenient and effective way to eliminate unwanted appliances and furniture.
Some second-hand shop retailers accept used items, value them, and offer a similar product as a trade-in.
The value of your items will act as a down payment and recoup a percentage of the costs of upgrading or purchasing other new items.
That dining set or microwave you consider outdated is what someone else who can't afford a new one is looking for.
Trading in the items will allow other people to own them at a fraction of the cost of a new one. You will also get another item at a lower cost.
4. Sell
Selling unwanted items is an excellent way to get extra cash while decluttering. Gently used appliances and furniture are usually in great demand.
You can sell them through a garage or yard sale or to a local reseller. Items in good, almost perfect condition without missing parts sell the fastest.
Just make sure that the items are cleaned up and look presentable.
You can opt to sell unwanted electrical appliances that don't work to haulers who remove and sell valuable parts.
Haulers resell appliance materials like glass, plastics, and metals to scrap dealers.
Small items can be dropped off at the hauler's. You can arrange a pick up for larger items from the site at a small fee.
5. Donate
Donating appliances and furniture that are still in good condition but you no longer need is a way of supporting your local community.
Most charitable organizations depend on such donations and will collect the items, fix them if need be, and use them for a worthy cause or give them to people in need.
Many organizations accept donations, including:
Charities
Religious institutions
Homeless shelters
Community outreach centers
Thrift stores
You can donate to an organization whose mission you believe in and impact other people's lives.
6. Recycle
If your unwanted appliances and furniture are in bad shape and can't be resold or donated, the other option is to recycle them.
Some recycling facilities or electronic waste programs readily accept used electrical appliances like washing machines, refrigerators, dryers, and air conditioners.
That's because their recyclable parts can be reused.
Materials like wood, leather, metal, and other recyclable materials used to make furniture can be put in recycling bins or taken to recycling facilities.
The recycled components are then used to produce new products.
Recycling contributes to the environment's well-being by removing pressure from landfills. These facilities have the means and know-how to responsibly dispose of harmful or unrecyclable materials from your house or office.
7. Return To The Manufacturer
Some manufacturers have an exchange policy that encourages consumers to return their old appliances made by the same company.
They partner with retailers to receive the old items from consumers on their behalf when consumers purchase an upgraded version of a product.
Sometimes they even offer a discount on the new purchase.
However, this option may only work if you buy new products to replace the old ones. It's a perfect way to manage your waste responsibilities.
Conclusion
Disposing of your unwanted appliances and furniture doesn't have to be complicated. You can see that there are many options to choose from.
The disposal method you choose will highly depend on whether or not you are looking to make money off the items or if you want to get rid of them.
Their condition will also matter.
All the options mentioned above are responsible ways to deal with unwanted appliances and furniture.
They're convenient, rewarding, and safe for the environment, so they won't weigh on your conscience.