Spending time outdoors is one of life's simplest pleasures, and there's no better way to do it than in a cozy and inviting outdoor living space.
Whether you have a small patio or a spacious backyard, creating a comfortable and functional outdoor area can transform your home into a sanctuary.
An outdoor living space can provide a peaceful retreat to unwind after a long day, a space to entertain friends and family, or a private sanctuary for quiet reflection.
Setting up your outdoor living area can also be a fun project for you and your family that can provide many rewards.
It can also add value to your home while giving you more time to enjoy your property and take advantage of the natural beauty of the outdoors.
But with so many design options available, it can be overwhelming to know where to start.
Here are five tips for creating a cozy and inviting outdoor space to make your home the go-to spot for outdoor entertaining.
Define Your Space
Defining your outdoor living space is crucial in creating a cozy and inviting atmosphere. To do this, consider how you will use your outdoor space.
Will it be a place for dining, lounging, or both? Once you have a clear idea of how to use the area, you can start defining it by creating zones.
One way to characterize your outdoor living space is by using outdoor rugs.
Outdoor rugs are a great way to customize areas for dining, lounging, or playing.
They come in many styles, and can instantly add color, texture, and warmth to your space.
You can also consider adding walls or screens to create a sense of privacy and separation from the rest of the yard.
A pergola or a trellis covered in climbing plants can establish a sense of enclosure while adding natural beauty to your space.
By defining your outdoor living space, you'll create a more functional, cozy, and inviting area you'll love to spend time in.
Select the Right Furniture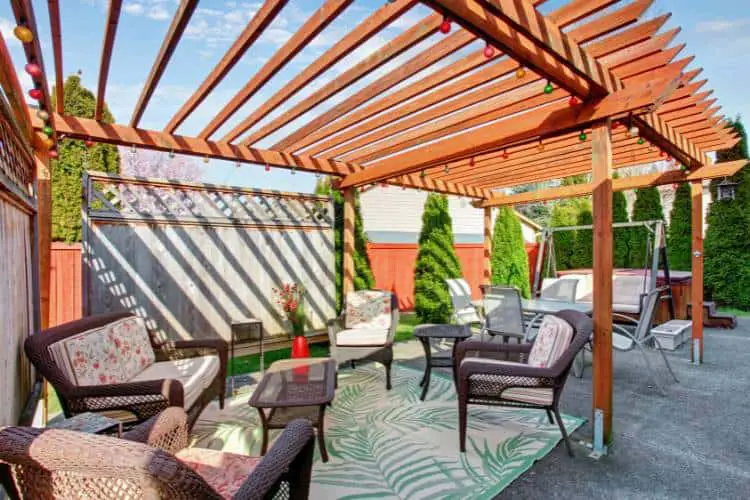 Selecting the right furniture is another important aspect of creating a cozy and inviting outdoor space.
When choosing outdoor furniture, it's important to consider style and function. Look for pieces that are not only comfortable and durable but also reflect your style.
One of the most popular materials for outdoor furniture is wicker. Wicker is a classic material that adds a timeless, elegant look to any outdoor space.
It's also durable, weather-resistant, and easy to clean, making it a practical choice for outdoor living.
Another popular material for outdoor furniture is metal, which is strong and can be found in several styles, from sleek and modern to ornate and traditional.
Also, consider the layout of your space. If you have a small patio, consider investing in compact furniture, like a bistro set or a small table with two chairs.
If you have a large backyard, you may want to consider a sectional sofa or a dining set that can seat six or more.
Comfort is essential when it comes to outdoor furniture, so be sure to look for comfortable pieces to sit on for extended periods.
Add cushions, throws, and pillows to make your furniture even more comfortable and inviting.
Add Some Greenery
Plants can add natural beauty to your space and provide shade, privacy, and fresh air.
When selecting plants for your outdoor space, there are a few things to keep in mind. Consider the climate in your area.
Choose plants that are suitable for the weather conditions in your region.
If you live in a hot, dry area, you'll want to choose plants that are drought-tolerant and can withstand high temperatures.
If you live in a cooler, wetter climate, choose plants that can thrive in those conditions. You should also think about the size and layout of your space.
If you have a small patio, choose plants that are small and compact, like herbs, succulents, or small shrubs.
If you have a larger space, you may want to consider larger trees or bushes that can provide shade and privacy.
A well-maintained lawn with lush green grass should also be a part of your greenery.
You can get all the essentials you need by searching Golf Course Lawn Store.
If you want to create a beautiful lawn, invest time and effort into proper lawn care techniques such as mowing, watering, fertilizing, and aerating.
You should also choose the right type of grass for your climate and soil type, and ensure that your lawn receives adequate sunlight and drainage.
Get Creative With Lighting
Outdoor lighting can set the mood and create a cozy atmosphere for your outdoor space.
Consider adding string lights or lanterns to create a warm glow, or installing built-in lighting fixtures to highlight architectural features or landscape elements.
You can also add a fire pit or outdoor fireplace for warmth and ambiance on cool nights.
Make sure to choose lighting fixtures that are weather-resistant and safe for outdoor use.
When installing outdoor lighting, place the fixtures strategically to highlight the best features of your outdoor space.
For example, you may want to put spotlights on trees or outdoor sculptures, or place path lights along walkways or garden paths.
Selecting the right fixtures and strategically placing them throughout your outdoor area can help create a beautiful and functional space you can enjoy day or night.
Keep it Personal
Adding personal touches to your outdoor space can make it feel like an extension of your home.
Consider adding sentimental items or outdoor curtains to create a cozy atmosphere, or incorporating artwork or sculptures to add a touch of elegance.
You may also want to add a water feature, such as a fountain or small pond, to create a relaxing ambiance.
Adding personal touches will make your outdoor space feel like a reflection of your style and personality.
Final Thoughts
Creating a cozy and inviting outdoor living space doesn't have to be complicated or expensive.
With a little planning and the right accessories, you can transform any outdoor area into a comfortable and functional oasis.
Define your space, choose the right furniture, add some greenery, incorporate lighting, and add personal touches to create an outdoor space that will be the envy of your friends and family.
Whether you're looking for a place to relax or entertain, your outdoor living space can be a reflection of your personal style and a source of joy and inspiration for years to come.