If you're into inspirational wall art, painting quotes on canvas DIY will be a fun activity. You get to create personalized wall art with ease.
How to DIY Quotes on Canvas?
Before we share inspirational, spiritual, funny, educational, historical, and motivational quotes to get you started, let's learn how to DIY quotes on canvas.
You need a canvas, of course. They can be bought online from Amazon or Etsy, or any other place selling art supplies. Using vinyl stickers, stencils, or carbon papers are the top three recommended ways to write the quote on the canvas.
Begin with stencils if this is the first time. Emboss / imprint the quote on the canvas, and paint with canvas colors.
Bind the canvas into a frame (wooden or metallic) and hang it anywhere on the wall. You know what – the DIY quotes on canvas are great gifting options.
Here are some examples from various DIY bloggers to get the creative juices flowing.
#1 Canvas Wall Art Using E.E. Cummings' Courage Quote
The famous words of E.E. Cummings signifies how age doesn't influence maturity. Instead, a person needs the courage to stand by what is right and gain wisdom.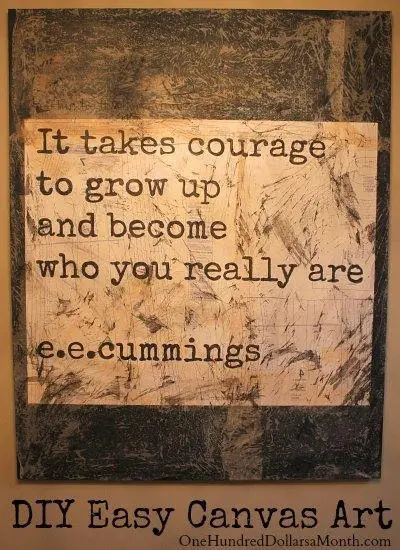 See how Mavis from One Hundred Dollars A Month brings this quote to life on canvas.
#2 Decorative Wall Art Poster For The Family
A beautiful quote for that special someone in life who stands by you when life gets a little rough around the patches, and you need someone to depend upon.
While DIYing this is a great idea, if you're looking to gift the poster to someone, you could also buy it from Amazon.
#3 Chic Motivational Poster
The present moment is the right time to go after your goal. Procrastination never helped anyone. Keep on waiting for the "right" time, and it never comes.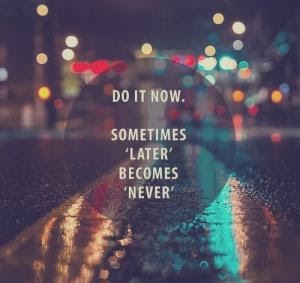 Blogger DayByDay expands upon why it's so important to begin chasing your goals now on their blog As The Days Go By.
#4 Minimalistic Wall Art With Inspirational Quote
The sky is not the limit when our footprints have reached the Moon and other planets! The space is the next horizon, truly!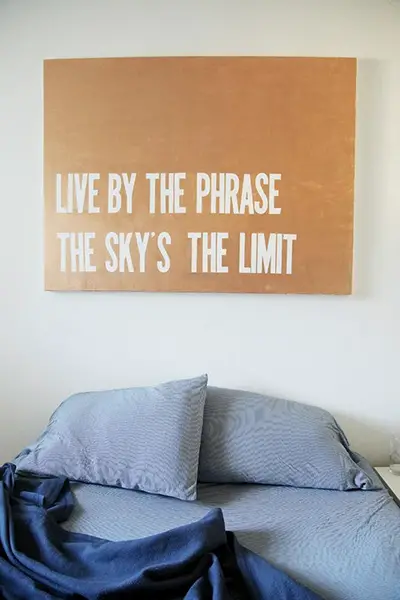 Alyssa and Carla made the canvas DIY quote for their home.
#5 Beautiful Wall Art With Thought-Provoking Quote
A simple and poignant message. Your life is only yours to create or destroy. You have the power, so what's stopping you from reaching the full potential? Let this be the thought of the day.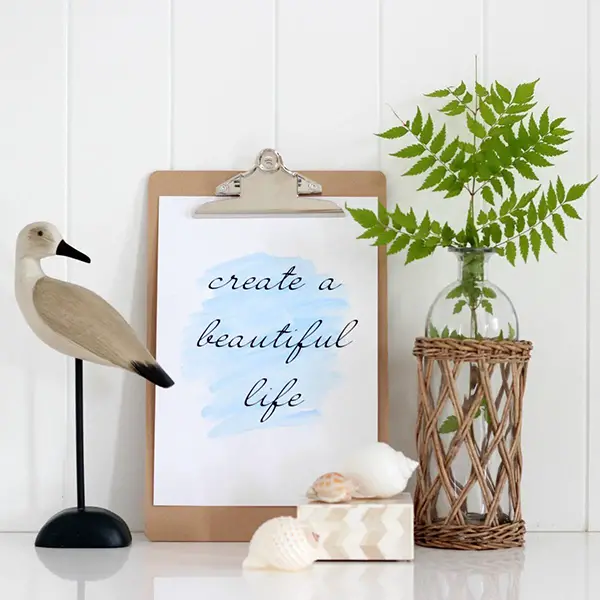 Find the inspiration for the DIY at DIY Decorator.
#6 Rousing Wall Art
Being in the comfort zone makes you complacent and dumb! You rot in a routine. Shake off the comfort zone and challenge yourself for once.
Source: Amazon
#7 Pretty Printable To Make You Feel Blessed
Even bad days are a blessing in disguise. It reveals your inner strength; it shows that you can take life head-on and deal with it. Rainy days of life leave you with an enriched experience.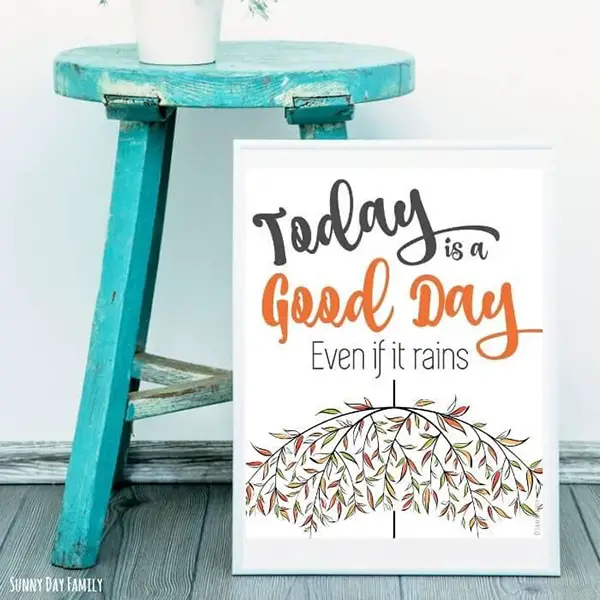 The Sunny Day Family is the inspiration behind the canvas DIY printable. 
#8 Enlivening Printable
People say "curiosity killed the cat," but you're a human, and curiosity is enlightening. Be open to new ideas and knowledge. Our life has endless possibilities, so why remain confined to what others tell us to do!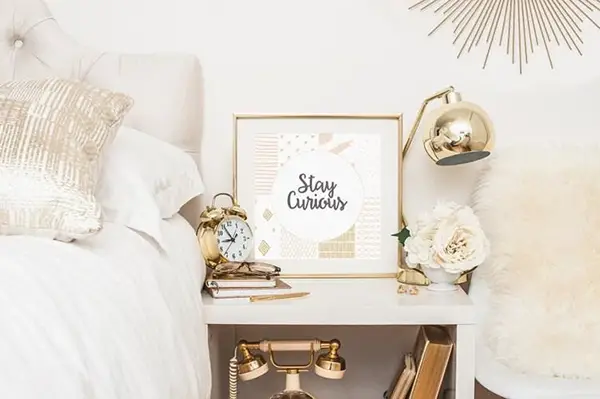 Find the canvas DIY printable at Gold Standard Workshop.
#9 Inspiriting Wall DIY
Travel broadens the mind. New destinations, new people, and new cultures open our eyes to varied experiences. A well-traveled person is a wise man, always! Get your bags packing now!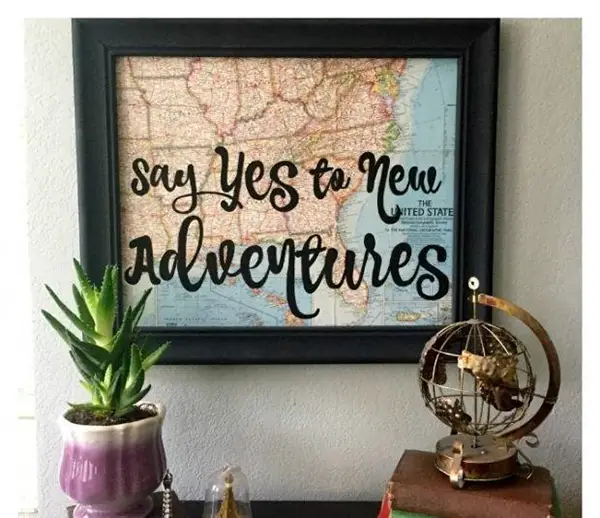 Just a Little Creativity shows how to do the canvas wall DIY.
#10 Gratefulness-Inspiring Pretty Wall Art
Make gratitude the mantra of your life. Be kind and thankful to everyone. You will feel at peace and happy. Accept your fallacies, thank the creator for giving this life, and forge ahead. A little thanks once in a while does make a difference in our life.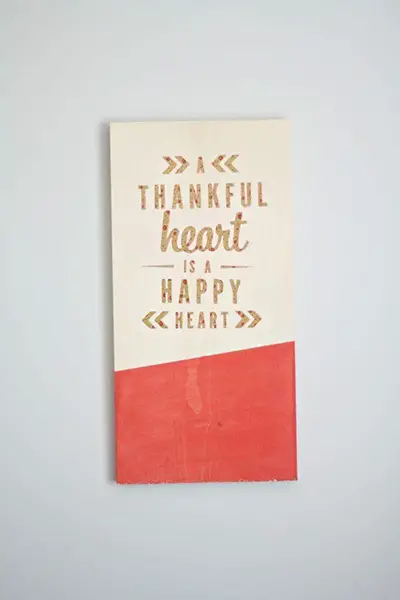 Learn how to do this DIY at Pretty Life Girls. 
#11 Adorably-Designed Printable With Uplifting Quote
Do not frown upon hard work. Modern age entrepreneurs focus on "smart work", but there is no need to categorize work – work is good. Do it with dedication, commitment, and loyalty.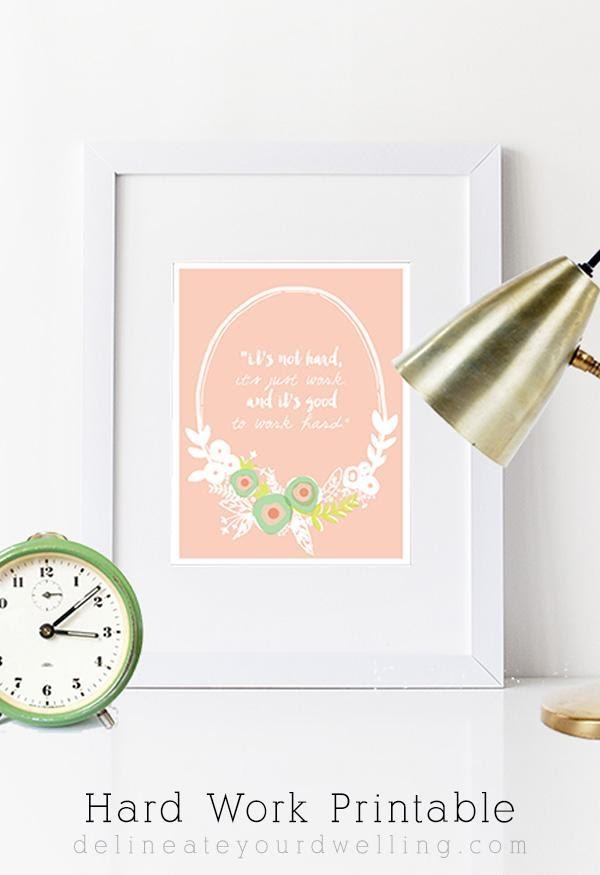 The DIY printable is available at Delineate Your Dwelling. 
#12 Impactful Quote Cluster
A cluster of quotes to be kept near your workplace or somewhere you would see every day to keep the motivation going. Seize the day! You were not born to be mediocre. Make yourself proud!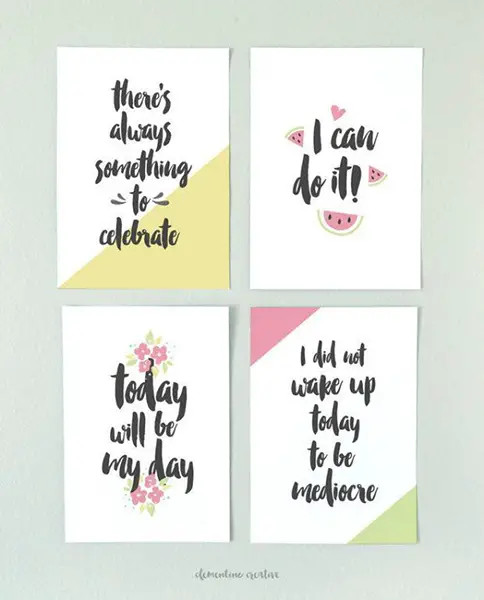 The morning motivation DIY idea is inspired from Clementine Creative. 
#13 Striking Wall Art With An Evocative Quote
A simple praise to make you happy. Reiterating self-satisfying phrases or words have been psychologically proven to leave a positive impact on your mind. Give the credit where it is due, that is, to your inner self. Reward yourself first – both emotionally and materially!
DIY a quote for your anniversary with inspiration from Enthralling Gumption. 
#14 Perfect Wall Art For Every Home
A home is made of happy hearts. This is a beautiful quote to keep reminding yourself how happy and blessed you are in the current reality. You are blessed to have a loving family and friends — many aren't, and that's truly tragic. Protect your safe place.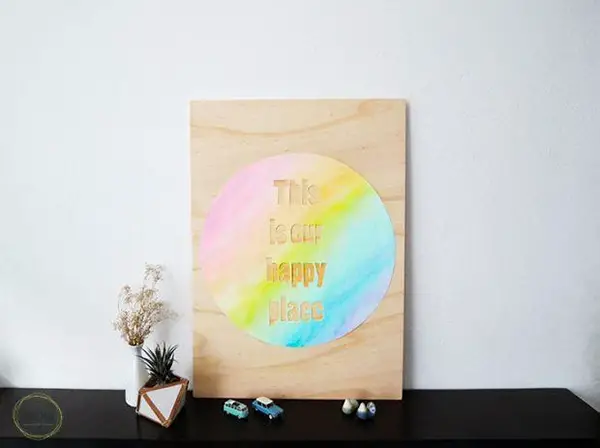 Learn to make the pretty wall art at Ohoh Deco.
#15 Moving Quote On Minimalistic Wall Art
If you know history, Winston Churchill was a strong personality to reckon with. It was no mean fit to match his wits. His meteoric rise in politics is the stuff of legends. He had to make hard decisions at times, and only strong willpower and decisive nature help.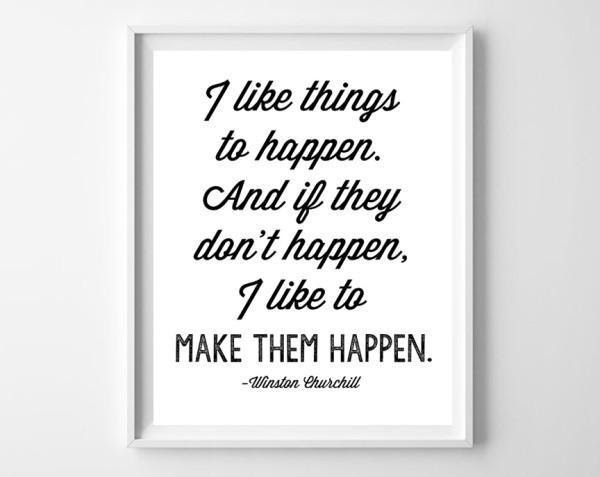 Check out the DIY method at Burlap and Blue.
#16 Enchanting Wall Art With A Sweet Quote
Don't take yourself too seriously! Smile, and all the worries will melt away. Find a reason to smile even in the toughest of circumstances. Life is anyway too tragic to waste it being serious and stoic at all times!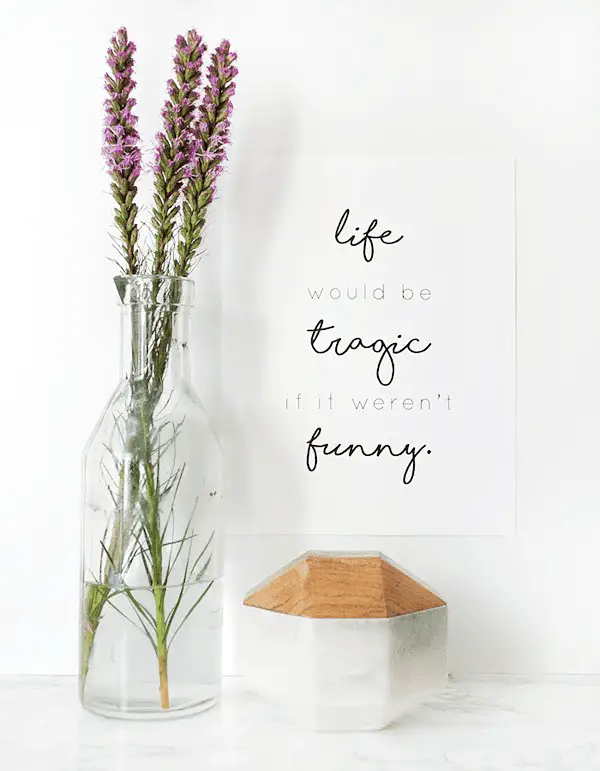 Learn about designing the beautiful quote at Bre Purposed.
#17 Stimulating Printable
Put this on canvas and keep on your working table. Life simply doesn't have any place for quitters. Nothing is impossible. If the thought to quit crosses your mind, remind yourself why you started in the first place – that will jolt you out of the blues!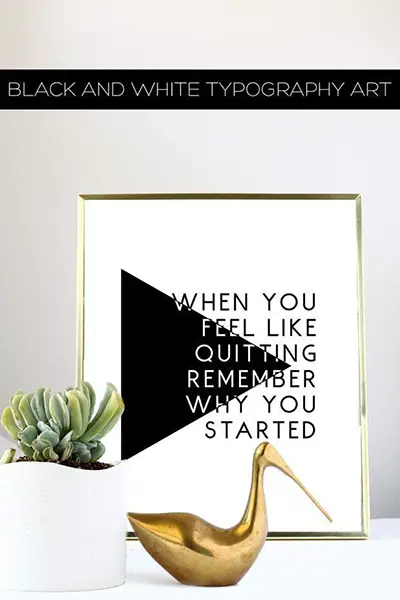 The inspiration for this DIY is at Squirrelly Minds.
#18 Beautiful Quote On Canvas
Newly married? This is a nice quote that keeps reminding you of what you have and gives hope for a bright future. Use this to decorate the bedroom wall.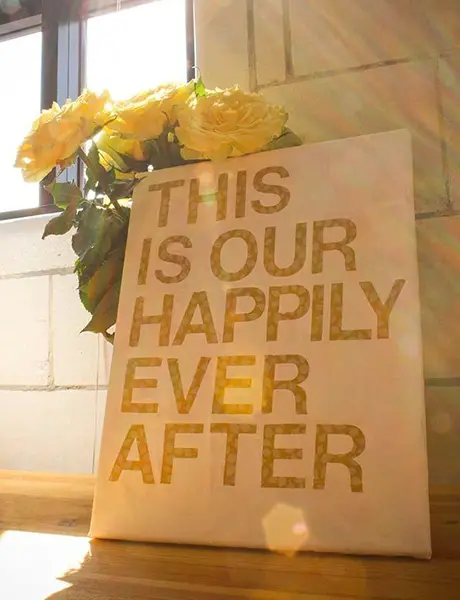 Learn about the DIY wall art at Make and Do Crew.
#19 Emotion-Charged Quote On Canvas
Live, love, laugh, and pray – the four absolute rules of life beautifully captured on the canvas. Every problem has a solution; be curious, strong, and confident.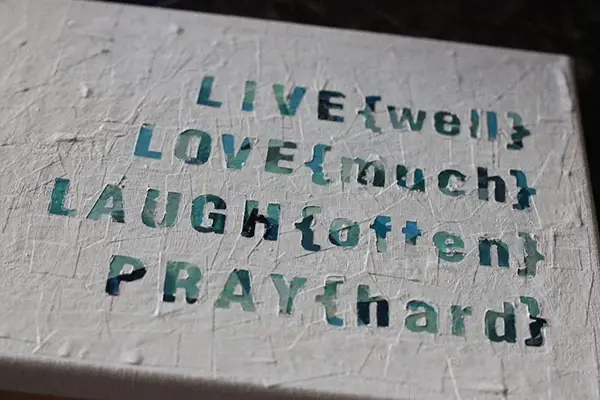 Read how to do the DIY at Life's Recipes.
#20 Beautifully Put Together Wall Art With Quote
Life is never easy. Each second builds into your experience. Situations that rattled you before, leaves you in chuckles in hindsight, isn't it? Day by day, you're becoming stronger – keep going – you're in the right direction.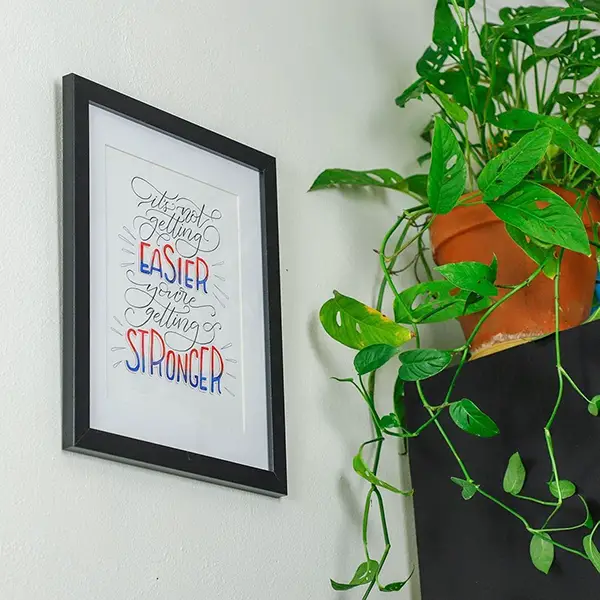 Check out the DIY at Little Coffee Fox.
—
We hope these quotes inspire you to create your wall art on canvas. It is all about the right styling and coloring.
There will be a few hits and misses, but we guarantee the quotes on canvas DIY ideas will enliven your wall.