Feeling underwhelmed by the dingy, boring walls in your home?
If you're like me, you've picked up a few paint swatches. And maybe even tested a few sample colors.
But still…
You're not sure how to choose the perfect shade, right?
You're not alone.
Even professional interior designers sometimes struggle when choosing colors for a project.
Don't let choosing the paint color for that uninspired room intimidate you.
Bring it to life with Sherwin-Williams Natural Choice SW 7011.
It's a favorite of mine. And my go-to color recommendation for any room that needs a dose of warmth.
Let me show you how to cozy up a room (or two) with this warm neutral paint.
Ready for the transformation?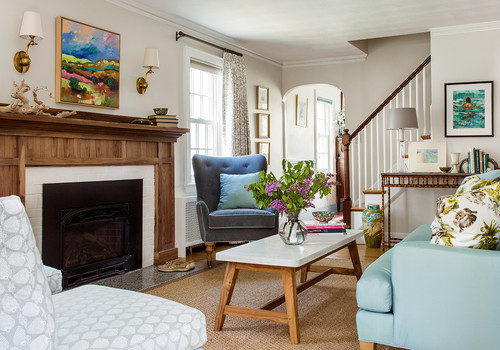 SW Natural Choice – Technical Characteristics
Remember when it seemed like every time you walked into a room (in someone else's space) and the walls were painted gray?
It was all about cool neutrals.
Warm neutrals are trending now.
Truth is, they've never really gone out of style.
Don't worry. Gray hasn't disappeared. It's still beloved by many decorators.
But, there's plenty of room for the new soft, neutral (and natural) paint colors.
Sherwin-Williams offers a lovely neutral color with their SW 7011 Natural Choice.
When I see it on a wall, I feel like I've just put on a cozy, warm sweater. I can imagine this paint color in a home with a hygge vibe.
You'll find this inviting white and pastel color in the Sherwin-Williams Warm Whites and Finest Whites Color Collections.
How Will Natural Choice Make Your Home Feel?
Choosing paint colors is a highly emotional (and subjective) experience.
The principles of color psychology tug at our emotions.
Science plays a more practical role in the color selection process.
You don't need a science degree to pick paint colors, but you do want a basic understanding of Light Reflectivity Value (LRV).
The LRV of each color helps predict how dark or light your chosen color will appear on the wall.
The LRV of SW Natural Choice is 73, which places it at the lighter end of the scale.
Color experts also use the RGB and HEX values.
Here are the rest of the technical details for Natural Choice:
Red: 227
Green: 222
Blue: 208
HEX: #e3ded0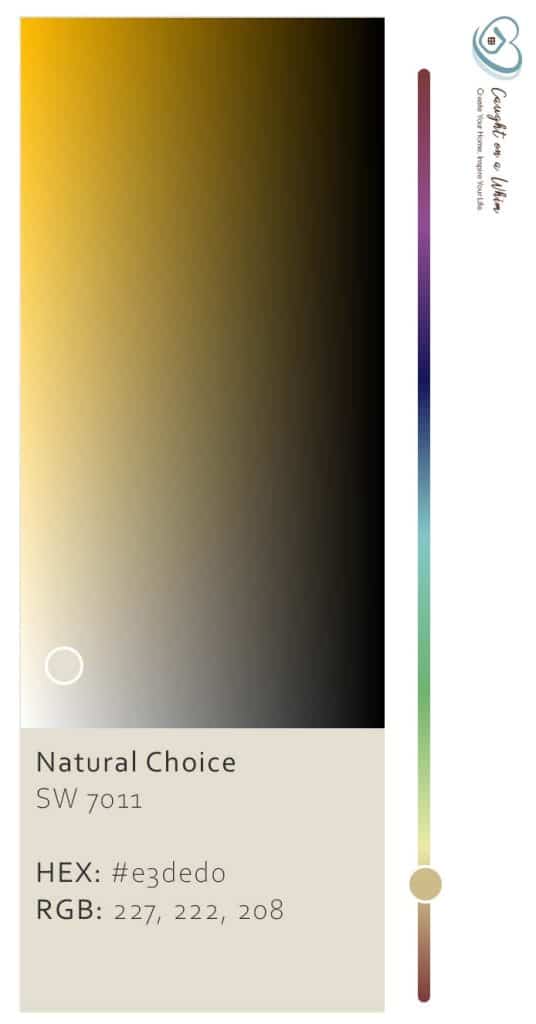 You'll find the LRV for all Sherwin-Williams paint colors printed on the back of their paint chips.
It's no secret that color sets the mood in a room.
For a sense of warmth, a visually quiet shade such as NC creates a cozy, welcoming feeling.
Remember how this creamy off-white color makes me feel like I'm wearing my favorite winter sweater?
Just like you wrap yourself in warm layers on a cold day, you can wrap any room in your home in warmth using this color on walls, ceilings, and trim.
However …
Limiting a warm neutral paint to ceiling and trim, brightens the mood making room for a few dramatic pops of color.
If you're on a mission to make people feel warm, cozy, and, well, invited, when you walk into a room, this paint color won't disappoint.
The Effects of Lighting on Natural Choice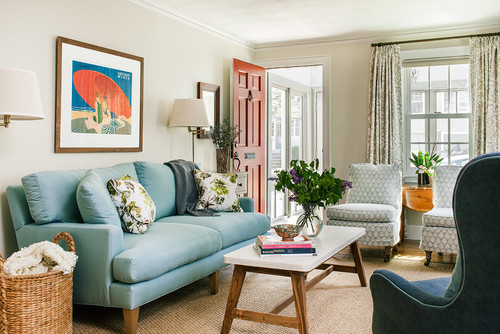 Who hasn't spent hours looking at paint swatches?
You choose the one only to discover the color, once it's on the wall, looks nothing like you expected.
So disappointing.
Relax.
There's nothing wrong with the paint (or your taste).
It's likely an issue of light.
Light is the one element many people forget to consider when selecting paint colors.
Too little light?
Insufficient light poses unique challenges when selecting paint colors.
If you have a north-facing room, you'll understand the challenge.
The absence of direct natural light makes a north-facing room look (and feel) cold.
A warm white like Natural Choice will cozy up the room, but even a warm paint color can't compensate 100% for the lack of direct sunlight.
Imbalanced light?
Natural Choice has a hue angle of 95° which places it in the yellow hue family.
If you use it in a room with a lighting imbalance, you could detect a bit of yellow color.
With ample natural light, NC can make a room appear light and airy.
Artificial lighting tends to make it look a little darker.
Is there any way to avoid bringing out the yellow hue?
You can minimize the yellow when you shoot for a balance between natural and artificial lighting.
Other elements most of us overlook when choosing paint color are cabinetry, fixtures, and furniture.
All of these affect the way paint colors look in a room.
Finally, don't forget to sample!
Gone are the days when you had to have a partner to hold all the paint chips up to the wall.
What a pain!
Today, you can use a nifty stick-on wall sample like Samplize to help visualize how warm and lovely Natural Choice will look on your wall.
Stick the sample on a wall and take notes.
Sampling is another way to predict how a paint color will interact with the other elements in the room, such as lighting.
Other Similar Colors to Consider
Paint chips can ruin my project planning in about a minute.
Many look nearly identical.
So much so that often my final choice comes down to brand.
A rose by any other name might still be a rose, but you can't really say that about paint colors.
SW Natural Choice vs BM Muskoka Trail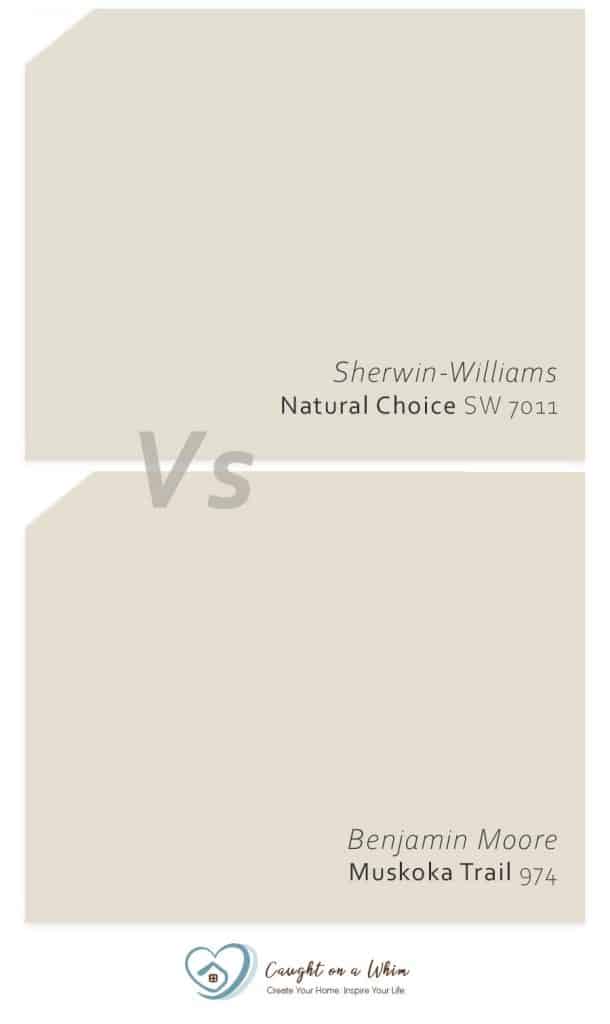 To prove my point, I put SW 7011 next to Meeting House (Glidden) and Benjamin Moore's Muskoka Trail.
If you look at the three side-by-side, you'll think they're all the same color.
Here's what I found:
Natural Choice and Muskoka Trail are nearly a match.
Both are warm neutrals, share an LRV of 73, and come from the yellow hue family.
SW Natural Choice vs Glidden Meeting House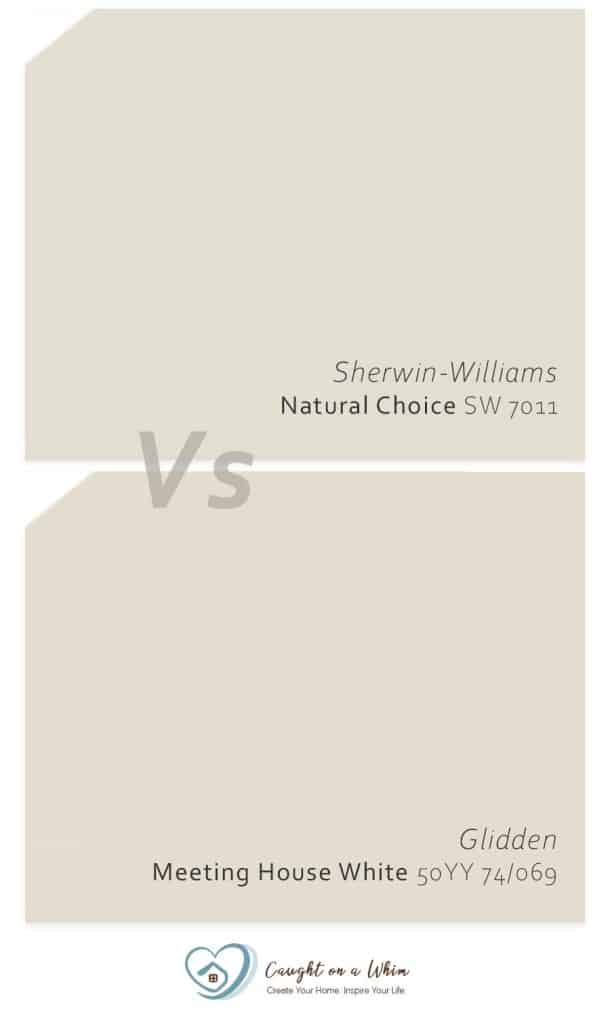 Meeting House White is an off-white warm neutral with an LRV of 74.
Just a slight difference, because it has red undertones.
​​I don't think I'm overly opinionated on too many things.
Until it comes down to choosing between 2-3 paint colors (or my favorite coffee).
But…
In my opinion, the differences between these three paint colors are so subtle, you could choose any one of them and create a beautiful canvas.
However, you also won't go wrong when you pick the Sherwin-Williams Natural Choice.
What Colors to Coordinate with Natural Choice
Once you choose the star paint color, what's next?
It's similar to selecting the outfit you'll wear to a party, only a bit more permanent.
Here are a few ideas to get you started:
Light Coordinating Colors
In a nursery, the calming lavender tones of Potentially Purple work well to create a complementary color scheme.
Adding splashes of SW Rhythmic Blue and Gratifying Green to the mix offers a broader color experience.
I've seen gorgeous Farmhouse-style kitchens where the designer used analogous or similar colors.
SW Greek Villa and SW White Duck make beautiful companions for SW Natural Choice.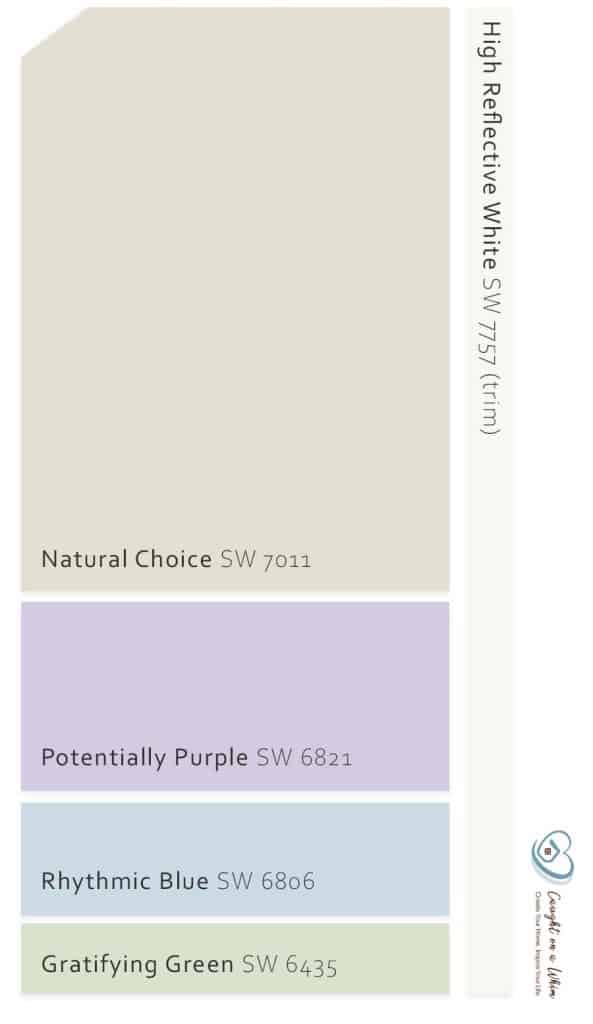 Dark Coordinating Colors
Nothing says elegant like SW Sensuous Gray.
It might not fare well in a nursery, but in your master suite⸺oh la la.
The moody SW Analytical Gray makes an excellent muted companion for our warm neutral white.
Pair SW Natural Choice with the bold SW Domino.
It's a dark blue-magenta shade, so make sure you use plenty of white.
Think white furniture and accent pieces, but keep the flooring dark.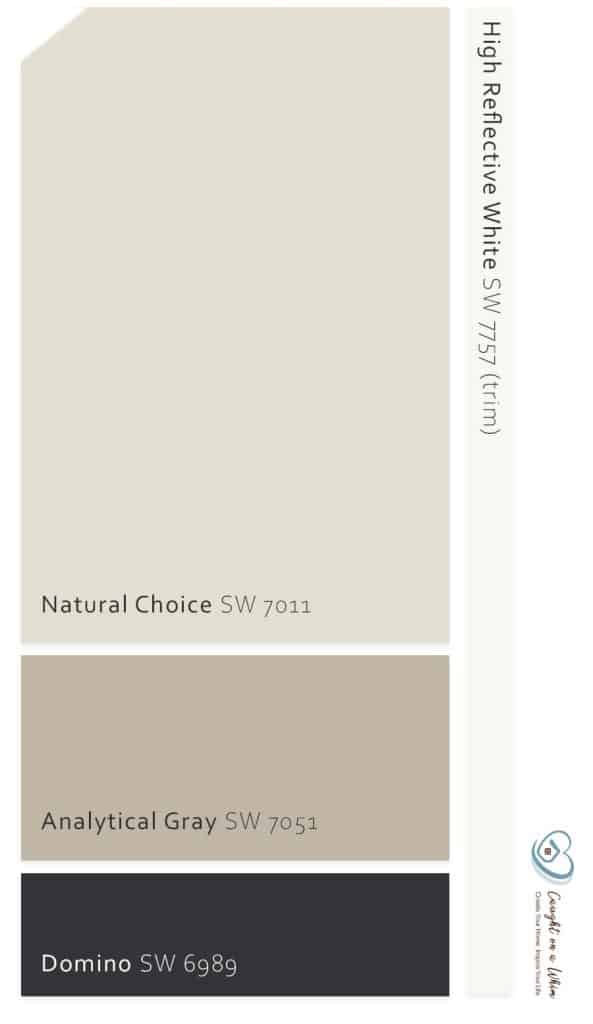 Trim Colors
Consider a white paint with a bit of warmth, such as Sherwin-Williams Alabaster.
For a crisp, clean look, use SW High Reflective White. You can see how that looks in the above graphics!
Best Places to Use SW Natural Choice in Your Home
Are you ready to get off this color train and start rolling paint?
Sherwin-Williams' website is a good resource for suggestions on pairing colors.
However, knowing where specific colors fit into your home design and personal style can feel challenging.
Let me make it easy.
Natural Choice can make any space in your home shine. Really!
Here are a few of my picks:
Traditional-Style Kid's Bathroom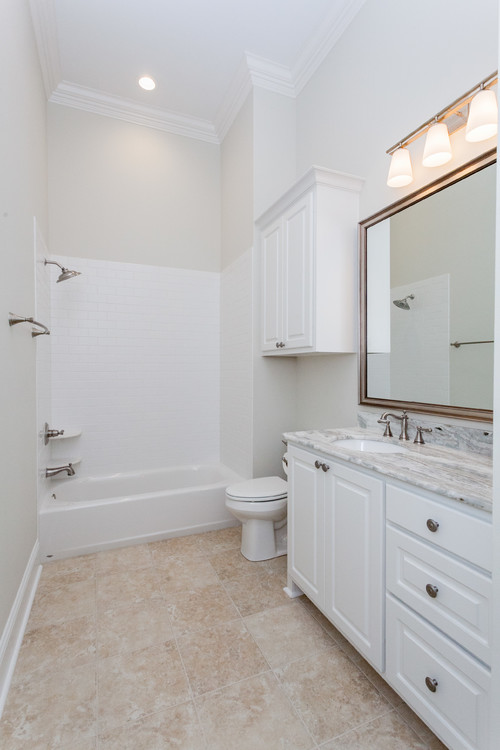 The creamy, off-white of Natural Choice blends in well with the crisp white ceiling, trim, and wall tile in this traditional-style kid's bathroom.
Farmhouse Bathroom
 

View this post on Instagram

 
The versatility of this paint color shows so well in this small remodeled bathroom.
It blends perfectly in the modern farmhouse approach, playing with both the farmhouse paneling it's painted on and the more modern feel of the floor tiles.
Kitchens
 

View this post on Instagram

 
Warm off-white paired with warm gray. Notice the subtle drawing of your eye to the door window trim painted in SW Natural Choice.
 

View this post on Instagram

 
Farmhouse Exterior
 

View this post on Instagram

 
Warm and welcoming, this Farmhouse-style home is made possible with Sherwin-Williams Natural Choice.
Earthy brown bricks on the stairs create an intriguing contrast.
Flooring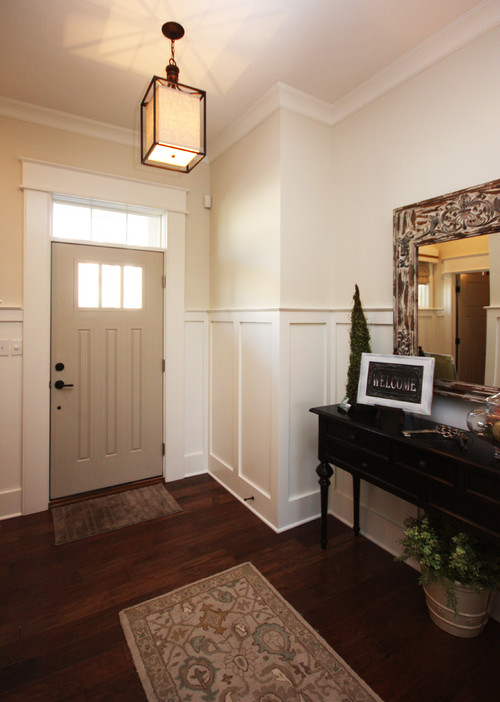 A warm paint color brings out the luster of this dark hardwood floor.
Get Ready to Paint the Town Natural
If you're like me, you're feeling inspired to get that weekend painting project started.
You can't go wrong when you incorporate cozy, soothing, and timeless into your design theme.
Whether it's on the walls, trim, or on the exterior of your home, Sherwin-Williams' Natural Choice is a color you'll want to explore further.