Want to spookify your home for Halloween?
Finding the right projects can be tricky – the best projects get buried among the so-so ones.
So, I made a catalog of the BEST DIY Skull Décor to help!
But want to know the best part?
Each of them can be executed in an hour or less!
1. Gnarly-Looking Planter
If you have succulents, you can give them a spooky twist for Halloween by making skull planters!
Rachel makes hers by spray painting skull glasses black and sliding in a pot that fits. But you can also use a plastic skull instead!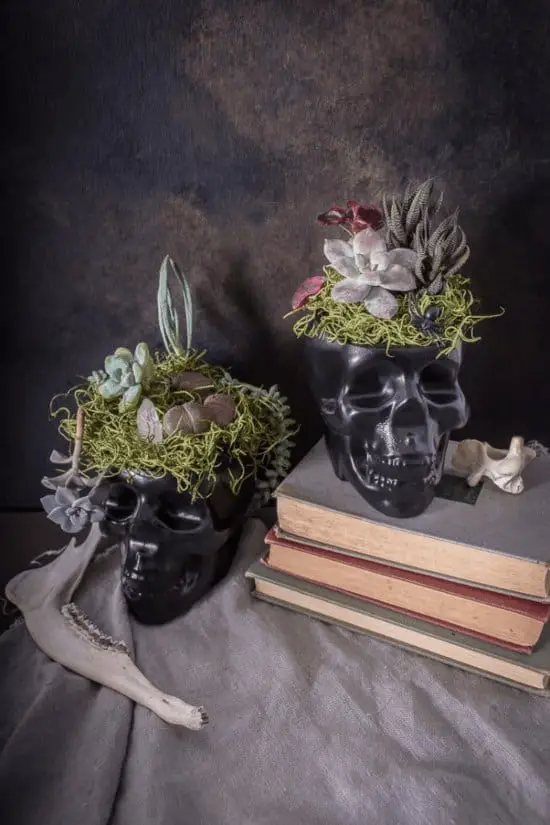 The execution is immaculate, no? Check out Rachel's post on her blog DIY in PDX for a full tutorial!
2. Skull Potion Bottle
Jenn's skull potion bottle looks like it's straight out of Pirates of the Caribbean. I love it!
Grab an empty bottle of whiskey and wrap it with a wet paper towel. Mod podge it up, and stick the head of a Styrofoam skull in the middle. Paint it with metallic paint to finish!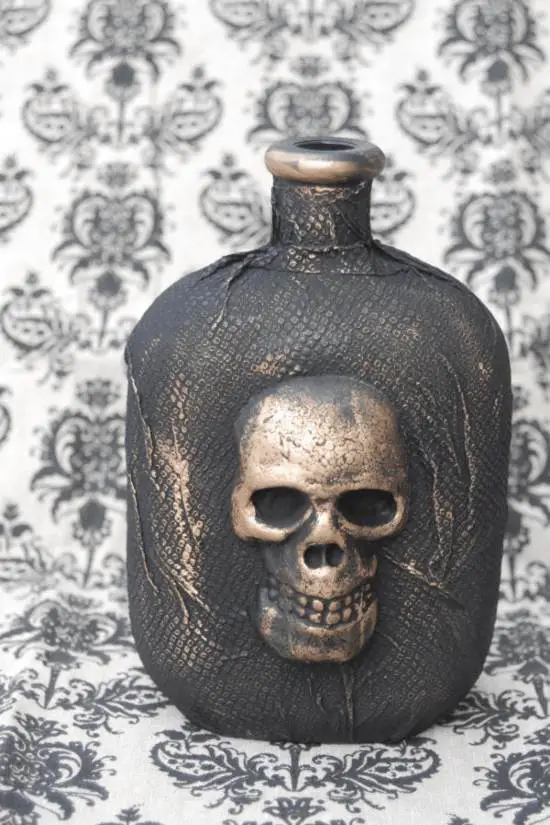 Make sure you check out Jenn's project on her blog Endlessly Inspired. She did 30 other projects for Halloween on her blog – all of them are just as impressive!
3. Skull Lamp
Blogger Bowls Full of Yummy made her spooky skull lamp using the dismantled body of an old lamp.
She bought a bobble skull from Dollar Tree and cut holes on the head and neck to pass it through the lamp's base.
After wiring it all back together, she glued fake bones to the old lamp's metal frame. You can cover the bulb with a red plastic sheet to make it look scarier!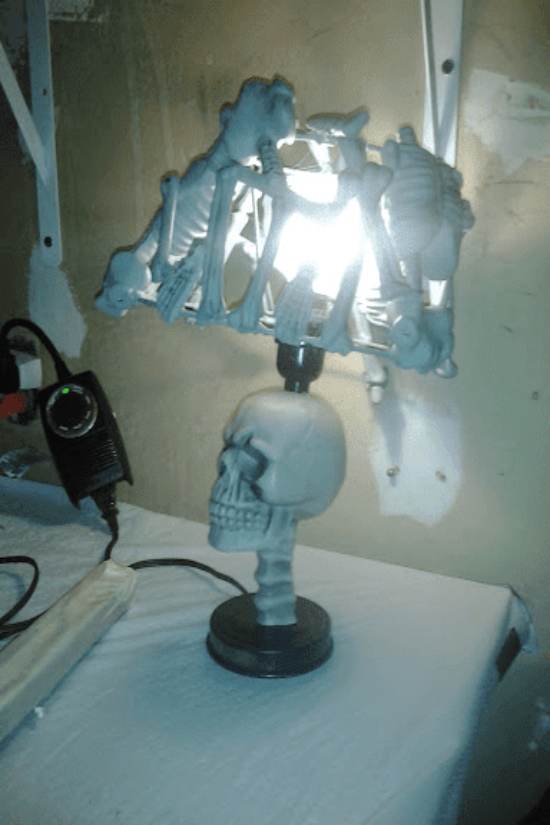 You can find detailed instructions for making the skull lamp on the Bowls Full of Yummy blog.
4. Glitter Skull
If you are going for a classy look this year rather than spooky, this is the perfect DIY skull décor project to take up.
Mix some glitter with some mod podge, and paint away!
Easy!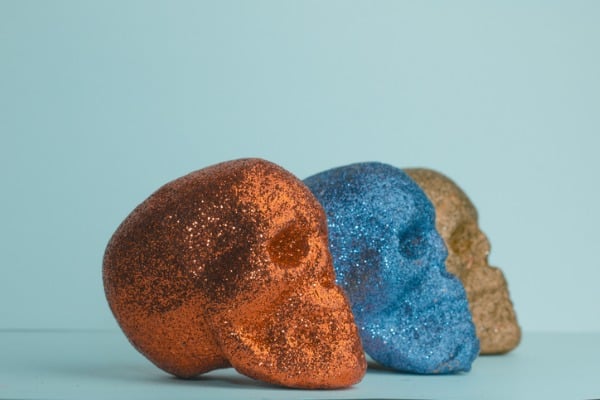 5. Cute Skull Wall Decorations
These lovely wall decorations will make for the perfect Halloween party signs if your kids' friends are coming over. Kara makes hers from MDF and paints them with neon colors.
The little bat bows are SO ADORABLE!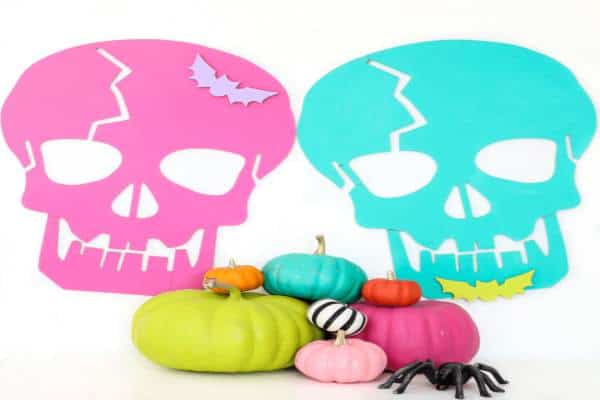 Make sure you read Kara's guide for the full instructions over at A Kailo Chic Life.
6. Glossy Skull Stand
The glossy skull stand is another excellent project to execute if you're looking to make classy décor. Mandy made hers for only $4!
She bought skulls from Dollar Tree, and a plant saucer from Home Depot, and hot-glued them all in place. All she had to do was spray paint it black after that to achieve the glossy effect!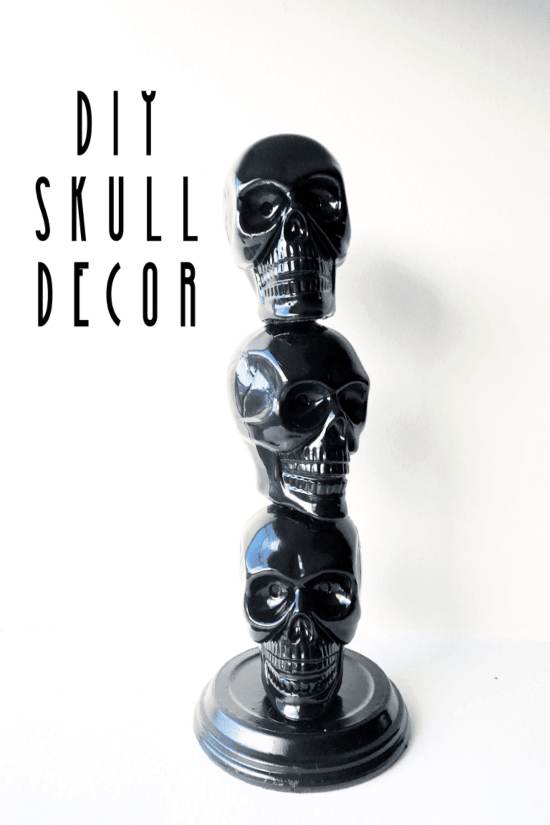 You can find detailed instructions to make the stand on Mandy's blog, Everyday with Mandy J.
7. Skull Wall Art
Elsie and Emma paint a 2'x 3' piece of wood black, and hammer nails to it in a skull pattern. They use an image of a skull to make it easier. They then work their magic with the string to finish the chic wall art!
If you don't have a piano, you can place the skull art over your mantel, in the living room, or even by the entryway.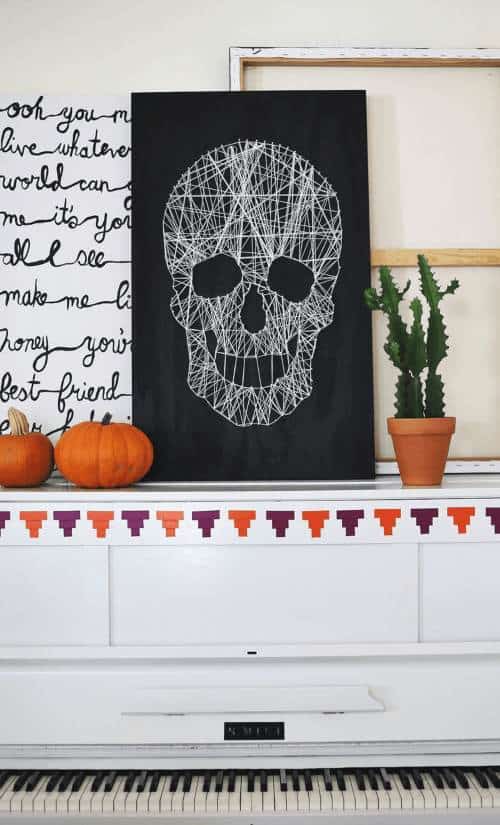 Sisters Elsie and Emma came up with this chic string art idea. You can read all about it on their blog, A Beautiful Mess.
8. Shimmering Skull Garland
Casey from Vitamini Handmade makes a cute, shimmering skull garland with some clay. She uses skull cookie cutters, pen caps, and toothpicks to make the skulls, and then mod podges the glitter on.
The bakers' twine gives the skull garland more character!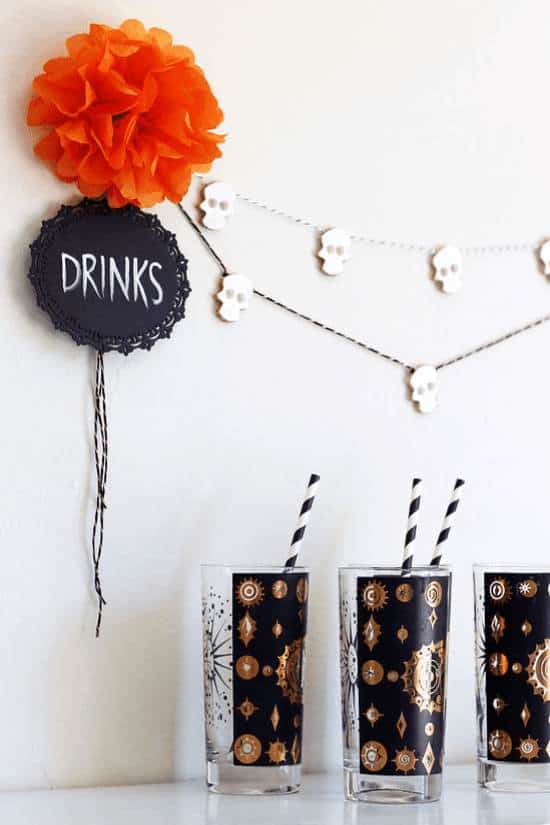 You can find Casey's comprehensive tutorial on her blog Vitamini Handmade.
9. Spooky Skull Centerpiece
BalsaCircle.com simply pokes the silk flowers onto a Styrofoam skull's head and hot glues the skull on an old stand to make a spooky centerpiece!
10. Cool Skull Holder
Jamie Koala's skull holder will make your space look cool all year round.
She measures and cuts out the top from a hollow plastic skull, slips a brush holder in, and makes the skull seamless by hot-gluing and spray painting the skull. But it's really her masterful glittering technique that seals the cool look!
11. Hardcore Skull Candle Prop
Jaimie and Jay from Wicked Makers first stain their plastic skulls to give them an aged look. They then use a combination of spoon-carving, heat-gunning, and candle-melting to achieve the rad look.
The final result looks AWESOME, but I'd use red candles instead of white to really give people the heebie-jeebies.
12. Colorful Paper Mache Skulls
If you want to DIY something more colorful, you can make a paper mache skull and paint it. Blow up a balloon and coat it with three layers of paper mache. Shape it like a skull as much as you can, and after it dries, cut holes for eyes.
Then paint it how you like!
Here's some inspiration: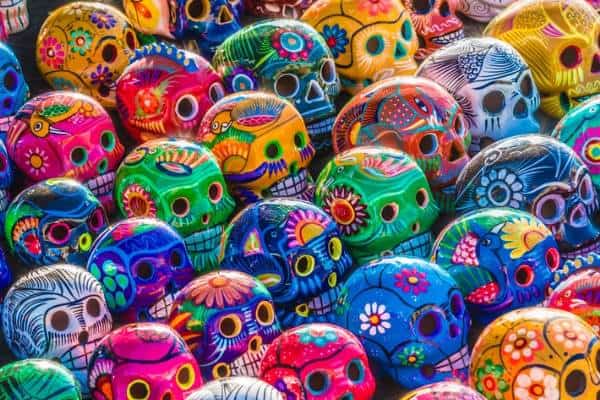 13. Milk Jug Skulls
JasonF205 on the Instructables blog uses a resin master skull and a heat gun to shape the jugs. He then spray paints them to look realistic.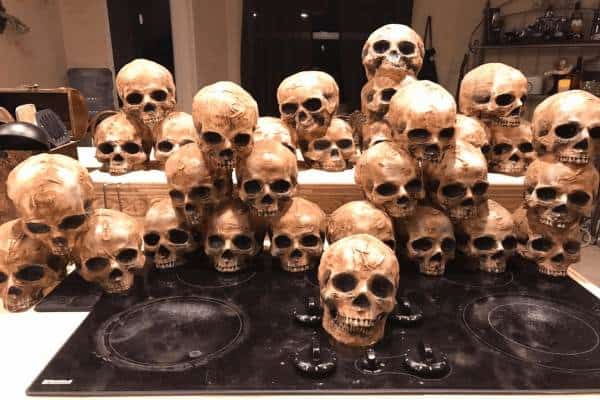 These will look perfect outside your house on Halloween! Make sure you read the full instructions on JasonF205's post on Instructables.
14. "Skull" Flowers
At first glance, it may seem like Beejay Olson's design is too expensive to pull off or too challenging for your skill level. But all you have to do is buy some fake sunflowers, cut the face off some Styrofoam skulls, and hot glue some dry Spanish moss to it.
Hot glue the moss-laced skull to the sunflower, and that's it.
 

View this post on Instagram

 
Psst… here's a bonus idea: check out Beejay Olson's spooky fountain prop.
15. Scary Skull with Popped Out Eyes
LOVE to spook the neighborhood's kids? DIY THIS:
My tone turned evil for this entry because MakerTinkerBakerEtc's idea is SO EVIL!
16. Jeweled Skull
Ariel gives a plain ceramic skull a classy twist by gluing red gemstones and pearls to it.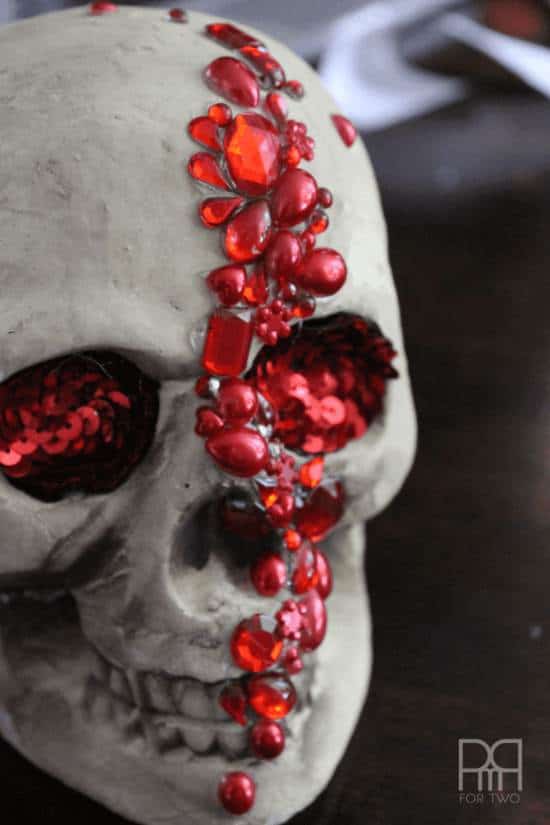 Ariel also made a jeweled skull with a marabou mohawk, but she likes the one with the red gemstones better, as do I! Make sure you check out her post on her blog PMQ for two.
17. Skeleton Bottle Set
MymlanOhlin uses bottles of alcohol and some clay to put together a skeleton bottle set.
Her project is likely the most intricate of the bunch, but the complements it will fetch makes it worth the effort.
—
Hand-picking these skull décor DIY projects for you took HOURS – I hope you found my list useful!
Share it with your friends if you did and don't forget to check out my post on how to make a goblet of fire! If you love Halloween and Harry Potter, you'll love it.