Buying star décor just doesn't make sense. The prices can be downright absurd for what you're getting most of the time.
While you could DIY the décor, the best DIY tin star décor projects are scattered around the internet – it'd take hours of research for you to find the best ones…
So, I did the heavy-lifting for you!
Here's a hand-curated list of nine of the best DIY tin star décor projects on the internet.
The best thing about this list is that every project on it can be executed in an hour or less!
1. Versatile Baking Pan Stars
The THRIVE blog has an excellent DIY star that you can make with your kids.
First, find a disposable baking pan. Even a beat up one will work. 
Remove the borders from the pan, and print out the star template that's on the website.
Grab a pen, and trace the template with the pan underneath.
Cut and taper as instructed, and fold the edges in. 
Boom. Tin star ready!
You can either spray paint it red, sponge coat it with house paint, or use nail polish for the shimmering effect like the author's daughter!
Adorable! You can find detailed instructions and check out the other paint options over at THRIVE.
2. Easy Tin Star Wreath
On the Condo Blues blog, Lisa shares how she made red, white, and blue stars to spruce up her simple grapevine wreath. 
She cuts some cardstock in the shape of a kite and uses it as a guide to cut pieces from a soda can.
After she has five of these kites, she scores them along the center and folds them.
Lisa simply tapes the five kites together to make a rustic tin star!
While she chooses red, white, and blue, you can spray paint the stars any color you like!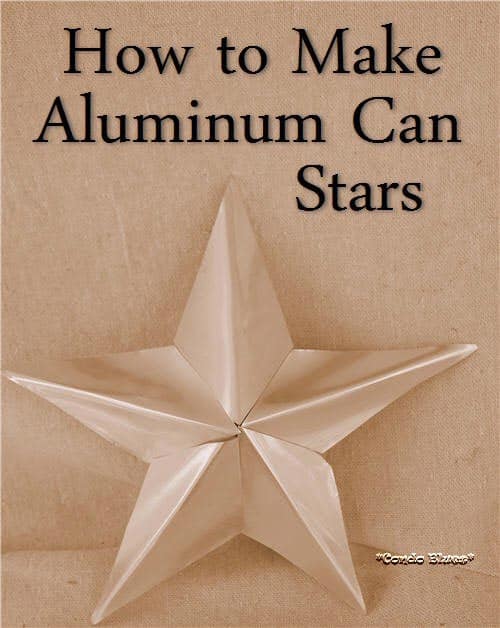 Head over to Condo Blues to read Lisa's full tutorial.
3. Texas-Style Christmas Star
YouTuber Maker In Training uses scrap tin he had on hand to make a five-pointed Texas star.
He cuts out the star from the paper template he printed and traces it over his scrap tin sheet twice.
Using a ruler and a sharpie, he then marks the two stars onto the sheet and makes some folding lines. 
Post bending and scoring them to achieve the desired effect, he folds the two stars into each other.
Adding the cone to the bottom and painting was all that was left to do to finish the rustic Texas-style treetop star!
4. Chestnut Tin Star Decoration
Jeri-Ann Henson's cute tin star decorations are super easy to make.
She makes a nifty star template that also considers the space needed for tabs.
Using the template, she cuts out a star shape from the tin, scores it correctly, makes cuts and folds it in. 
After her star is ready, she first uses a permanent marker to color it red. Later, she uses chestnut paint to give it a rusty look.
5. Tin Can Star Lantern
Making a star lantern is a great way to make use of tins that you'd throw away.
Instead of making random holes and sticking a candle in it, Vanessa Beaty from the DIY & Crafts blog pokes holes in a large star's shape.
She also makes an outline of a smaller star, which looks super cute!
You can make it in minutes, since making star templates on a piece of paper and gently poking holes into the can is all you need to do.
Although Vanessa doesn't do it, you can paint the can if you like.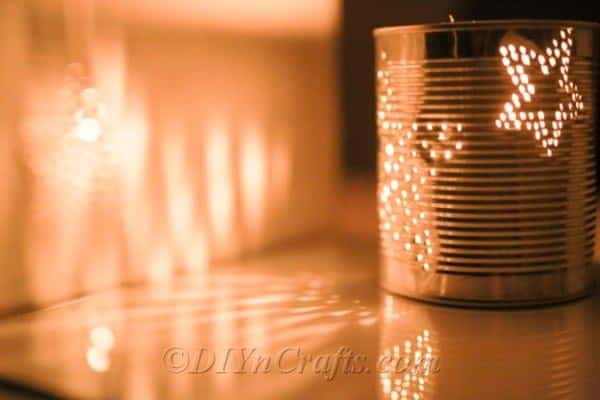 Vanessa details her entire process on the DIY & Crafts blog.
6. Soda Can Ornaments for Christmas Tree
Making Joanne Victorio's tiny and cute tin star ornaments doesn't require you to print anything.
First, cut out the body of a soda can, and cut out two perfect circles from the body.
You must then fold a circle in half, turn it, fold, and repeat till you've divided the circle into six creased parts. Repeat for the second circle.
Tuck the outer peaks of the circles in, and the valleys of the circle down. Make tiny cuts on every valley, and fold the peaks in for one circle.
Fold the peaks of the other circle over the first circle, and your ornament is ready!
7. Patriotic Tin Stars Wall Banner
On her blog Occasionally Crafty, Valerie shares how she and her sister made similar star designs for Patriot's Day.
Her design is super rustic and easy to make. She cuts out three stars from tin cans and paints them red, white, and blue.
She then sticks them to a lovely white ribbon. 
That's it – you now have a pretty wall banner!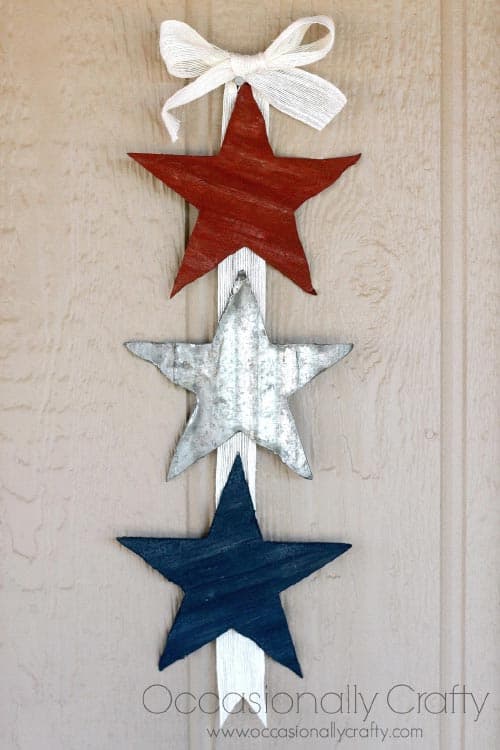 You can read more about Valerie's design and her "Sister's Challenge" with Laura on Occasionally Crafty.
8. Faux Tin Stars
Hawaiian sisters Mikela and Brandi-Lee share how they made faux tin stars on their blog Knocking It Off.
They use regular cardboard and make a large star on it. They score the star and bend it in to create the 3D effect.
They then add one layer of paper mache onto the star and paint it black.
To make it look metallic, they sand the raised edges of the star – the texture makes the stars look authentic!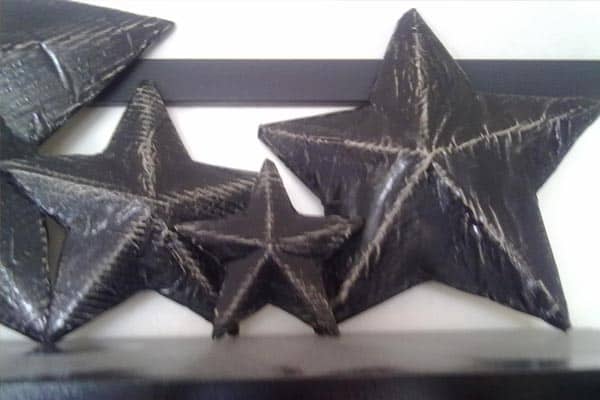 If you don't have tin at hand, you can use Mikela and Brandi-Lee's design. Read all about their project at Knocking It Off.
9. Barn Tin Star
While Katie from Addicted to DIY uses corrugated metal to make her star, you can make the same star using the body of a tin can.
Draw two stars – one small and one large, and post cutting out the bigger star from the tin, snip out the inner star.
It'll look super cute on your mantel, and you can also use them as Christmas tree ornaments if you poke a hole on one corner of the star and run the string through it.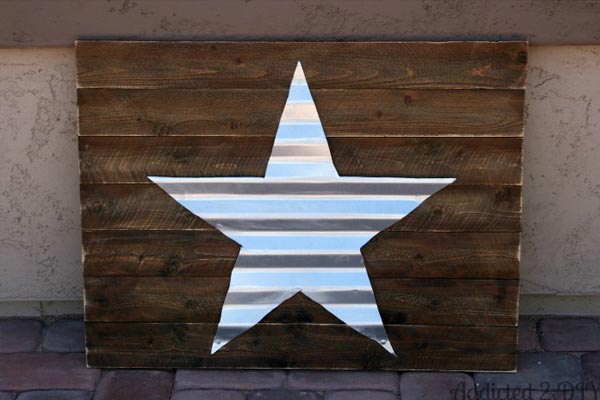 Check out Katie's awesome rendition over at her blog, Addicted to DIY.
—
Tin star décor ideas are some of the easiest DIY ideas to execute. You can even get your kids involved after you extract the tin from cans or other sources.