Eucalyptus has become increasingly popular in recent years as a versatile and sophisticated option for event decor.
Its fresh, aromatic scent and beautiful green color make it a perfect choice for various occasions.
When you buy bulk eucalyptus, you can create stunning arrangements for weddings, parties, and other events without breaking the bank.
Brands like FiftyFlowers offer a wide variety of eucalyptus types to choose from, ensuring that your event decor is both stylish and affordable.
Table Centerpieces
One of the most popular ways to use eucalyptus in event decor is in table centerpieces. Eucalyptus can be combined with other flowers or used on its own to create a simple yet elegant arrangement.
Its elongated leaves and unique shape add texture and interest to any floral design. For a rustic or boho-chic vibe, mix eucalyptus with wildflowers, succulents, or dried elements like pampas grass.
Eucalyptus garlands are another stunning option for event decor. Drape them along tables, chairs, or even the aisle for an effortlessly beautiful look.
You can also use eucalyptus garlands to frame entryways, and arches, or as a backdrop for photo opportunities.
To add a pop of color, incorporate some flowers or ribbons that match your event's color scheme.
Hanging Installations
Another creative idea for using eucalyptus in event decor is to create hanging installations.
Suspend eucalyptus branches from the ceiling to create a whimsical, floating effect.
This works especially well in venues with high ceilings or outdoor spaces.
You can also use eucalyptus to create unique chandeliers or hanging floral arrangements that will undoubtedly leave a lasting impression on your guests.
Bridal bouquets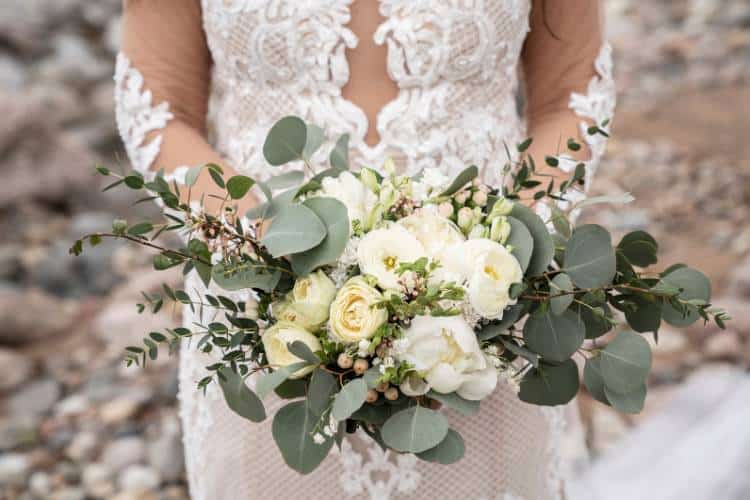 Eucalyptus is a popular choice for bridal bouquets due to its elegant, natural look.
Eucalyptus can be used as the primary greenery in a bouquet, or it can be combined with flowers for a more traditional bridal look.
Eucalyptus is also a great choice for boutonnieres and corsages, adding a touch of natural greenery to these traditional accessories.
Ceremony arches
Eucalyptus can be used to create beautiful ceremony arches for weddings and other events.
Eucalyptus branches can be arranged in an arch shape, with or without flowers, to create a natural and elegant backdrop for the ceremony.
Eucalyptus leaves can also be woven into the arch to add extra texture and depth.
Chair Decorations
Eucalyptus can be used to decorate the chairs at your event.
You can tie small bouquets of eucalyptus branches to the backs of the chairs with ribbon or twine, or you can simply drape a few branches over the back of each chair.
This adds a natural and elegant touch to your event decor.
Aisle Markers
Eucalyptus can be used to mark the aisle at your event. You can place small bouquets of eucalyptus on the chairs or pews along the aisle, or you can line the aisle with eucalyptus branches.
This creates a beautiful and natural pathway for the bride or other honored guests to walk down.
Photo Backdrops
Eucalyptus can be used to create beautiful and natural photo backdrops at your event.
You can create a simple backdrop by hanging eucalyptus branches from a freestanding frame, or you can create a more elaborate backdrop by combining eucalyptus branches with other natural elements, such as flowers or moss.
This creates a stunning backdrop for your guests to take photos against.
Other Small Arrangements
If you're looking for a subtler way to incorporate eucalyptus into your event decor, consider using it as an accent in smaller arrangements.
Place eucalyptus sprigs in bud vases or tie them around napkins for a touch of greenery.
You can also use eucalyptus to create beautiful wreaths, perfect for hanging on doors, walls, or as chair decorations.
In Bouquets
Lastly, don't forget about using eucalyptus in your personal flowers, such as bouquets and boutonnieres.
Eucalyptus adds a lush, organic feel to any bridal bouquet and complements a wide range of flowers.
For boutonnieres, a simple sprig of eucalyptus can look both modern and elegant.
In conclusion, eucalyptus is a versatile and affordable option for event decor.
By incorporating it into various aspects of your event, you can create a cohesive and stylish atmosphere.
So, the next time you're planning a wedding, party, or any other special occasion, consider using bulk eucalyptus to elevate your event decor.