Curling up in front of the fireplace with an excellent book and a cup of cocoa can be enticing when it's chilly and wet outside.
But the winter is a fantastic time to finish off indoor house projects, advises TE Johnson & Sons Management.
Winter home renovation projects can revitalize a living area and make a house safer and cozier.
Choosing a trustworthy contractor for your rental to assist with your home improvement will help landlords put their property in great shape for winter.
While some of these chores may need a few hours or even a few minutes of your time, others will require a considerably larger time commitment and, in some cases, a financial investment.
So let's dive into this article as we discuss the home improvement projects you should take during winter.
Top 3 Home Improvement Projects to Complete During Winter
1. Flooring
Winter is an excellent time to replace your carpet if regular cleaning no longer revitalizes it.
There won't be a lot of outdoor labor involved, so bad weather won't be a factor in the project's scheduling.
If you are unhappy with the appearance of the floors in your home, you have many options, including wood, carpet, laminate, and marble.
If repairing your worn-out carpet or installing new wood flooring is on your to-do list, you should be aware that the dryer winter air may hasten the drying period for any adhesive you could employ.
Fresh carpeting may be the perfect addition if you want to improve comfort. Be ready to remove furniture and other items from the floor so the installers may work.
You might prefer to avoid being at home on installation day. Removing and installing flooring can be very noisy, and any adhesives used may have a strong odor.
2. Replace Doors and Windows
Replace your home's doors and trim with another simple home improvement project. Look at the doors you have now more closely.
You'll likely encounter blemishes, out-of-date hardware, vintage design, etc. New doors are now offered in various designs, dimensions, and hues, making it simpler to give the interior of your house a more attractive, contemporary feel.
There are also plenty of alternatives for door hardware, including hinges, hooks, and door knobs.
Just a few turns of a screw can give any door the Restoration Hardware appearance with hardware finishes like aged bronze and brushed nickel.
Also, while considering how to winterize a rental property (see more), replacing old windows is essential.
Older windows may allow heat to escape, creating chilly drafts and forcing your heating system to work more to keep you at a reasonable temperature.
Make window replacement the first of your winter home improvement chores to solve this issue, and spend money on new, energy-efficient windows.
Prioritizing your window replacement project now has the added benefit of taking advantage of winter deals and discounts from various businesses.
As a result of their reduced workload and increased attention to your house improvement, you may spend considerably less for the job now than if you waited until the summer.
3. Check and Update your Home Safety Devices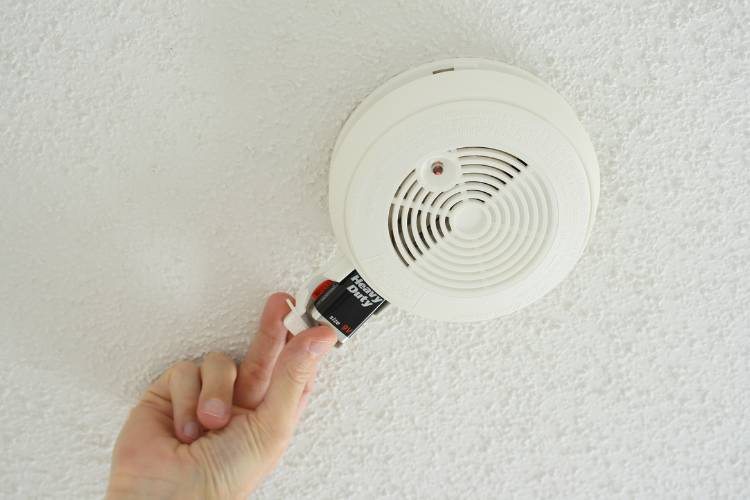 Winter is a beautiful time to check your home's safety systems and make any necessary repairs or updates.
Spend some time inspecting your safety equipment because December and January are the months with the highest house fires, according to the Red Cross.
Ensure there are smoke and carbon monoxide detectors outside of every bedroom and on every house floor.
Every ten years, replace smoke alarms, and every five to seven years, replace carbon monoxide alarms.
Remember to test your alarms monthly and change the batteries at least once every six months. Install an intelligent smoke and carbon monoxide detector that will notify your phone if you want peace of mind.
Additionally, cold weather is an excellent time to check for cracks in the brickwork and concrete surrounding your house.
Take advantage of this opportunity to identify any gaps that may need to be repaired because the cold, dry air will naturally make them widen and become slightly more noticeable than they might be at other times of the year.
Benefits of Hiring Home Contractors During Winter
1. Availability
Finding a good contractor in the summer can be challenging for some jobs, but this is less of an issue in the winter.
Many contractors experience a drop in work over the winter, giving them plenty of time to complete your project.
In addition, it might be challenging to coordinate a contractor's schedule with your own in the summer, but many can easily accommodate your schedule in the winter.
2. Better Price Sales
Prices could rise since there is frequently a greater demand for contract employment in the spring and summer.
However, this could be easily avoided by planning your project during winter. In addition, contractors occasionally give wintertime discounts, so you can negotiate a significantly better deal on building work.
Ask your contractor for any wintertime specials before they offer you an estimate. Also, consider inquiring about financing possibilities if the project is out of your pricing range and they aren't providing any discounts.
3. Fewer Delays
When your contractor juggles multiple projects, finishing yours can take a while. In contrast, contractors with fewer projects during the winter can give yours their full attention.
This means that, compared to waiting until spring or summer, your job will probably be finished considerably sooner.
Conclusion
Winter is a beautiful time to be innovative and start home improvement projects that increase the value of your home and make it more hospitable.
You'll discover that renovating your home in the winter is frequently less expensive than doing it in the summer.
During the colder winter months, many contractors are looking for work.
Therefore, now could be a wonderful moment to contact professionals about the best ways to raise the value of your home.