When it comes to decorating a home, it's safe to say that people most often have the most fun when it comes to decorating their bedrooms, in communal areas of the home compromises need to be made, but when it comes to your bedroom, you have full autonomy to express yourself with decoration as this is the only room in the house meant specifically for you!
Because of this, people often get very extravagant when decorating their bedroom, letting their personality shine through with their decorations and style choices, film buffs hang movie posters, audiophiles may have a record collection in their room and the artsy among us would have framed art littering their walls. For more bedroom decor essentials, click here.
So, with bedroom design choice hinging a lot on personal preference and individual styles it can be hard to make an all encompassing guide on decorating bedrooms, but still there are certain design elements that are universal to bedrooms no matter what the style, so today, we've spoken to the design experts at DotcomBlinds to see what essential décor pieces they believe every bedroom should have.
Blackout Blinds
This first choice shouldn't be a surprise, after all, we consulted a blinds retailer for this article, but the team at DotcomBlinds inform us that no bedroom is complete without a blackout blind or a set of blackout curtains.
With so many types and designs of blinds available no matter how you style your bedroom, there will be a perfect blind for your room.
The reason why blackout blinds are so essential in a bedroom, is that they're designed to block out any light coming through your window, which is perfect for creating a good environment for sleeping, as they'll make your room darker and block out any light pollution from outside that could keep you awake!
A Good Mirror
Next up, we have mirrors, while they're probably not at the top of your shopping list when you decide to redecorate a good mirror can improve the look of any room and create an illusion that the room is bigger than it really is. Also for rooms with poor lighting, a mirror can add some extra light to your room!
Mirrors aren't just an essential because of décor wizardry, but they're also extremely practical for bedrooms, as most of us usually get dressed in our bedrooms, having a mirror available is a general positive for quality of life allowing you to better pair outfits and get yourself ready!
Extra Lighting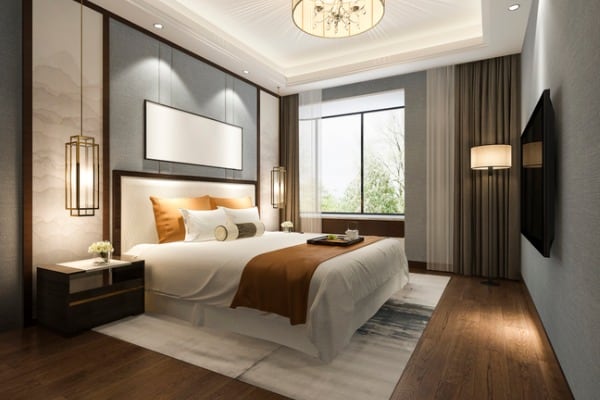 For most people, lighting isn't a great concern for their bedrooms, as we've previously mentioned if you're trying to sleep you don't want any light. But as many of us use our bedrooms for more than just sleeping, good lighting is essential for your bedroom.
Having some layered lighting will make your bedroom feel much cozier and more causal and also allow you to control how bright your room is. Having some soft lighting options like a reading light or a sunset lamp will allow you to still have light on in your bedroom without keeping you awake and alert.
Silky Smooth Bedding
Don't overlook the importance of having a great looking bed set. Pull in colors from your flooring and curtains or choose a complimentary hue from your wall color.
Shams, comforters, duvet covers and throw blankets are great and often inexpensive ways to dramatically improve the decor of your bedroom.
The added bonus here is you can choose materials that work best for your bodily comfort too. From pillow cases to mattress covers like bamboo from Ecoy can help protect your pillow and mattress while maintaining the comfort you desire for sleeping.
Extra Cushions
Most people just have a pillow or two on their bed for using when they're asleep, after all if you only need one pillow to comfortably sleep, why spend money on more pillows? Cushions on the other hand, are always welcome extras to most bedrooms.
Having some cushions scattered around your bedroom, helps to foster a relaxing homely atmosphere – but they also have their practical uses, lots of us sit on our beds throughout the day and pillows just don't cut it in the lumbar support department, so having a few cushions you can use as a back rest to lean on is always helpful!
A Unique Decor Piece
A unique decor piece can add character and charm to your bedroom décor. It could be an abstract painting, an original photograph, an unconventional sculpture, or a realistic weapon replica like these. Choose a piece that resonates with you. You can get as personal as you want; after all, it is your bedroom.
Bedroom Plants
Plants are one of those universal décor pieces, there's not a single room in any house that's not improved by the presence of plants and of course, the bedroom is no different.
Various studies have shown that being around plants can improve your mood and relax you, which are both feelings you want emphasized in your bedroom.
Of course, it's not as simple as just buying any plants, bedrooms are more often than not quite dark, so you'll want to find a plant that can survive without constant exposure to direct sunlight. But luckily there are many plants that don't need sunlight (learn more here), to thrive, such as: Ivy, Ferns and Evergreens.
And there you have it – 5 Bedroom décor essentials that you need in your bedroom to make it the coziest room in your home and improve your sleep. Have you used these décor items in your bedroom, or have any other suggestions for bedroom décor essentials? If so let us know in the comments!