Many people use their basements as a space for throwing extra storage. But the truth is that some basement renovations can increase the home value if you do it right.
Basement remodels usually recoup about 70% of their costs at the time of resale, adding an incredible amount of value to the home.
With the help of professional basement developers, you can attain a basement that will increase your home value.
The Best Basement Renovations to Increase Home Value
1. Create the Adult Entertainment Space
If you love entertainment, consider building the bar into the basement. A basement is an ideal place for installing a wine cellar, and you can take a step further by putting in the bar and entertainment area for parties.
Moreover, the basement that walks out onto the patio can be an excellent place for summer entertainment, allowing guests to beat the summer heat.
You should also consider putting in the tile floor to give a room a finished look and clean the floor easily. Also, make sure to match a bar countertop to the floor color for a stylish appearance.
2. Create a Garden Utility Room
If you love spending time in a garden, you likely know about the tools, pots, and dirt that come with this hobby.
A basement is a perfect place to store your garden paraphernalia and install the utility sink and counter.
You can also install a french drain and a hose and place shelves beneath the windows to give the plants a place to sprout before taking them outside for summer.
3. Create a New Family Room
Family rooms are often more useful than formal living rooms, but the family room in the cooler basement can become even more useful during the summer months.
The basement finished as a family room can also help you make good impressions on potential homebuyers, giving you the maximum investment return.
This includes carpeting or tiling the floors and putting up drywall to complete walls. Furthermore, consider adding the suspended acoustic ceiling to help insulate a basement from any sounds above while making a room more attractive.
4. Add a Bedroom
After square footage, the next thing most home buyers often scrutinize is the number of bedrooms.
This means that if you turn your three-bedroom home into a four or five-bedroom home, you can increase your asking price and expand the market for the home.
Buyers usually search for a home that has an extra bedroom so they can use it as a guest bedroom, home office, playroom, or craft room.
In terms of the ROI (return on Investment) on the bedroom addition, estimates differ.
However, most agree that the ROI on the bedroom addition ranges between 150% and 180%, meaning that for each $100 you spend on a bedroom, a home value can increase by $180.
5. New Bathroom
Some people may not know this, but adding a bathroom increases your home value even more than adding a bedroom does.
An explanation for this is quite simple; more than 50% of homes people buy are over forty years old and built with significantly fewer bathrooms than the newer ones.
So to compete with these newer homes, older homes typically need another bathroom. The new bathroom usually increases your home value by 8-9%.
6. Second Kitchen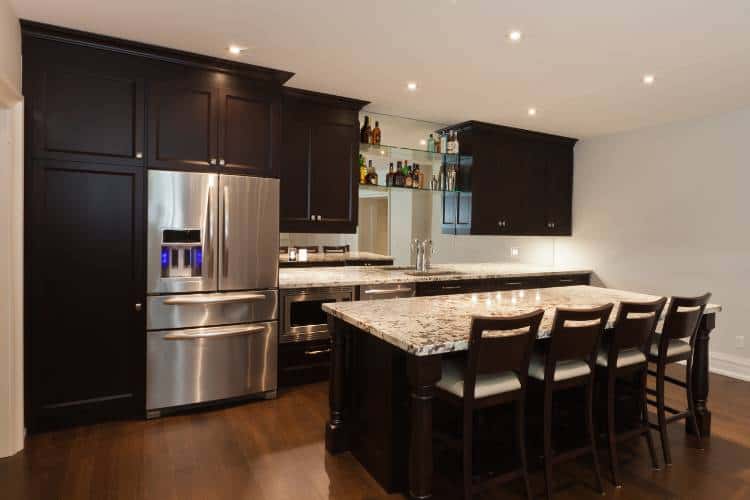 Adding a second kitchen is yet another basement remodelling project that adds value to the home.
Landscaping and kitchens are the areas many homebuyers pay attention to before they form their first impressions of the house since most families spend most of their time in a kitchen, followed by a living room.
The ROI on your second kitchen can depend on many factors, such as the usability and size of the first kitchen, the features and size of the second kitchen, and the types and quality of the materials.
For most kitchen additions, the home value can increase by what you spend on a new kitchen. However, some kitchen renovation projects may increase resale value by two hundred percent of a renovation's cost.
7. Recreational Space
Creating a recreational space is a great addition to a basement renovation that can increase home value.
This space can be tailored to fit the homeowner's interests and hobbies, whether a home theater, game room, or even a home gym.
A well-designed recreational space can add a unique element of fun and entertainment to the home, making it more appealing to potential buyers.
If you're a golf enthusiast, you can install a golf simulator or an indoor putting green area for practice.
This will add value to the home for those who enjoy the sport and make the basement a more appealing space for social gatherings.
Conclusion
As you can see, you should consider many types of basement renovations to Increase your home value. If you are still unsure where to start or just need professional help, consider reaching out to basement developers to aid you in your basement renovation project.