When you're purchasing new blinds for your windows, it can be a struggle to figure out what type of blinds you need, there are so many different types and varieties of blinds on the market nowadays, so unless you're an expert it can be tough to know which ones are right for you.
To help you work out what blinds are right for you and your home, we've enlisted the help of the team at DotcomBlinds.com to help you know what type of blind your home needs and why!
"When looking for new blinds, one of the biggest factors for what blind you should choose is what room they'll be installed in, as different rooms have different needs and we have a blind for pretty much each situation you can think of" say the DotcomBlinds team, so let's look through what blinds they say will be ideal in each room of the house.
Living Rooms
"Living rooms are the easiest room of the house to find blinds for" the team tell us, this is because living rooms don't often have room specific needs like the other rooms in your home. So buying blinds for living rooms is really a matter of style above anything else.
But if you want a recommendation, professional installers recommend looking at Double Roller Blinds or Day & Night blinds, as both of these provide options to blackout the room or let light in, which can be helpful when using your living room.
When watching movies or TV use the blackout function to keep the room dark, then use the dim-out the rest of the time to allow the room some light.
Kitchens
"In a kitchen environment you must think about the possibility of stains and spillages when you buy a blind, so you should ensure you get an easy to clean and waterproof blinds" we're told, so for a kitchen blind you need something that can take the wear and tear that goes along with kitchens.
Ideally in a kitchen you should have a Roller Blind made from an easy to clean and waterproof material like PVC or a Venetian blind made from aluminum, both of these options will be able to handle getting water on them and will be very easy to clean if you spill anything on them, just needing a damp cloth to remove any debris.
Bathrooms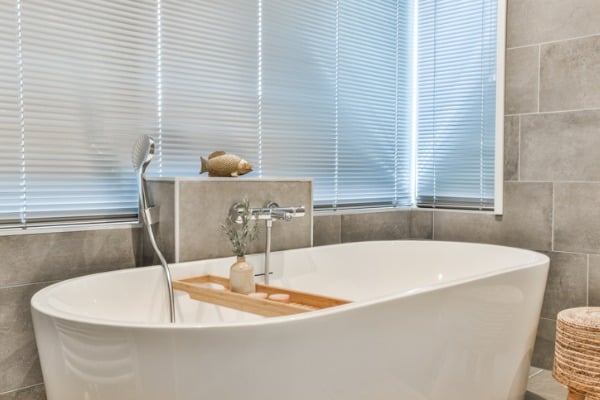 "Bathrooms are another area of your home where you should take the environment into account, due to all the water in bathrooms, it is best to get a blind which will be waterproof" the team informs us, due to the wet nature of bathrooms, having the wrong blind can be disastrous as some blinds will quickly pick up water damage.
For your kitchen you should opt for either a waterproof Roller Blind made from a material like PVC or a plastic Faux Wood Venetian Blind, both of these will be resistant to the water and should not succumb to any water damage, as long as they're wiped down when wet.
Bedrooms
"Bedrooms only have one thing you should contemplate when buying blind and that's the fact you will want the room to be dark to sleep in, so any bedroom blind you get should be made of blackout material" the team tells us, so when buying a bedroom blind, make sure you get a blackout blind.
What form this blackout blind comes in is up to you, but ideally it should be a solid blind like a Roman or Roller Blind which will help keep your room nice and dark during the nights. If you use your room for more than just sleeping in though, maybe consider a Day & Night Blind or Double Roller Blind so you can use the dim-out function in the day during use.
Sunrooms/Conservatories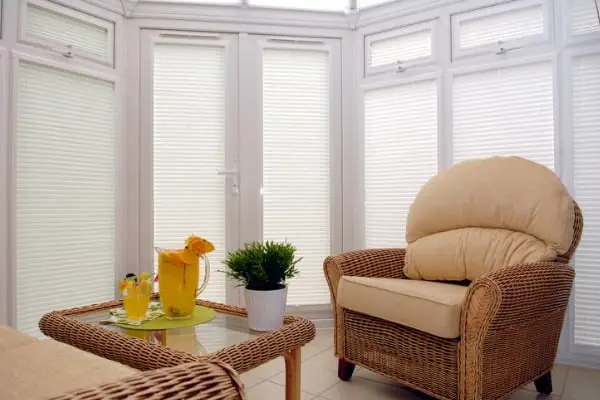 The team tell us "In a conservatory or sunroom setting, most blinds wont be appropriate simply because there's no space to install them, so we always recommend our blinds which fit into the individual window panes rather than in the wall" so with most blinds being off the table, it's best to look for a blind that can fit in the pane.
These conservatory and sunroom blinds come in a few varieties, and are sold pleated, honeycomb and even Venetian blinds for sunrooms that fit into the windows, so you still have some choice there.
Pleated blinds work great if weather isn't an issue, if your sunroom often gets too hot or cold honeycomb blinds will be better due to their thermal properties, or if you want a high amount of light control the venetian option will be the best for you!
There you have it, some excellent expert advice to help you know which blinds are right for your home and where you should use them for the best effect, while choosing blinds may seem intimidating at first, we hope this guide will help you on your blinds buying journey!