Choosing the right kitchen cabinets is one of the most exciting yet challenging decisions you may ever have to make.
Whether you are remodeling or building a new house, cabinets play a big role. The right cabinets will improve your kitchen efficiency, provide storage and are a vital part of your style.
Due to the nature of work and the amount of money involved, every homeowner wants something that will last.
You may want to avoid fads as changing kitchen cabinets often are not viable.
To be safe, consider timeless trends like white kitchen cabinets as a base.
New kitchen cabinets can breathe fresh life into your home in a home improvement project.
You should visit BestOnlineCabinets or any other home improvement website for inspiration and ideas.
It would help if you had clever planning and forethought. Below are tips guiding you through the daunting task of picking the right cabinets for your space.
Storage Provision
There is never too much storage when it comes to the kitchen.
Whether you are a small household, an avid entertainer, or a huge family, more storage space in kitchen cabinets is a great idea.
Getting enough kitchen storage is a game changer when it comes to functionality.
Start with your needs in mind, and whether you go for customized or flatpack kitchen set-ups, consider personalizing your space to accommodate your appliances.
You should maximize storage and bench space by creating spaces for small appliances like kettles and toasters.
The right cabinet will conceal the bench mess making the kitchen look larger than it is in reality.
Open shelves look ideal for small kitchen spaces, but it only works if you are super organized.
People prone to disorganized cupboards should consider drawers and doors.
Kitchen Style
Choosing the kitchen layout is one of the first steps in planning.
Small kitchens work best with galley or straight line layouts, while L-shape kitchens with islands are perfect for large families.
Additional storage is crucial if you love to entertain guests.
Establish the most suitable spot for your cooktop, dishwasher, and fridge, and then use the arrangement as a skeleton for the kitchen layout.
The space between your oven, sink and fridge is a high traffic zone known as the golden triangle.
Ensure there is enough room to move around. To reduce meal time preparation chaos, position every point at least 2 meters apart from them.
Doors and Drawers
Ideal kitchens have both doors and drawers for the cabinets.
The drawers are best on the lower cabinets and are ideal for stacking pans that are not well visible without an aerial vantage.
The numbers of cookware you use regularly are a factor to consider when determining the drawer space.
Your pantry staples will also help you establish the space you need for day-to-day use.
With many options in the market, pay close attention to the quality and ensure you have the best possible.
Look for safe products that are durable and functional.
Cabinet Accessories and Parts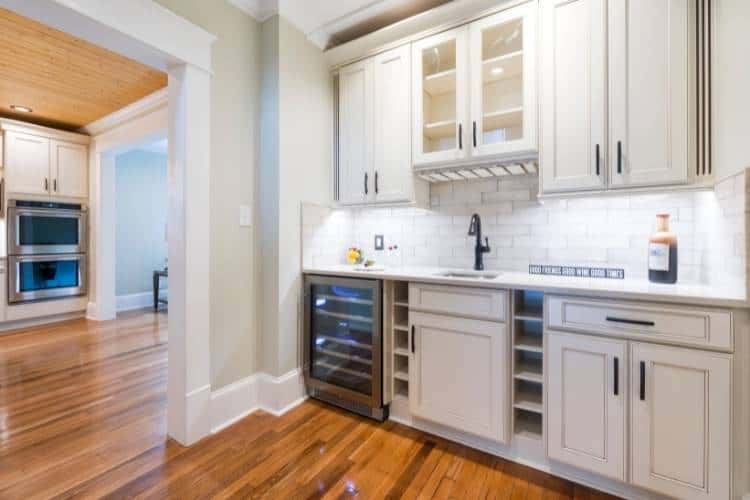 There are several options and styles in the market if you buy doors or drawers for your cabinetry. New models have pushed to open and soft closing doors options.
Your choice of runners, hinges, and wood will affect the type of handles you will settle for, though push-to-open runners come without a handle.
Cabinet handles are crucial as they add to your kitchen space aesthetic.
If your theme is rustic or country charm, consider traditional handles.
Streamlined designer bars are for sophisticated individuals after modern luxe in the kitchen.
Other details like wire ware and bins are internally sitting accessories that enhance your kitchen functionality and organization.
Modern cabinets are versatile. You can have custom-made spaces with the right supplier to accommodate all your needs.
Finishings
Thanks to advanced material technologies, there are numerous market cabinet style options.
If you are daring and wish to have a statement kitchen that stands out, consider raw cabinets and have them painted in colors of your choice.
This is a limitless option that allows you to personalize your space.
Paneled and frosted doors create an interesting effect when combined with contrasting cabinet styles.
This cabinet finishing is growing popular among this extremely experimental generation.
This is worth trying if you fall in the daring category of homeowners.
Another interesting development from the advanced technology is fittings for kitchens with high UV exposure – high-resistance thermoformed surfaces.
Consider textured surfaces for busy kitchens with a high scuffing possibility.
Conclusion
Do you know that your choice of kitchen cabinets can add value to your property?
Just as the kitchen is the heart of a home, cabinets are an integral part of your house.
Besides their aesthetic value, kitchen cabinets are vital for storage.
Choosing the right kitchen cabinets is challenging as it entails paying attention to details like the correct handles, knobs, and pulls.
These small details create a beautiful and stylish final look with the correct picks.