Any of us might find we run short of cash regardless of how well we manage our money.
An unexpected home repair expense may hurt, particularly when this happens right before payday or several crises occur in a short period.
When money cannot be borrowed from family or friends to handle this event, a short-term loan may be the solution.
However, before taking out a loan of this type, you as the borrower needs to understand what is involved, so you don't get yourself into more financial trouble.
What is a Short-Term Loan?
Many people view a short-term loan as easy money, but understanding short term lending should be necessary before moving forward with the application process, as there is nothing easy about obtaining these funds.
A short-term loan is a loan that the borrower must pay back in a year or less. At times, the lender requires the funds to be repaid in a matter of weeks.
Most lenders today require the borrower to show proof of employment. They also mandate a certain monthly salary and the borrower must have an active bank account where the funds can be deposited.
In addition, at least one form of ID must be provided by the borrower before the funds will be provided.
However, no collateral is required to obtain a short-term loan. Furthermore, credit score requirements are less stringent, allowing more people to qualify for a loan of this type.
The drawback is short-term loans come with higher interest rates, and the borrower may be subject to other fees and penalties.
The lender is taking on more risk and must account for this risk through the assessment of the higher interest rates, fees, and penalties.
How do Short-Term Loans Work?
A person will find they can apply for a short-term loan and receive the funds quickly. They may choose to visit a local provider, but countless individuals turn to the internet today.
They find a large selection of loan providers and can handle the application process online without ever leaving the home.
The lender dictates what information is needed as part of the loan process.
Once the individual submits the necessary documents, they typically find out within a few minutes or hours whether they have been approved.
Upon approval, the borrower learns the terms and conditions of the loan, including the amount, the interest rate, and the payment schedule.
In many cases, once the loan agreement is signed, the borrower has the funds in their bank account within a matter of hours.
Using a Short-Term Loan
Unlike a mortgage loan, you can use a short-term loan for any purpose.
You may find you need new appliances, major plumbing work or other costly house repairs, or have run out of money to finish that big bathroom remodel; but you just don't have the funds.
Some people turn to a short-term lender when they have a past due utility bill and are facing disconnection. The reasons a person may choose to get a loan are endless really.
Lenders don't ask what the funds are being used for, so it falls on the borrower to get funds only when they are truly needed.
Types of Short-Term Loans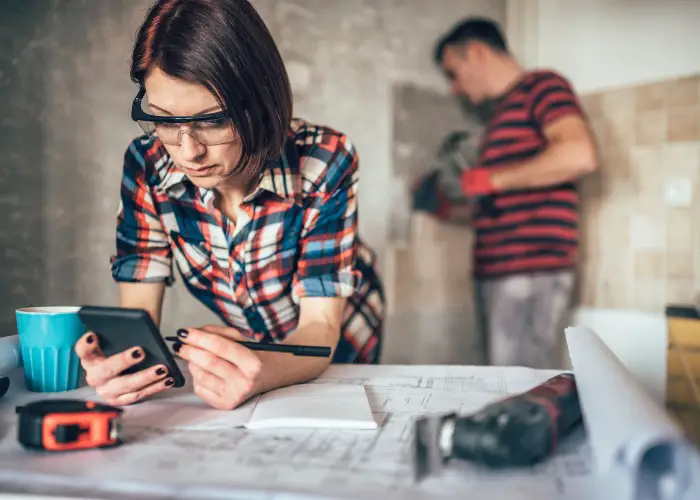 Borrowers find they have several short-term loan options. The most common loans of this type are payday, auto title, and installment loans.
What should a person know before choosing which option is right for their needs?
Payday loans allow a person to get funds until they receive their next paycheck. To secure the funds, the borrower may have to provide nothing more than a pay stub.
However, the full loan amount plus any interest and fees are due when the borrower's next paycheck arrives. The fees and interest rates with this type of loan can be high, as well.
Borrowers need to ensure they can repay the funds with their next paycheck without creating a new financial crisis.
Otherwise, they could get stuck in a cycle of borrowing, paying the loan, and needing to borrow money again immediately.
Car title loans serve as a type of short-term lending. A borrower trades their car title for the cash they need. If the loan isn't paid as agreed, the lender repossesses the vehicle.
Lenders typically only allow the borrower to request 25 to 50 percent of the market value of the vehicle when this option is selected.
A car title loan may have an APR of 300 percent and the funds must be repaid within 30 days, in many cases.
Any late payments lead to higher interest rates, so a person could find the loan costs significantly more than they originally anticipated.
Installment loans serve as the best option for many people in need of a short-term loan. As the name suggests, a person pays this loan back in installments, often over a 12-month period or longer.
Today, many lenders offering installment loans work with people who have little or no credit.
A person will pay more if they have a low credit score or no credit history, but this is an option that should not be overlooked.
People struggling with a financial crisis often find this is the best solution for their needs because they can resolve the immediate crisis without creating a new one.
Some people turn to bank overdrafts to cover unexpected expenses. However, this option comes with a high-interest rate.
Lines of credit are also a form of short-term loan. However, it takes more time to get approved for this type of loan.
Benefits of Short-Term Loans
People appreciate having access to short-term loans. The application process takes little time, and they know quickly whether the loan has been approved.
In addition, they have the funds in hand within hours in many cases. No collateral is needed to obtain most short-term loans, and a person may find the lender reports payments to the credit bureaus.
This allows the borrower to build credit, which is of great help to men and women who have no credit history. These serve as only a few of the many benefits of this borrowing option.
Every person should borrow responsibly. Never take on debt if the payments will lead to financial hardship.
Anyone who has taken out a short-term loan and is struggling to make repayments should reach out to the lender.
Lenders understand problems arise and will work with borrowers who are making an effort.
With the right help, any person may benefit from a short-term loan and improve their financial future, so the need for this type of loan decreases.