The kitchen is the central area of the home and is one of the most important areas to construct. It should be fun and designed for both entertainment and daily living.
Kitchen design not only involves making the kitchen look attractive. But also includes improving the functionality of the space.
We are sharing nine tips on designing a functional kitchen, and there are a couple of things that should be done differently when designing a kitchen layout.
Caesarstone also has a detailed article on essential kitchen designs. In this article, we have shared 12 aspects of a functional kitchen layout.
Kitchen Storage
If you are willing to modify a kitchen layout, add an extra shelf, or purchase a couple of storage containers. You can increase the amount of usable space in your kitchen.
These shelves can be mounted on walls or under cabinets to store food. Use containers with lids and buy taller containers if your kitchen isn't designed to accommodate them.
An excellent storage option for any kitchen is the Lazy Shelves that fold out and slide away from the wall.
They provide useful hidden storage and make it easy to access cookware, utensils, and other kitchen essentials.
These neat gadgets fit neatly into kitchen cabinets and provide easy access when needed.
Kitchen Drawers
Use these drawer organizers to create a space for each of the kitchen utensils. They will help you to organize your kitchenware after each use. Custom built-in drawers can provide storage for meat cutters, spices, etc.
Keep everything in an organized way
The first impression you make in the kitchen is to make sure that everything is visible. You don't want to look at a messy kitchen counter, so remove anything that isn't necessary.
If you store cooking utensils and appliances, consider cabinets with roll-up fronts.
Be Creative
Don't forget about other forms of storage in your kitchens like cupboards, drawers, and floating shelves. A place to utilize these areas would be to hang baskets or hooks from the walls.
It can be a great way to make your kitchen look unique.
Trash
To reduce your trash, start a recycling program and find the right size bin for you. Composting should take place outdoors, if possible.
It may take time for your compost to mature, but you can save space by not keeping big garbage indoors. You can even store a compost bin outside if you want to start a worm bin.
Put a different color on each bag, or draw on each with chalk. So you know what to put inside each one.
Cabinet Panels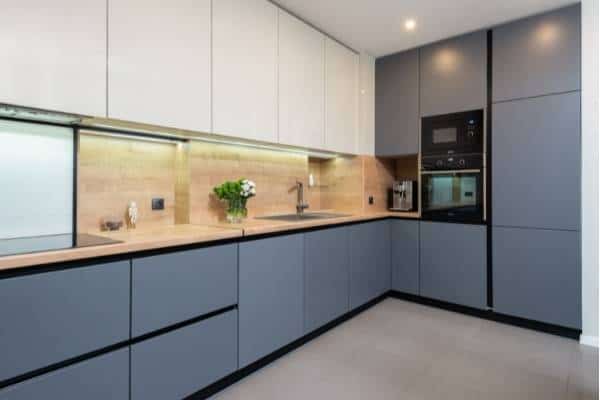 Functional Kitchen designs experts recommend installing cabinet panels for maximum visual impact while minimizing the footprint of your kitchen appliances.
It may cost more, but hiding large appliances with a panel is a great way to make your kitchen more functional and less cluttered.
Panels add dimension and height to the kitchen space and also help to make the space more organized and appealing.
A small kitchen can become a stylish room in your home by adding shelving over the base cabinets. It is a kitchen that doesn't have much storage but looks very sleek and organized.
Lighting
Cooking and cleaning in the kitchen require good lighting. Adding under cabinet lights can be very helpful in locating what you need. They are also available in the form of LED light strips.
Create a separate work area
When you start adding a workspace to your kitchen, you'll find many reasons to do so. For example, your family may like to use the space for homework or school projects.
Or your kids may enjoy snacks while studying in the kitchen. So it makes sense to create a dedicated space for this purpose.
Ensure there is a place for a desk, a chair, a bulletin board, a flat surface, and storage. This small area is also likely to see a lot of use, which is why you should consider it.
Adjust everything as per your own need
Be sure to adjust the placement of your kitchen items according to your own needs.
It will help you save your time and energy when preparing meals since you won't have to move your hands from one location to another to prepare food.
You should make sure that you tell your kitchen designer how you want your kitchen to look like.
Not everyone cooks in the same way, so be sure to discuss this with your kitchen designer.
Kitchen Island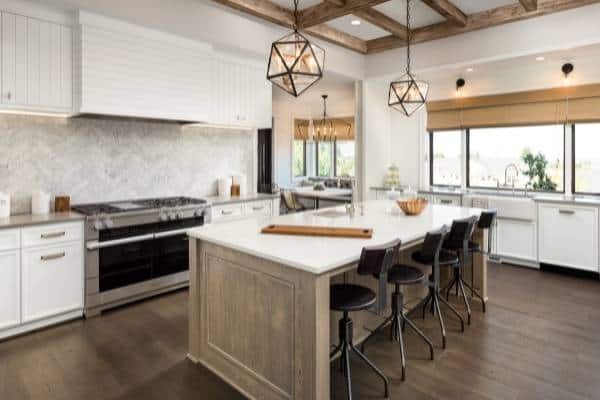 An island kitchen can provide a large working surface or storage area. It can also incorporate a cooking area.
This space can also be used for preparing food, having dinner, and relaxing with family members.
In addition, the kitchen should have an island since this area is useful for a good traffic flow.
The individual renovating the kitchen should place the island in the center of the room. Because of this, they should ensure the area around the island contains enough space for both working and social areas.
L-Shaped
A kitchen that is small enough to fit into a corner or along the wall, an L-shaped kitchen offers a practical arrangement for organizing your kitchen area.
Although the L-shaped kitchen is open to the main room, the area for appliances is located along the back wall.
The width of the L can be no more than 4.5m, which is ideal for ease of use.
Use the small area left over by a corner cabinet to install a walk-in pantry. This way you will not lose valuable kitchen space and will benefit from a great addition.
By creating an L-shaped kitchen, you may be able to create a small breakfast nook in the opposite corner. You will also add value to the room.
U-Shaped
To make a large kitchen feel more open, pick an upper-cabinet style with one or two upper shelves, leaving the third wall bare.
This functional kitchen layout design is versatile because you can have different appliances types and sinks in different locations.
The U shape gives you space for multiple people to be together in the kitchen at the same time.
When you have a U-shaped functional kitchen design, make sure the windows are kept open, and the areas that need to be kept clean and clear are on the opposite ends of the back and front doors.
Use these areas for the purpose for which they were intended.
Conclusion
In this guide, you have known 12 aspects of functional kitchen layout. To create a spacious kitchen, the first step is to identify the best layout for your kitchen space.
This can vary based on the size of the kitchen. For instance, if you have a large kitchen, you may need to go with a smaller kitchen design to ensure that you get the most space.
Smart kitchens allow you to store all the items you need for cooking in the kitchen, freeing up space elsewhere.