With the rise of urbanization, Condominiums or condo is the trend for real estate nowadays.
Regardless of the size of the condo or the limited time you have for maintaining your condo, still everybody loves having your guest compliment your home design.
The good news for condo owners is that nowadays the interiors of your condos can be designed in such a way that it brings together practical functionality and beautiful appealing aesthetics together seamlessly.
If you are looking to invest in aesthetically good looking condos, check this page to get a good idea of what's possible.
You can build a beautiful home design with minimal cost and effort by keeping things simple and incorporating small touches.
Abstract Design Guide
We all have the tendency to rush into designing with decors we think looks stunning individually but when put along with a collection with other room settings, it turns dull or out of place.
Therefore having a proper vision and planning is a must. Here are some tips:
Know your Layout
When it comes to condo units the challenge that each one needs to deal with is how they can have a comfortable, good-looking home despite the limited space availability. It is important to understand the layout not only horizontally but vertically as well.
Once you have the layout figured out, you can have an idea about the shape and size of the furniture, appliance and equipment. This knowledge will serve your future renovation as well.
Know your Colors
Every condo visit has a unique story to share; one of the most vivid first experiences, when you enter a condo, is the colors. A perfect blend of colors is an excellent way to calm your experience creating the wow experience every time someone visits your condo.
A major reason why colors are so vital is that it affects the visual space between the ceiling, walls and flooring. However, the beauty of colors is subjective but generally, color is divided into two categories: warm and cool tones.
Warm tones, like red, orange and yellow can energize a space and its occupants. Cool tones such as blue, green and purple generally create quiet, relaxing atmospheres.
Opting for a modern minimalist design?
The options are further narrowed down with light nude colors like white or grey.
If you are looking to invest in aesthetically good-looking condos like Mirabella Condos in Toronto, check this page to get a good idea of what's possible.
Know your Texture
Every object you decide to incorporate into your design has its own texture (Texture can be defined as the structure of anything that can be touched, felt and seen).
When you combine a perfect texture together with all the other elements of interior design, you can transform it into an amazing spectacle.
For instance, any shiny and smooth textures reflect the light and create a cool effect and impression whereas raised textures, absorb the light more and as such create a sense of warmth and coziness.
Texture can come through in a whole host of ways, here are some cool ideas to play with: matte versus glazed ornaments on a bookcase, book spines stacked on a side table aside from a sculpted glass lamp base, a polished granite fireplace hearth with a rug in front of it, or even wall treatments and artwork that can make the walls feel multi-dimensional.
Condo Decor Guide
When it comes to decors you have an endless option to go for, it all depends on how you vision your condo experience to be.
One way to find inspiration is to browse websites like Condo Shopper and peruse examples of great looking condos. This can help you find what you like and define a direction for your decor and design.
However, there are certain guidelines you can follow while choosing your decors.
Modern Shelves and Stylish Tables
Cabinets and shelves can be an easy solution for a clutter-free interior. Built-in cabinets and hanging shelves are the smart way of organizing and arranging your stuff.
The trick here is not to overcrowd the space, instead choose accessories in a similar color and group items together in odd numbers. You can use books as objects and exhibit them both horizontally and vertically for interest.
The goal here is to aim for two-thirds of books, one-third of accessories and make sure to include either extra unique piece. When it comes to the table, exposed legs tables and furniture can be a good choice, since this will create more open floor space.
Also, it is advisable to keep a distance of 5 centimeters between the tables and sofas.
Keep it Simple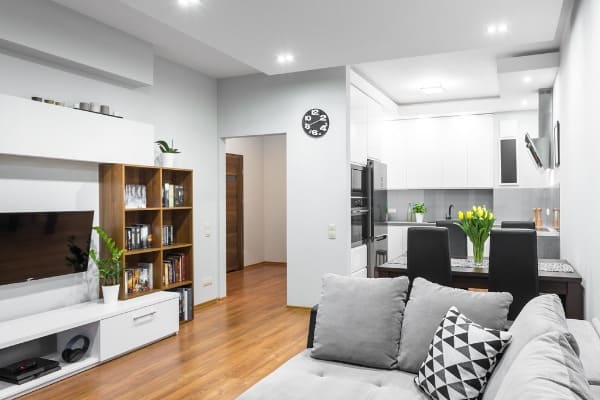 Some of the most beautiful designs are done by using nature inside your home. Here we can use natural lights, woods and plants. Always look at the light in your condo before decorating it.
If you have limited space use mirrors or light curtains to reflect the natural lights. A well-placed mirror or curtain can create illusions about the space and even highlight your wall colors beautifully.
Another creative way to design is by adding plants inside your living area with pebbles to give it a unique second glance.
Ceiling Curtains and Balance Lighting
Oh! what a view it is to see, long luxurious long curtains hanging down from the ceiling to floor. Luxurious long curtains create an opulent frame for your windows which looks exquisite.
And equally impressive is lighting, balancing lighting involves finding a perfect combination of natural and artificial lights. You can use lights to divert eyes towards the things you want others to focus on like paintings or expensive designer pieces.
Also if your condo has a fine line ceiling indirect lighting can create a nice accent to the straight lines of your ceiling.If you are looking to invest in aesthetically good-looking condos like Mirabella Condos in Toronto, check this page to get a good idea of what's possible.
Create Negative Space
This may seem weird but this looks good. For condo living, you need to be frugal with mixing different kinds of elements. Instead, start creating empty space around your furniture. This will accentuate your furniture design.
You can further narrow down negative space on your vertical space as well, that is, your wall gallery and invest towards a bigger individual hangings piece that blends with the tone of your wall (an oversized artwork that grabs your attention the moment you step into a room).
Fashion is temporary but the design is forever. Explore more about designing your condo. Enjoy decorating and designing your condo with an open mind.
Focus on these guidelines and tips for designing and surely you will begin to enjoy the process as well as the result.