Remember those daisy chain necklaces we made when we were kids? Well, this version is all grown up! I was inspired by this amazing necklace from the Red Valentino collection and knew that I had to add some cheery petals to my jewelry collection as well.
A little bit of yarn and a few crocheted daisies later, and I had a couture daisy necklace of my own!
Ready to put some petals in your jewelry box as well?
How to Make Your Own Daisy Chain Necklace
1. I created this cute crochet daisy pattern to make the flowers for the necklace. I used a total of nine daisies. You can make more or less daisies depending on the look you are going for.
(Tip: If you don't crochet, you could just as easily use fake daisy flowers from your craft store, or make some using felt.)
2. Next choose the chain you'd like to decorate with your daisies. There are obviously options for a necklace chain that holds pendants available, but I usually just pick a simple, thin cable chain that is lightweight but durable.
3. Once you have your daisies, figure out how you'd like to arrange them on your necklace. Then, sew them to a piece of felt as shown below. I sewed my daisies onto a large piece of felt that I later trimmed back so that the felt edges wouldn't be seen when the necklace is worn.
4. Attach some straps. I used braided strands of yarn for my straps, although I'm thinking of switching them out for some silk ribbon (the wool yarn I used is a bit scratchy on my neck).
Here is what the back of my necklace looks like:
4. I decided to block my flowers to keep the petals a bit more spread out. To do this, I dampened the petals with a wet cloth and then pinned the petals out so that they'd hold their shape: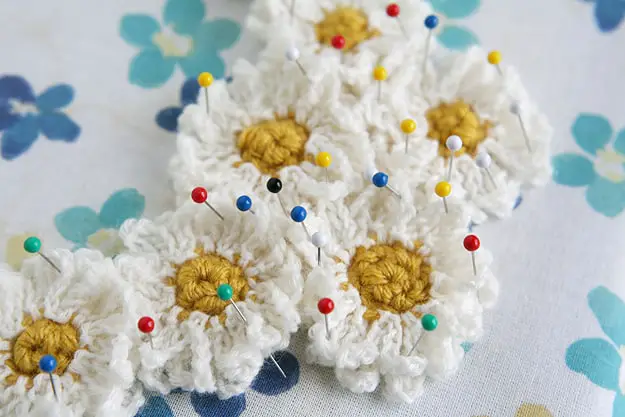 With the petals held back a bit, the pretty pop of yellow in the flower centers really stands out. You really can capture nature in this project, I love it!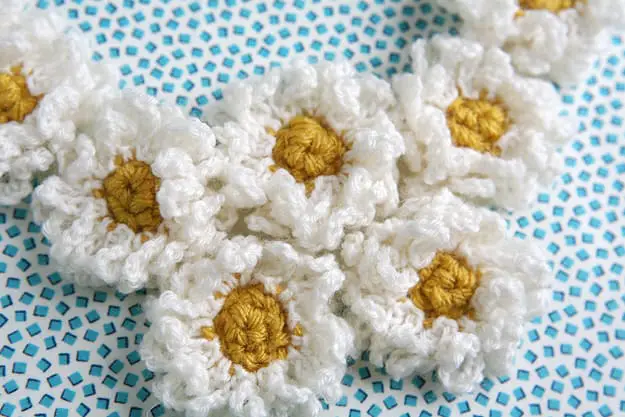 And, that's all there is to it!
This necklace was so much fun to make and is even more fun to wear! You could play around with different flower motifs, mix up the colors and even change the arrangement of the flowers on the necklace for a whole new look!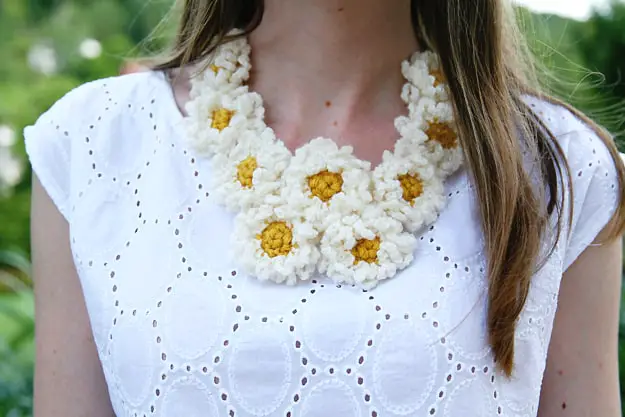 So, who's ready to make some daisy chains?!!
P.S. Like my white eyelet top? You can sew your own! Learn more on that here.