A DIY fire table can be such a beautiful addition to your backyard.
With a stylish design, an attractive table spewing out flames can be a centerpiece that gives you endless opportunities to enjoy the space outside your home and also to show off your DIY skills.
You can imagine how cozy it feels gathering around controlled, inviting flames from a fantastic backyard fire pit with family and friends.
Perhaps you could be roasting hot dogs, sipping wine, or just gazing at the flames during those nights when the days have begun cooling off. Yes, life is blissful and magical.
These days, a fire pit table has made it to nearly everyone's wish list. However, you don't have to spend thousands of bucks in purchasing one you see displayed at your favorite store.
With a little bit of DIY skills and locally available materials, you can have an awesome DIY fire pit table at a ridiculously low cost.
Ready to get started? Well, let's dive into some of the best ideas that can make your fire pit table a center of focus on your patio or backyard.
1. Go Simple with Square Fire Pit Ideas
When simple design meets your desired function, that's it. And that's how sizzling home décor is created. Avoid making it overly complicated as it may turn too expensive and perhaps sucking.
Regardless of your definition of simplicity, focus more on the functionality of the table. Think of whether your table will be formal, semi-formal, or casual.
Also, consider whether you'd want to cook some delicacies over the table fire and the type of the fire media available.
Most importantly, think of the durability and the resilience of the material against the weather effects.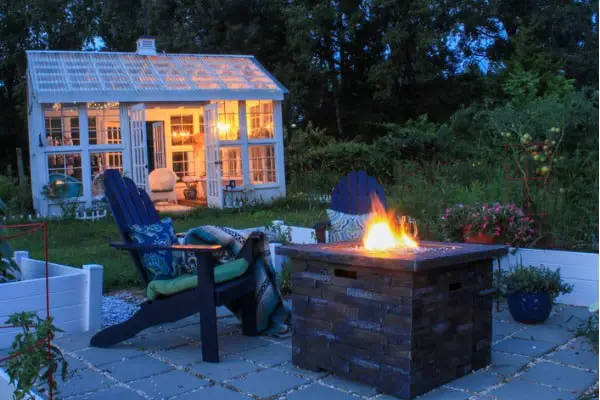 2. Matching Deck Fire Table
Shape is one of the features that define the uniqueness of a fire pit table. Of course, rectangular, square, and rounded tables are common.
How about if you could come up with a unique yet fantastic shape? Well, you can combine a hexagon fire pit table with Adirondack chairs to get a spot-on design match.
You can build a fire table that is deck-friendly because it uses gel fuel canisters. Alternatively, you can use pressed wood logs to make use of wood waste byproducts instead of having a gas table.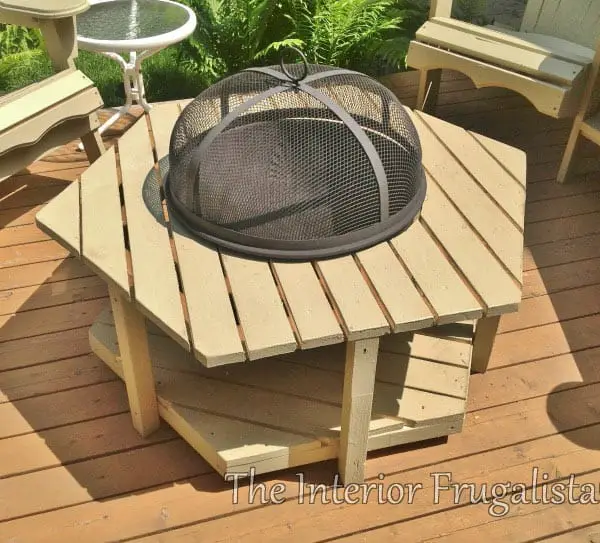 Learn more about how Marie from Interior Frugalista built a spot-on design match with DIY Adirondack Style Fire Pit.
3. Go Budget by Using What's Available
The secret to making your fire table cost cheap but with an elegant look is using some of the idle materials at your home. You can use wood from an unused item or structure to make up your fire table.
By refurbishing the garden table that you no longer use and an empty bowl, you can make a masterpiece.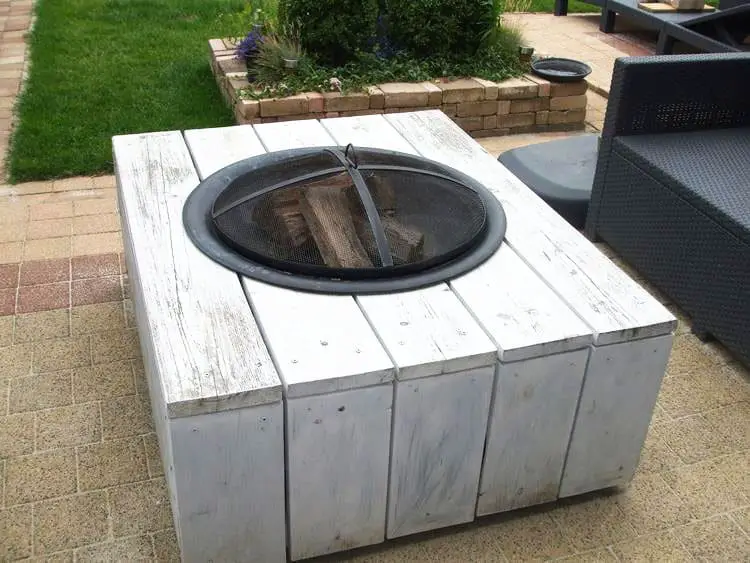 Take a look at how Gerick transformed an initially elongated garden table with an empty bowl from the garage to make a fantastic fire table at welk.nl.
4. Make It Super Durable
When it comes to making an outdoor fire pit table, durability is vital. Fortunately, you have direct control over that.
By choosing a pretty design and using highly durable materials, your fire pit table can outlive you. But it doesn't have to be damn expensive.
With a molding board and concrete mix, you can mold the tabletop as well as the table box.  And the resulting product will be a stylish concrete fire pit table.
Check out how DIY PETE does it in a few simple steps in this video:
5. Dual-purpose DIY Fire Pit Table
A rounded fire pit table makes your outdoor space look prettier. If you have an already existing rounded concrete fire pit, you can make a fantastic rounded top.
The circular design of the table accommodates more people than a rectangular one. It also minimizes accidents, in addition to being great for gathering.
The best part about this design is the dual-functionality it servers. Picnic table by day with a stained top, attractive fire feature by night!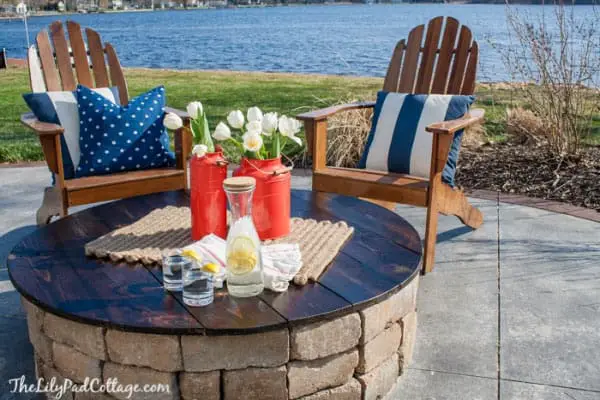 Kelly from The Lily Pad Cottage shows how she made her masterpiece using local materials. Click here to learn how!
6. Safety First!
When designing a DIY propane fire table, think of some of the safety features that can make your fire table safe.
One idea is to design your table with a fire pit cover to enhance safety if you have kids around.
Also, ensure your table is safe from deterioration by weather and other environmental factors.
For instance, if your home is located at the ocean view, a combination of concrete and stone fire pit tables would be great.
For both safety and longevity a glass fire pit table is often a preferred choice.
As such, it will resist corrosion by the salty ocean water better than steel and other metal products.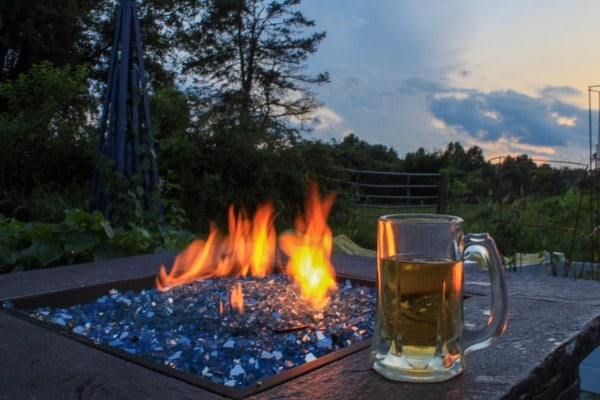 7. DIY Fire Pit Table from Pallet Wood
Nothing can be as cool as making a unique yet pretty fire pit table out of creativity.
And of course, with DIY, you wouldn't have to part with thousands of bucks to get it done.
This is another one of those straightforward square fire pit ideas I just love.
With an existing propane insert, plywood, wood pellets, tile, and 2x4s, you can learn how to build a propane fire pit that resembles the one below.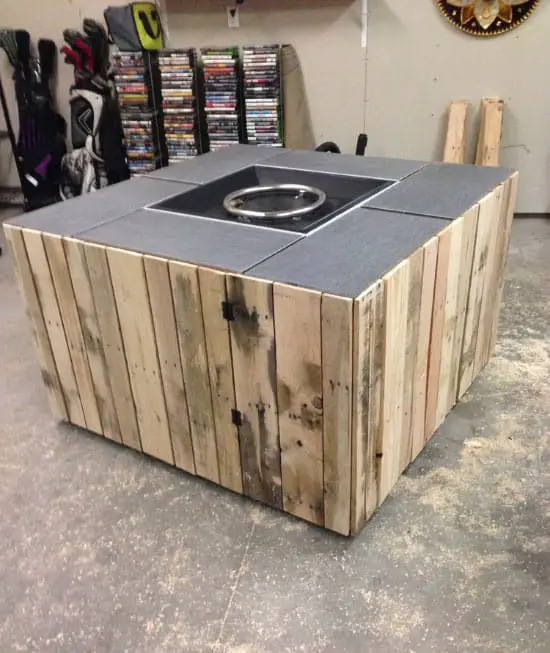 Click here and learn how pretty easy you could design your table complete with your desired textures.
8. Keep it Portable
Making a portable fire pit table comes with a high level of convenience that you couldn't have otherwise enjoyed with a fixed table.
You can take it with you for camping and other outdoor sleepovers and enjoy the magic with friends.
Besides that, a portable fire pit table can go long into the future since you only get it to the outdoor at the time of need.
Therefore, it wouldn't be vulnerable to the elements of weather.
Could you imagine having the freedom to move anywhere with your pretty table for fire pit purposes?
Yes, life can be blissful and magical outdoors!
With that in mind, let's take a stroll to Youtube and see how Mike builds an amazing foldable fire pit table at Modern Builds.
You can grab his DIY fire table plans and get started on your own today!
9. Embrace Minimalism
The cheapest way to have a stylish yet simple to make table is by embracing minimalism.
Instead of having separate independent seats, you can have both the table and the seats fixed on the same bottom frame.
By doing so, you'll save yourself huge chunks of bucks and migraines that you could have faced when making each bench separately.
More interestingly, this design table is multipurpose and portable. As such, you can easily store it when not in use to increase longevity.
Are you wondering how to make it? Well, watch the DIY wood fire pit table tutorial video below to see how this guy does it pretty simply (with plans!).
10. Ultimate Simplicity and Fun
Now the above options are all find and dandy. But what if you truly want something super easy (and cheap) to put together for this weekend?
I've got the perfect choice for you!
With a quick trip to your local home store, you can build your own mini, yet stunning, fire table.
Check out Bitter Root DIY for all the build plans with plenty of 'how-to' tips.
 

View this post on Instagram

 
11. Wine Barrel Fire Pit and Bistro Table
Ok, I just looove this clever design.
The version below is one you can buy but if you're handy enough I think you could dupe this one easily at home.
Get a wine barrel as your base, which makes a perfect storage for a propane tank.
The table top itself is a 4′ diameter cut-out circle with the fire bowl placed inside.
Superb!
 

View this post on Instagram

 
A fire pit table is a super addition to your outdoor space.
With DIY skills, you can make a fantastic fire pit table complete with your favorite features while saving money enormously.