As the cold winter months approach, the anticipation of cozy, cool evenings with friends and family seeking warmth in your backyard grows.
Staying inside can be delightful. But having a backyard prepared to keep everyone warm is a fantastic way to leave a long-lasting impression on your loved ones and create memorable late winter nights.
In this blog, we'll provide some essential tips to help get your backyard ready for a chilly season, ensuring that all your guests can enjoy the outdoors even when the temperature drops.
Fire pits
Fire pits are a great way to warm up in the wintertime. They also make your backyard look stunning and cozy.
But, aren't fire pits usually pricey and challenging to maintain?
Indeed, you can invest a lot of money in a fire pit, but there are many ways to create a stunning outdoor space without breaking the bank.
Building Your Own
There are plenty of tutorials, examples, and ideas for how to build your own fire pits all over the internet.
A bit of extra charm also comes with something you build yourself.
We won't be going into it step by step, but if you plan on making a DIY fire pit, figuring out the style you want is a great place to start.
Whether you enjoy a simple and minimalist design or a more elaborate and artistic one, you can find inspiration and ideas for fire pits to match any style and skill level.
Some popular DIY fire pit designs include traditional stone or brick, metal fire pits, and tabletop applications perfect for small yards. 
The beauty of DIY fire pits is in the ability to customize them to your own unique taste.
If you want a traditional style or want to try something more innovative and adventurous, building your personality and creativity into the centerpiece of your backyard will be deeply rewarding.
Store Firewood With Style
If you're already a fire pit pro, another way you can get your back garden winter ready is to look for a way to keep firewood tidy.
While a traditional stack off to the side will get the job done, why not store your tinder with style?  A DIY firewood rack could add an extra layer of creativity and ingenuity to your backyard.
Patio Upgrades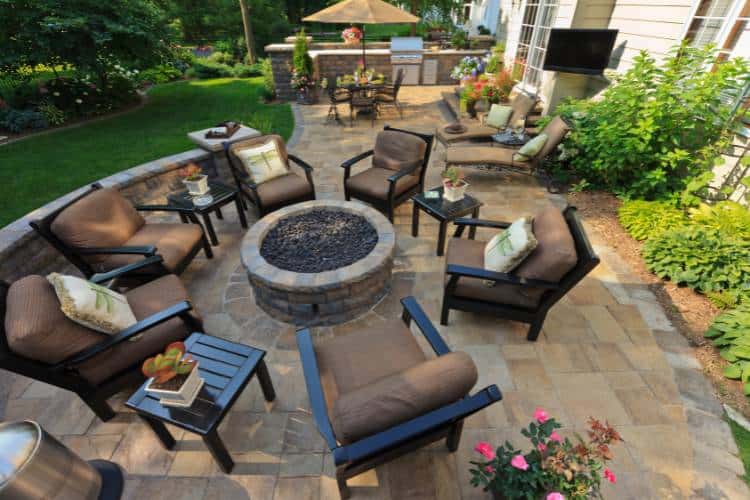 Upgrading your patio is a great way to bring more comfort into your cozy winter setup.
A nice, inviting patio space makes your backyard even more enchanting in the cold winter months.
Location Matters
Not every home is built with a porch or patio that's large enough to relax on, but that doesn't mean you can't take advantage of the space you're working with.
When deciding where to create your outdoor winter space, keep in mind one golden rule: location, location, location.
Ideally, you'll need to seek out the perfect spot in your outdoor area to create your cozy winter space.
If you have a large section of concrete adjacent to the house, that is probably the best place to start because it's the easiest to clean, keeps you warm, and acts as a barrier between your guests and the dirt.
Combining the patio with a fire pit will start to bring the space together in a magical way.
If you don't have concrete in your backyard, dirt or grass can also be transformed into an outdoor winter oasis.
People love the feeling of being outside in nature, so don't count your outdoor space out if it's on a flat section of dirt in the backyard.
There are many ways to brighten up a space on the ground, from simple ideas like adding lighting and decor, to bigger plans like setting up a gazebo. 
Make a Three-Season Room
If you want to create a porch or patio space that you can use year-round, why not upgrade your patio into a three-season room?
The idea is that they'll be cool enough to use in summer, but warm enough to create a comfortable outdoor space in winter, too.
Not only are they convenient, but they can add curb appeal to your home's design.
Step Up Your Furniture Game
A great set of outdoor furniture with some outdoor blankets and pillows can be just what you need to start making those memorable winter nights a reality.
Browse outdoor furniture on sites like Pinterest, or your favorite home and garden spots, for some inspiration to help you land on the style that's going to work best for your tastes.
You can go big, with sofas, chairs, and tables, or create a chic outdoor dining space with a table and outdoor dining chairs.
If you already have furniture and aren't looking to make the swap, even swapping out some of the textiles for warmer fare can help you get your back yard winter ready.
Lighting
Proper outdoor lighting can make your guests feel warmer, more comfortable, and excited to come over.
There are tons of inspiring ways to light your backyard. String lights, path lights, and hanging pendants are just a few examples.
The days are shorter in winter, so you'll need lights that can illuminate the space and keep the outdoor entertaining going.
Mixing and matching outdoor lighting options will help you create a well-lit and enchanting outdoor space tailored to your exact preferences.
Keep Your Outdoor Space Comfortable This Winter
Hopefully, you've been inspired and have some ideas for transforming your backyard for the chilly season.
Having a great space, firepit, patio, and some glowing lights is awesome, but the most important thing is inviting your loved ones over to share a magical winter with you.