Planning a party? Whether you are planning a surprise party or any other kind, it is always worth making the effort to decorate and prepare the space as this can make a big difference to the success of the occasion and set the right atmosphere.
Read on for a few tips that should come in handy when planning your next party.
Surprise Party
If you are planning a surprise party, the wow factor is key so you will want to go all out when decorating the space – crucially, make sure that you only decorate the space where the surprise is taking place!
Banners, bunting, lights and confetti can all add to the surprise and make the event even more special for the recipient.
Invitations
For the best possible event, you will want to build up excitement beforehand so that everyone is energized and looking forward to the event before it starts.
Invitations can be used to increase the excitement of the party no matter the age group, so you should take your time to design fun invitations that will get everyone in the mood for a party.
Decorations
It may not seem like a major detail, but decorations can make a huge difference and it is what separates a simple gathering from a party.
From simple yet classic elements like colorful balloons, elegant table centerpieces, and vibrant wall hangings to more elaborate setups that include themed props and themed inflatables, decorations have evolved into an art form of their own.
Among the mentioned decor options the inflatables have gained popularity in recent years. Floatie Kings' unique custom inflatable solutions offer a chance for hosts to craft the most compelling and mesmerizing creations that perfectly match the party's theme.
Whether you're throwing a birthday bash, a beach-themed party, a corporate event, or any other celebration, these blow-ups will help bring your vision to life.
Banners and bunting can bring the party to life and it is also a good way of communicating a message (happy birthday, congratulations, happy anniversary etc.).
If you're throwing a theme or holiday party, decorations are essential. Decorator's Warehouse has some awesome Christmas themed decorations.
Seating
Some people will want to spend the entire party mingling and dancing the night away, but it is important that you have adequate seating for people.
You will need to keep enough space for people to stand, socialize and dance, so you should try to find space-saving seating and set up areas where people can sit so that they are not in the way.
You can also use seating as a great way to add decoration to your party, either using decorative seat covers or drapes to decorate each chair; these small details can be the perfect way to make the room look appropriate for your party.
Food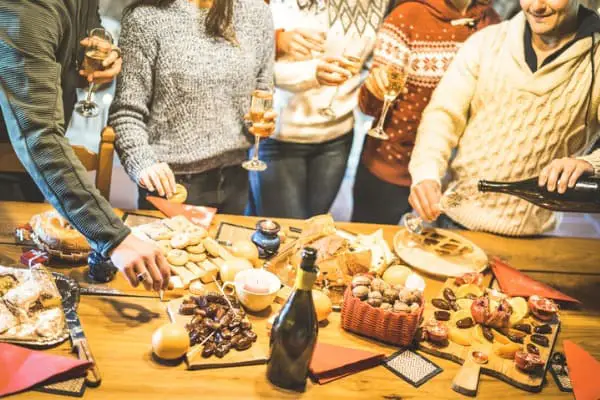 It is not a party without food like this, especially if people are enjoying a few drinks.
You could even opt for food with lots of color and food that matches the theme of the party – buffets with finger food work very well for parties because people can help themselves, eat while they socialize and enjoy light snacks as opposed to a heavy meal.
Finger food can also be easy and affordable, but you could also consider making something yourself like a cake if you want to make the party extra special.
These are the key areas that you will want to focus on when planning any kind of party.
The best parties are the ones where a lot of thought and effort has gone into the planning and otherwise it can feel like more of a gathering.
A party with decoration, a theme, food and fun invitations will help to create the right atmosphere and should help the party to be a success.