When it comes to writing, you need to invest in the best tools to help you achieve your goals.
These tools are meant to make those long hours of writing a breeze and also as comfortable as possible.
One of these tools is a quality fountain pen.  Learning how to write with a fountain pen can take a beginner a few days, but if you study this guide you will learn fountain pen writing in a couple of hours!
Fountain pens are an amazing resource for writers. There are different brands out there for you to choose from.
Just be sure to invest in a fountain pen that will offer you the best in terms of performance and functionality.
Additionally, investing in the right desk as a writer is also crucial.
Your choice of a desk can make or break your writing sessions. With this in mind, knowing more about your resources is essential.
History of Fountain Pens
Fountain pens have been in existence for many years dating back to the renaissance period.
Over the years, the fountain pen has undergone massive changes and improvements to make it a more functional option.
From the creation of better cartridges that hold the right amount of ink to steel nibs allowing for smooth flow of ink.
These improvements have also facilitated the creation of ergonomic grips.
Such grips make it easier to use your pen for long hours, a useful feature that was not available before.
History of Writing Desks
Writing desks started making an appearance in the late 17th century when craftsmen began paying more attention to the needs of writers.
The desks were created in a way that the top part would easily be detached from the legs.
This made it easier to transport and also adjust the height by placing the top on a different surface.
Since then, writing desks have evolved and introduced different styles in the market.
Styles of Writing Desks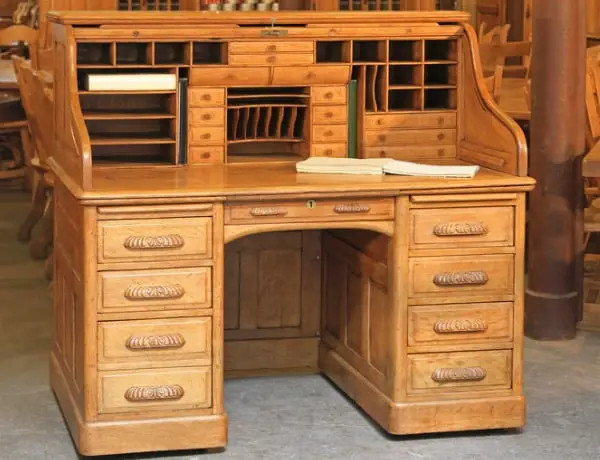 There are different styles of writing desks that have come up giving you a variety to choose from. Some of these styles include;
Traditional Writing Desks
These writing desks are made to preserve the historic culture to mimic past eras.
The traditional writing desks feature the use of rich wood with decorative aspects and distinctive structural elements.
In this category, you'll find most of the antique writing desks that were used in the past.
These desks are suitable for those with an eye for detail and passionate about keeping the past alive.
These desks can also be considered as great family heirlooms passed down from one generation to the next.
Transitional Writing Desks
The transitional writing desks are created to mimic both the traditional and contemporary styles.
These desks feature the use of rich wood with decorative aspects like motifs commonly found in traditional writing desks.
On the other hand, the use of structural elements is significantly toned down.
These desks also feature the use of intricate clean lines and curved edges just like the contemporary style.
Contemporary Writing Desks
The contemporary style features the use of different tones of the wood used.
This is achieved by using a darker wood and incorporating a lighter finish.
The writing desks also feature simple lines with very minimal decorative aspects.
This gives it a clean and clutter-free look. This makes it easier to incorporate it into any space without being too worried about the aesthetics.
The country writing desks are made with a chic vibe that also features a rustic look.
The desks are made of wood with different shades and finishes. These desks are a great way to add some style to your office as well.
Best Writing Desks to Check Out
Getting the right writing desk that works for you is important.
With the different writing desk styles, you may be wondering what are some of the desks available in the market.
Having a clear understanding of the different desks and what they bring to the table will help you make an informed decision.
Here are a few desks for you to consider.
The Sauder Shoal Creek Writing Desk
As a writer, the need to have a lot of storage space in your working area is inevitable.
If this is something you want to address, then this is an amazing desk choice.
The Sauder Shoal Creek writing desk features deep storage spaces where you can keep your notepads and other writing resources.
This is a traditional writing desk that also features a few decorative aspects.
The desk comes with three deep storage drawers with an additional storage feature on the top.
It features a hutch created to specifically add storage space for users. It is made of wood and features a diamond ash finish.
This is a great writing desk for you to consider.
Ameriwood's Home Haven Retro Desk with Stand Alone Riser
If you're working with a small space and not necessarily concerned about having a lot of storage space, this is the desk for you.
The Ameriwood home haven retro desk is designed to fit in small spaces without compromising on its functionality.
It is made of wood and metal legs that ensure it stays sturdy and stable when in use.
This is however not the best writing desk to use if you'll be working on a desktop. This will further limit the space you have to work with.
However, if you're using a laptop or a notepad and fountain pen you shouldn't have to worry.
This desk also comes with a riser that allows you to add more storage space.
This space comes in handy especially for your fountain pens, pencils, and other writing essentials.
The desk is quite easy to assemble which makes it an amazing choice to invest in.
The Winsome All Wood Studio Home Office
This writing desk features thin legs and a small frame at the top. It is quite a small desk that is ideal if you are working in a small space.
The Winsome all wood desk is an amazing writing desk especially for the writer who is used to using paper and pen.
It is very minimal and easy to use. This helps you keep your working space clutter-free which helps you concentrate and get your thoughts on paper.
It is a perfect desk choice for a novelist who isn't about using too much equipment.
You can however also use a laptop on the desk which also features a pullout keyboard tray.
This feature may come in handy when you need to use it as you work on your laptop.
Davenport Desk
The Davenport desk was first created in 1790 and named after the client it was made for.
It is quite a unique desk compared to the others and is a more traditional style desk.
This desk has amazing features that are not readily available in any other options.
It comes with drawers on one or both sides of the desk to add to your storage.
On some editions, one side of the drawers is only for show and cannot be used.
However, when it comes to storage, you can be sure that you are well sorted.
The top of this desk comes slanted and may also come off to easily place it on a different surface changing the height.
The most unique feature about this desk is that it comes with hidden compartments that are well concealed.
You can use these compartments to hide anything you'd like and not worry about anyone finding them.
The compartments can be opened by twisting one or the cabinet drawers in a certain direction.
This desk features decorative aspects from the top to the legs which have cabriole legs making it stand out.
Calligraphy Desk
This desk comes in a slanted fashion that allows users to easily lean back into the chairs and work on it.
It helps you avoid the need to hunch over while in your writing sessions.
Despite this being a calligraphy desk, it also works well for writers to. It allows you to maintain the right postures for long hours of writing.
The desk can easily be adjusted to fit the slope you want to work with.
It is however not like the usual desks that come with legs and drawers.
With this, you only get to work with the top that you can then place on any surface you wish to use.
It is a great choice of desk seeing as it also features some storage where you can keep your supplies.
Conclusion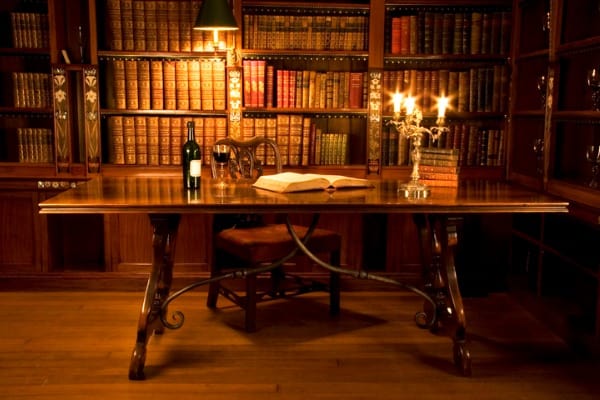 Investing in quality tools and resources as a writer is essential. From your fountain pens to the desk and chair you choose to use.
These are some of the things you should pay attention to and not overlook.
When it comes to finding the right writing desk for you, there is a variety you can choose from.
All you need to do is ensure that you have a clear understanding of what you want from your desk.
If you're looking for more storage, the Davenport and Sauder shoal creek desks are a great option.
On the other hand, if you're looking for a desk that will fit in a small space, the Ameriwood's home haven and Winsome desks will get the job done.
Take your time as you go through the different desks to ensure you get the right fit.