When it comes to your home, you want everything to be perfect. You want it to be cozy, peaceful, and warm, especially your living room.
Because that's where you'll be spending most of your time. So how do you make it perfect? How to bring your personality into it?
The first thing that comes to our mind is the furniture – the sofa.
That is the most important element of it. That's where you'll relax, have a drink, watch TV, chill out with friends, and a lot more.
So, how can you choose the perfect sofa for your living room?
You need to consider the layout, design, aesthetics of the room.
You should also consider how many members you have, if you have a pretty big family a 6 piece modular sectional from Haute Home LA would be perfect, you just need to choose the material and design.
Well here are some tips that will get the perfect sofa for your living room.
1. Orientation of the sofa in the living room
The first and foremost thing to consider while choosing the sofa is to understand why you need it in the first place.
What purpose does it resolve? What should be the placement of it in your living room?
If you'll be spending most of your time in front of the TV then that's where your sofa will be.
If you spend your time entertaining your friends and chatting around, then you'll be creating a comfortable lounge area facing the bar or the fireplace.
Will you be hosting parties or game nights? Then you'll be needing a semi-circle sofa.
It depends on your lifestyle and what you are looking forward to doing with this space.
2. Size of the sofa
When you understand where you'll be placing the sofa, then you need to understand the size where you have to place it.
There is no point in buying a sofa that doesn't get into the living room or takes too much space.
There are many elements that you should consider before making this choice.
For example, is the sofa the only piece of furniture in the living room, how much space can you give to the sofa, what kind of a table do you want to put in front, what is the size of the table, what kind of sofa are you planning to buy, and more.
3. Try before you buy
How do you shop for a mattress? You lie on it, check its depth, how comfortable it is, how spongy it is.
Do the same for the sofa. The seat depth on an average sofa is 60 cm. So sit on it.
See where your legs go. Is it too short or too high? Do you need room for the legs or can you tuck them under?
Though the search depths vary for each sofa, that's why try before you buy any.
Make sure you get a proper, comfortable back support, and when you sit you fit in.
4. Shape of the sofa
There are not just rectangular sofas anymore. There are round, semi-circle, L-shape, U- shape sofas too.
So consider how big a sofa you want, for how many members, where will you orient it, and the kind of table you'll have around it.
After considering these points, select the size of the sofa that works best.
Here's an example, a rounder sofa is preferable for a smaller living room and a larger group of people.
An L-shape sofa however works best for open areas that you may divide into sections such as the living room or dining room.
And if there will be chairs or tables around, then a daybed (chaise) is the best alternative. Check some latest design sofas here.
5. Upholstery material of the sofa
Now that you know the size, shape, and orientation of the sofa, it's time to understand what kind of upholstery material you want.
You can either go for leather, cotton, synthetic microfiber, or linen depending on your living room.
If you have a classy, large, or elegant living room, go for a leather sofa. For outdoor sofas, go for Sunbrella fabrics.
For a family with kids or pets, stay away from suede. Though they look beautiful but can be dangerous.
For these families, it's recommended to select the material that doesn't get stained easily or can be cleaned quickly.
Don't just go for the looks, make a practical choice.
6. Colors and patterns
It's time to throw in the colors and patterns of your choice.
Before you choose any color, ensure that you do not make the sofa the prime focus of your living room.
Don't bring the focus to it more than it requires. Try to go for subtle and synchronized colors and patterns as per your living room.
Make sure they fit the color scheme and overall look and feel of the room.
If your living room has neutral color walls, go for bright colors and a big pattern sofa.
Alternatively, if your living room walls are of bright colors, go for either no or small print and subtle colors.
7. Cushions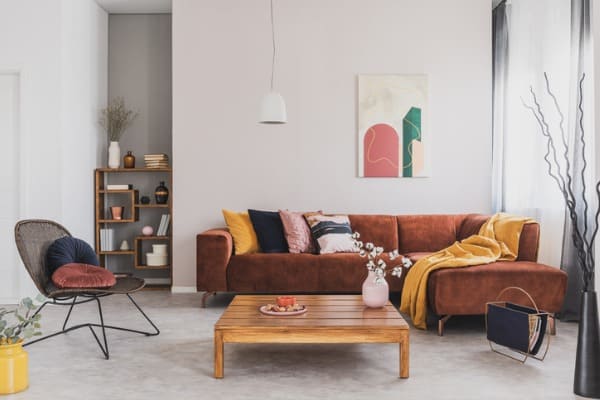 At last and the best – cushions! How does your sofa look from the outside is equally important to what is inside it?
For the sofa seat and back support, feather-filled cushions are the best choice because fiber fillings or foam flatten out and lose their shape with time.
For the feather-filled cushions, make sure you regularly plump them. Or a better option? Go for the mix.
Go for feather and form mixed cushion. You can have the comfort and the shape both!