A summer house is a wonderful place to sit back, relax, and forget about your problems. There, you can indulge in your favorite hobbies, spend quality time with friends and family, or simply sit alone and relax.
A summer home can be your go-to place where you know you can enjoy your vacation with the family.
However, not every summer house will be accustomed to your personal preferences.
Because of this reason, you may want to go one step further than just buying a summer house from a site like The Pattis All Group — you should also think about decorating it according to your needs and circumstances.
For starters, you should do your best to make it appealing to the eye and reflect your personality.
In addition to considering your aesthetic preferences, you can also use your personality type to help you decorate your home.
The 16 personality types, as defined by the Myers-Briggs Type Indicator (MBTI), can be a helpful tool for understanding your own unique preferences and tendencies.
For example, if you are an INTJ, you might prefer a minimalist and sleek design that reflects your logical and analytical mind.
Or, if you are an ESFJ, you might prefer a more traditional and comfortable design that reflects your outgoing and people-oriented personality.
Whether you prefer cottage vibes or beach vibes, there are plenty of ideas and inspirations to guide you as you learn how to tie your personality to the design of your living space.
You will find some interesting decorating ideas below, such as placing an inviting footpath, building an outdoor living room, embracing fancy curtains, and many more.
With these ideas, you will undoubtedly create something extraordinary!
Inviting Footpath
First of all, you need to create a footpath. Homeowners usually do it to keep the grass from growing into the house. To create a nice-looking pathway, you will need wood chips.
They are inexpensive and easy to find, as they are available at many home improvement stores. As for the size, you can choose whatever size you want. Just make sure that it is large enough to walk on
Next, you will need to place some lights on the footpath. You can choose any light you want. However, you might want to choose LED lights to avoid fire hazards.
Another excellent idea for your path is to install solar-powered lights. They are straightforward to install and offer an elegant vibe. Finally, you can lay down some rocks or pebbles for the final touch.
Outdoor Living Room
If you have enough space around your summer house, your next step would be to create a living room. Just like in any other living room, you can decorate this one with a sofa, a glass table, and a television set.
It should also have a few chairs, a rug, lampshades to make it look cozy, and so on. The key here is to make it as spacious as possible. This way, it will make you feel more relaxed and comfortable when you're there.
Fancy Curtains
Many people prefer to have indoor and outdoor curtains. That way, they can use the same curtain for both areas of the house. In this case, you should go with lace curtains or sheer curtains.
These kinds of curtains are elegant and look fantastic when they're hanging from the window frames. Remember that they should be lightweight so that they don't block out too much light.
Swing
You can also put up a patio swing if you want to relax outside while enjoying the fresh air and warm sunlight.
This swing should be big enough for two people so that you can sit and cuddle with your loved one or friend while swinging back and forth in a calm manner. It will provide a nice break from your busy day-to-day life.
This swing should be big enough for two people so that you can sit and cuddle with your loved one or friend while swinging back and forth in a calm manner.
It will provide a nice break from your busy day-to-day life. Swing Set Mall offers a variety of swings, including spacious options for couples or friends to enjoy together.
Water Fountain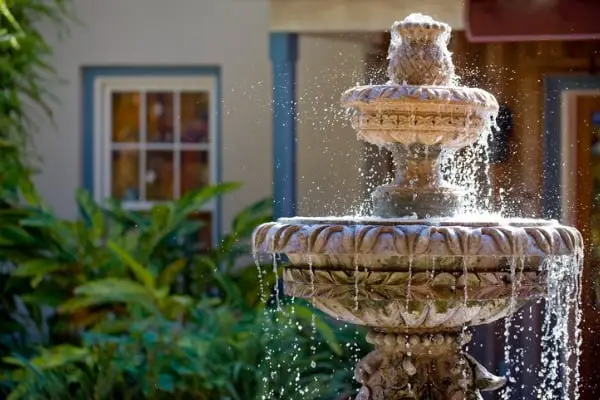 Consider putting up a water fountain if you want to create a relaxing ambiance in your summer house. The design of your fountain is up to you and what kind of vibe you want the summer house to have.
Regardless of your choice, you might want to place it near your sitting area, where you can enjoy peaceful moments by listening to the soothing sounds of the water flowing in the fountain.
Hammock
Hammocks are great if you want to relax in a different way than what most people do these days. There, you can read a book or take a quick nap to recharge your batteries.
The best spot to place it is under an umbrella so that the sun doesn't hurt your skin while you rest.
Plants
Plants can make every room more inviting. As such, you should add some greenery to your summer house. This way, you can reap the health benefits they provide while improving the looks of your space.
Conclusion
Decorating your summer house allows you to give it a personal touch. It is a perfect way to express your personality and make the space you live in truly yours.
You can place an inviting footpath, create an outdoor living space, or install some fancy curtains to achieve this result. Alternatively, you can place a water fountain, a swing, or a hammock.
All of the things we mentioned in this article can help you create the most comfortable space possible. Nevertheless, you can do many other things to improve your summer house that did not make our list.
Search for the best solutions for your property, and you will find ways to make it more unique sooner than later. Good luck!