Every so often, it's a good idea to put some time and energy into making your home look good. Although having the money to repaint and redecorate would be nice, it's not always cost-efficient or realistic to do so.
For that reason, many people try different DIY home decor ideas. These can be a cheap, effective, and fun way to give the different areas of your house a new look.
But what are some different project ideas you can try?
Keep reading to learn about some of the easiest and most effective DIY home decor projects that'll transform the look of your home.
Create a Wall Collage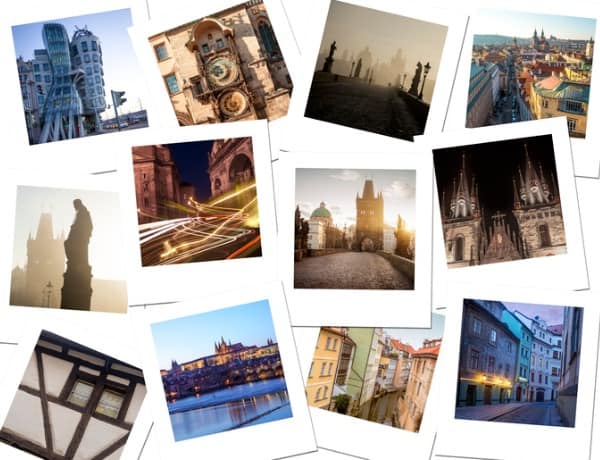 Pictures and photos are a great way to decorate any style of house. Depending on which type of pictures you use, they can promote a homey or artistic vibe.
They're also flexible, capable of working in large and small spaces. If you have any open wall space, consider making a wall collage.
You'll first need to decide which type of pictures you're going to use. Will you use family pictures, photos of nature, or paintings?
Try to match the aesthetic and mood of your house. An artistic wall collage can look strange in an otherwise warm and homey house.
You'll then need to decide how you want to position the pictures. Do you want a few larger frames or many small ones? Will you organize things in geometric patterns, or more sporadically?
Add a Chalkboard Wall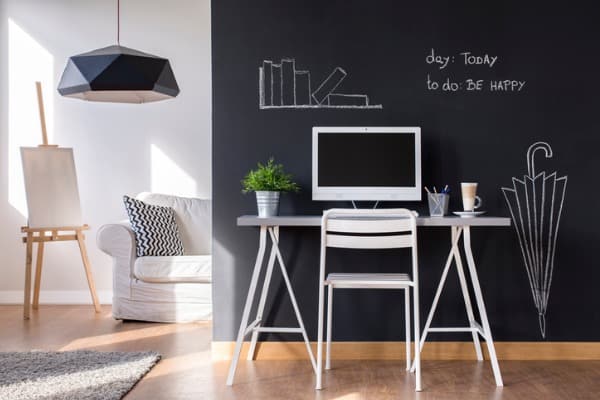 If you enjoy drawing, you'll agree that nothing was more fun than writing and drawing on the chalkboard in school. What if you could bring that into your home in the form of an easy DIY home decor project?
Painting a chalkboard wall can be an excellent way to give you or your kids an outlet for creativity.
As you can erase the chalk as often as you like, it also allows you to switch up what you have on there. One day you might write a plan for the week, while the next day you might draw a picture.
If you are adding a chalkboard wall for your kids, consider choosing a wall that isn't a focal point. Although you might have artistic visions in mind, odds are that your kids will want to get messy with it.
You also need to remember that chalk is messy. Make sure the floor beneath it can handle the chalk dust.
Create Paper Decorations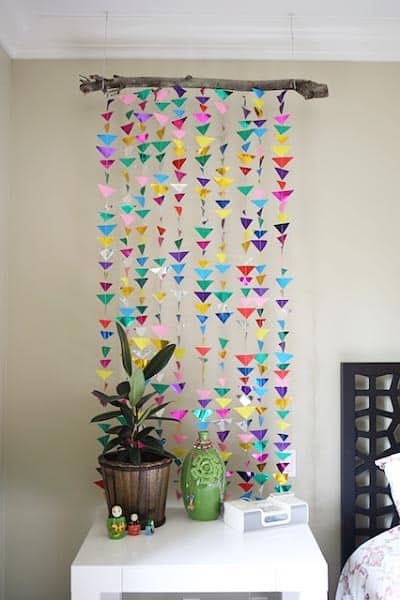 Check out Deborah's super pretty origami paper decor piece at My Life at Playtime.
Using paper to create home decorations is as easy, fun, and budget-friendly as it gets. But although paper crafts are simple, don't underestimate the effect they can have at tying a space together.
Use origami sheets to create different animals, such as butterflies and cranes.
After making several of these, you can then pin them on a wall, creating a bold statement. To get the most out of the feeling they bring, try placing them on a more empty wall that has little furniture. This will make them pop!
In addition to origami crafts, you can also use paper to create other things, such as stars.
Match them with other accent colors in a room, then stick them in strategic places onto the wall. These can work great in cozier spaces, such as bedrooms.
Ensure a Comfortable and Inspiring Workspace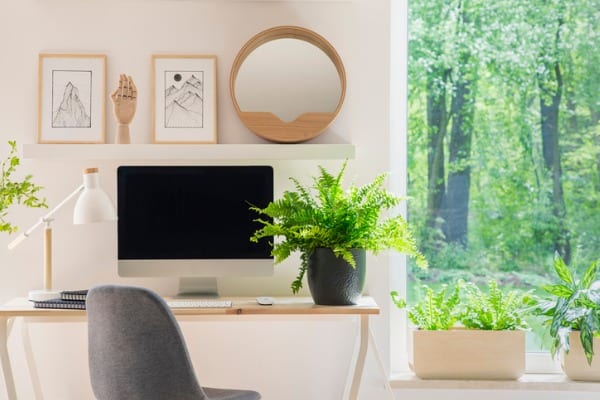 When the pandemic started, most of our lives completely changed. Keeping our distance from one another has become a must.
It is safe to say that staying at home as much as possible has been an eye opener to many. Most of us realized that home is not an ideal place to work from.
At our offices, we had coffee machines to drink from, meeting chairs to relax in, height adjustable desks to modify to our liking, one or two monitors and a keyboard and mouse to work on.
A lot of us have also had to move to using laptop screens and cramped workspaces at home. It's less than ideal for sure.
Do yourself a favor and pick out a corner of the house that is just your to work from. Find or clear a small table and get a comfortable chair.
Just as importantly, make the space yours so you feel like it's not just some makeshift piece of your home where you go to work.
Decorate the space with things you like and that bring you joy – flowers, personal photos in actual frames, decor from places you love to visit.
You can also use your favorite colors, or choose brighter, blueish or greenish tones to life your spirit and be more productive. This can go a long way to helping you get through these crazy times.
Try Making a DIY Painting
Never underestimate the artistic value that canvases can bring to a space. Painting them yourself can make them extra special.
If you're talented with a paintbrush, you can go about choosing a design and getting to work. Try to be selective with the colors you use.
They should match other accents around the room. Make sure the image that you paint fits in with your home's look, as well.
If you're not much of an artistic virtuoso, you can find other objects to help you out. Consider using things such as fruits and vegetables as temporary stamps. Dip them in paint then press them across one or two canvases.
Depending on the fruit you use, this can create an even and professional look.
You can decide between using a few large canvases or a number of smaller ones. Depending on the space, you can also mix and match different sizes.
Add Neutral Wall Stripes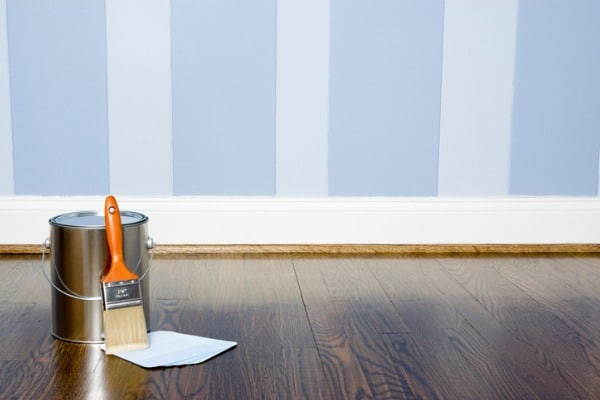 Sometimes, all a wall needs to shine is a little texture. Painting neutral wall stripes can be a great way to give it that.
Find an open wall that feels bland. Then, starting at the floor and making your way up to the ceiling, paint large stripes across the wall. Don't make them too thin, as this can make the wall look too busy.
You should also make sure that the color you use is neutral and not bold. This will keep it from feeling too overpowering, and will also give the wall more depth.
Try choosing a color that is either a shade darker or a shade lighter than the present color of the wall.
Stencil Your Doormats
If you don't have a doormat, you should get one. Doormats are a representation of your home's personal style, and in some cases, your sense of humor.
Adding stencil designs onto them can help make them extra special.
Choose to add a meaningful quote, an image, or your family name. Depending on the look you want to show off, you could also choose something fun, such as a glass of wine.
Check out sites such as Pinterest to find a stencil design pattern that you like, as well as to learn how to go about making it.
Once you decide on a stencil design, you can then spray paint it on. If you don't have access to spraypaint, traditional paint will work as well. It might take longer to complete, however.
Make sure that the paint type you use won't rub off onto your shoes. It should also be weather-resistant, and capable of withstanding different temperatures.
Find Places to Put Plants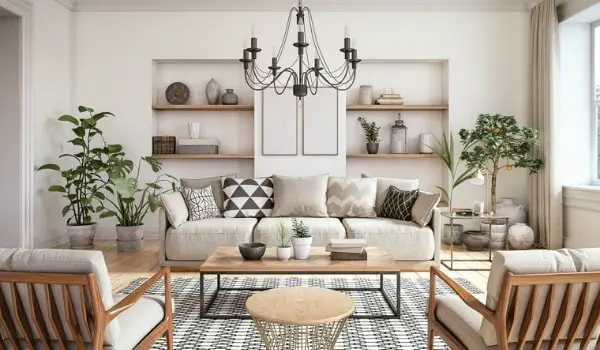 No matter how well-decorated your home is, you can always find places where you can incorporate natural elements. Adding plants can help your home feel airy, fresh, and clean.
If you're low on space, you can install shelves and stands on your walls. This can be an easy way to brighten a room without wasting space.
In addition to plants, you can also put objects such as picture frames and candles on them.
When looking at making your own stand or plant holder, choose a style that compliments your home. For some people, this will be something rustic and simple, like a single wooden board. Other homes may benefit from more elaborate styles.
If you're nervous about the maintenance that goes along with taking care of plants, don't worry. There are a number of hardy and resilient plants that can survive under even the most negligent orders.
Turn a Dresser Into a Kitchen Island
Islands are practical and add aesthetic value to a kitchen. If your house doesn't have one and you have the room, consider using an old dresser in place of an island.
This can be a cheap way to add additional space for cooking, baking, and crafting. You'll also be able to move it around if necessary!
Look around on places such as Facebook Marketplace or Craigslist to find a suitable dresser. It should be low enough to work on and should match the style of your kitchen. An eclectic look can also look good though, so don't worry if it doesn't match your counters.
Once you find a suitable dresser, give it the attention it needs to look its best. If you're skilled with woodworking, this might be an opportunity to show off your skills. Then, paint it an accent color, and wheel it into your kitchen.
Try These DIY Project Ideas
You might even be surprised to learn that some of these DIY ideas can actually add value to your property, you can find out when you've made some of the changes to your interior by visiting The Property Buying Company for a valuation.
Sometimes, budget concerns can make decorating your home seem like a difficult process. Yet by following this guide, you'll be able to find cool and affordable DIY project ideas that can make your home look great. You'll also have fun doing them!