I was looking for a simple way to add a touch of fall to my wardrobe and decided that a rustic acorn necklace would do the trick! This darling necklace is the perfect accessory to go nuts over this season! 😉
Wanna make your own acorn necklace?
How to Make Your Acorn Necklace
First of all, you'll need an acorn, and the best place to search is in the woods, of course! I went on my acorn hunt on a beauuuuutiful fall day.
It was fun taking in all the colorful leaves as I scavenged for acorns. The task proved a bit challenging as squirrels had already eaten so many of the fallen acorns. Luckily, with a bit of searching through the leaves, I found a few to take home.
And, just in case you were wondering, this is what a crazy-crafty lady looks like when she is scavenging for acorns… look out squirrels here I come. Finders keepers! ;
The acorn I decided to use had a bit of stem at the top of it which made it easy to wrap the wire around. I wrapped the wire around the stem a few times and created a loop in the back for the chain of the necklace to thread through: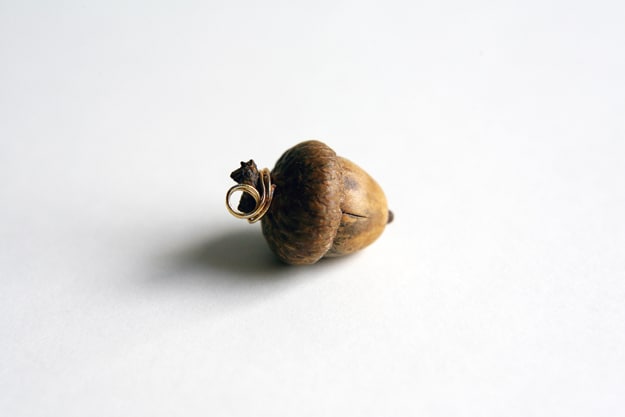 Here is what my acorn charm looks like from the front. (Tip: To make sure the acorn cap stays on the nut, I gently removed it and adhered it securely with some glue. That made the acorn charm less fragile and less likely to fall apart during wear.)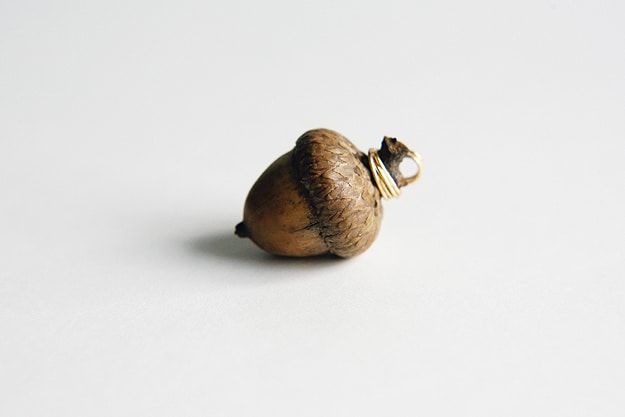 And that is all there is to it! Put on your necklace and enjoy these fall days.
What things do you enjoy most about the fall?