A futon is a stowaway kind of bed, originally from Japan, that is a space saver and provides a comfortable place to sleep.
Futon covers come in various styles, patterns, and colors; they keep the futon clean and as good as new.
Before you think of buying futon covers, learn how to make a futon cover with our curated collection of DIY futon cover ideas.
Readymade Futon Covers
And, if you don't wish to DIY futon covers, we have reviewed a few readymade futon covers to recommend to our readers.
Let's dig in!
#1 White Sheet Futon Cover
This is pretty basic! Clean your futon; spread a white sheet on it, and tuck in the sides and corners. Prop up colorful cushions to make it cozy and comfortable.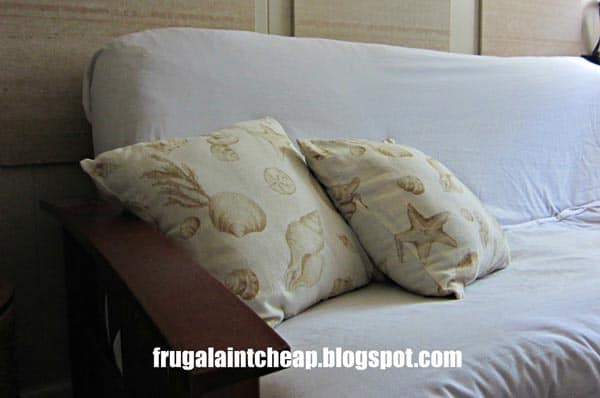 Daniela did this at Frugal Ain't Cheap.
#2 Strapped DIY Futon Cover
Elastic or cotton futon covers often slip off the mattress. A possible solution is to stitch velcro to the mattress and the sheet, but a recommended solution is to use sheet straps.
You need a piece of elastic and two hooks stitched at both ends. Sew two hooks each on all the four corners of the futon cover, and attach the straps to each corner – problem solved!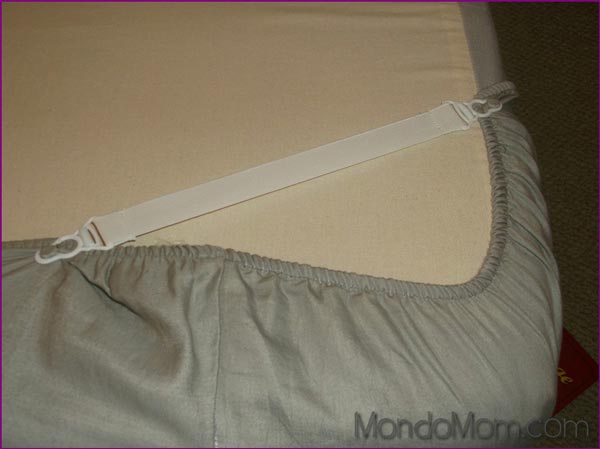 Jennifer at Engineer Mommy shows how sheet straps futon covers are the best way to keep them from slipping off
#3 No Sew Lattice Futon Cover
This is possibly a very creative futon cover if you can get the measurements right! You don't need to stitch anything.
The DIY uses a lattice pattern, which is the art of interlocking or crisscrossing strips of fabric to create a big fabric mural. Choose any fabric material you like, cut in even length, and lattice it.
Hold the ends together and place it on the futon, and tuck in the sides. If you are unsure if this will work or not, use velcro strips to keep the pattern connected.
#4 Nirvana Embroidered Futon Cover
Made in the USA, this futon cover is an embroidered one with a beautiful design pattern. It fits a standard 6″ to 8″ futon mattress. Its three sides are zippered for easy removal, and it is stitched for durability.
It comes with a lifetime guarantee on materials and workmanship. It should be washed with cold water only.
Learn more about this beautiful design.
#5 Crochet Futon Cover
You need to have crocheting skills to DIY a crochet futon cover.
Begin by measuring the futon size and creating different crochet pieces to be sewn together. So, you need two big crochet pieces for the futon seater and the backrest, and two more if it has armrests.
Stitch all of them together to get a single crochet futon cover. Design any desirable pattern. You can also crochet matching cushions for the futon.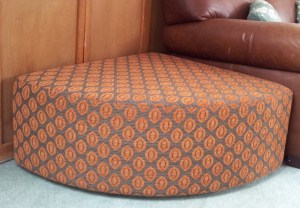 The Stitch Sharer demonstrates how to crochet covers for futons and couches. Take a look for inspiration!
#6 Fitted Sheet Futon Cover
Fitted sheets are mattress covers that come with elastic bands on the sides. Buy a fitted sheet from any retail store like Walmart.
Wash it and dry before using it on the futon as it might shrink. Cover the futon with the fitted sheet and attach clips on the backside, so the futon cover remains in place.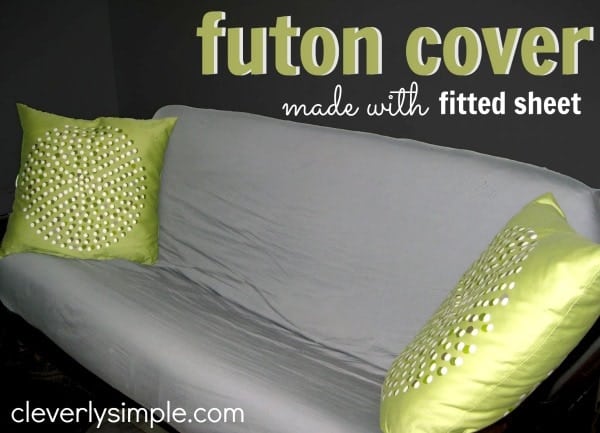 Lynette shows how to make a futon cover with a fitted sheet on Cleverly Simple.
#7 Twin Cover Futon Slipover
The DIY options until now were of a single piece of bed sheet used as a futon cover, right?
This DIY futon cover makes uses of two separate cotton sheets that are sewn together to create a futon slipover. You need a heavy-duty sewing machine, and you have to be on the futon mattress to sew-as-you-go.
It needs a few hours to complete, and the end result is a well-stiched futon slipover.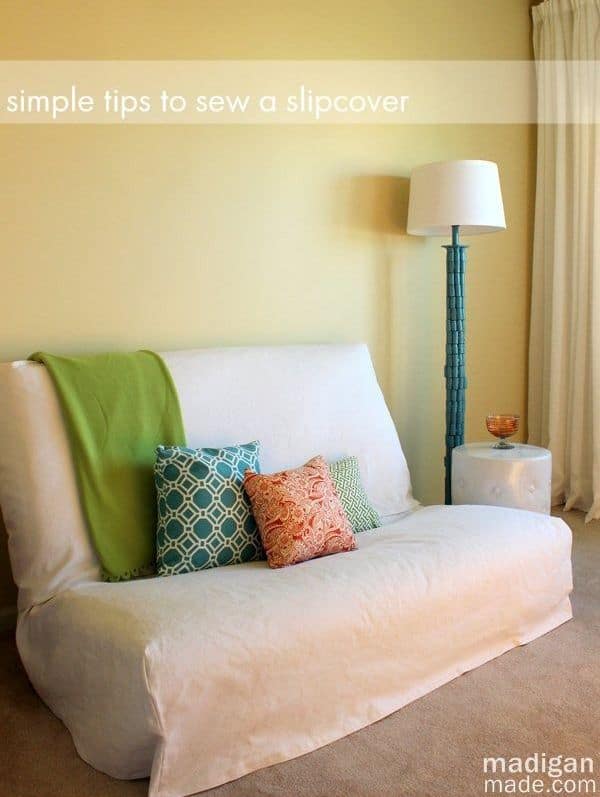 Shannon from Rosyscription walks you through the detailed process of sewing a futon slipcover.
#8 Machine Washable Stretch Futon Cover
Made with Jacquard knitted fabric, which is 15% spandex and 85% polyester, this is a rich and textured armless futon cover with protective elastic stretch.
The one-size-fits standard futon dimensions. The slipcovers are eco-friendly and an ideal choice for homes with kids and pets.
It has a vibrant small checks pattern and is washable. It gives the futon a fresh aesthetic and protects it from stains, spills, and tears.
Check this one out in more detail here.
#9 Natural Dye Futon Cover
Made with 8% spandex and 92% polyester, the trendy and modern natural dye futon cover features exquisite workmanship. The edges are reinforced with five interlocking stitches to protect the borders.
It dries quickly and is machine washable. It is a perfectly fitted futon protector elastic shield cover. Throw in some cushions to complete the look.
See the many options on this great looking cover.
#10 Stapled Futon Cover
All you need is a commercial stapler – the ones furniture makers use – from the hardware store and a colorful futon cover fabric which is waterproof, spillproof, dustproof, and easy to clean.
Place the fabric over the futon and tuck it in as is usually done. Pull the sides neatly and staple the ends for a sleek look; that's it!
Bonus: How to Take Care of a Futon Cover?
Here are some DIY tips:
Air the mattress frequently.
Use a stain-free deodorant.
Rotate the mattress periodically.
Vacuum it twice every month
Clean the futon bed frame
Use a damp washcloth to remove spills and stains.
—
Try these DIY futon ideas when you're ready to redo your home interior. Feel free to experiment!
Drop a comment here to share your DIY futon cover idea.