Do you love games? If you want a gaming table for the whole family but do not want to spend a lot, you could make your own piece that you'll be more than proud of.
Whether you are into dungeons and dragons, poker games, board games, puzzles, or even a casual game of pool, enjoy them with family and friends using these DIY gaming table ideas.
Let's see what they are and prepare to be inspired.
#1 DIY Digital Gaming Table
A cool idea if you're into digital games. Create a combined console having a touchscreen TV attached to it with accessorizing spaces such as cable slots and a mug holder.
This digital version accommodates three people. You need to build a dedicated workstation and install a TV on it.
Materials like screws, wooden boards, glue, and other tools are required, and you can find most of it on cutmyplastic.co.uk
Try this if you have done similar projects like this in the past, which requires an intermediate level of efficiency to complete each step.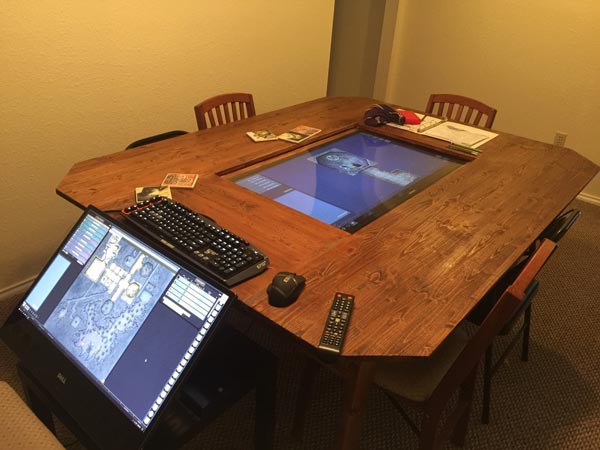 See how the blogger at Caethial built their version. Tons of photos are there for clarity.
#2 Tabletop Gaming Table
If the whole family is into board games, you can repurpose a dining room table into something you're family will love playing games on.
It has raised borders around it and shelves below it to store gaming stuff. It is a cool weekend project.
You need a wooden board, tablecloth, adhesives, and a toolkit to construct this one.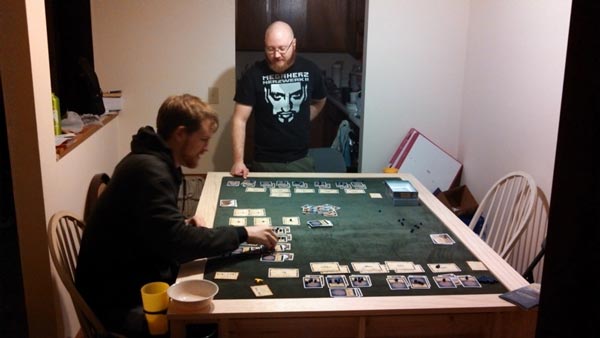 This family at Board Game Geek built theirs for playing cards. Check it out!
#3 Multipurpose Gaming Table
A huge multipurpose piece of DIY furniture that needs its dedicated space to function.
You have a classic gaming table, conferencing options, dining and coffee table – all rolled into one! Isn't that awesome?
This one has an embedded display screen for displaying maps, presentations, and gaming visuals.
The TV is protected from spillage and damage with tempered glass.
Additionally, you can install a stereo audio system, USB slots, HDMI slots, and other external power outlets.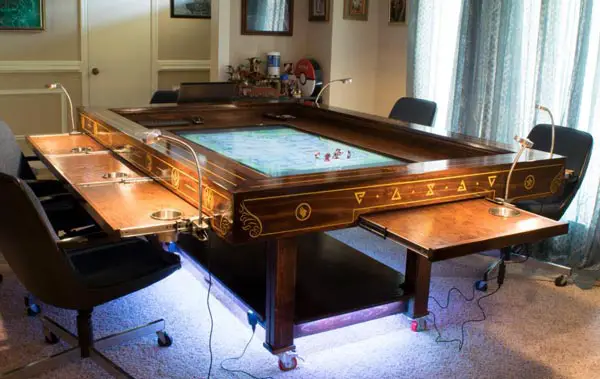 Gaurav Sood writes about building this one at Homecrux.
#4 Portable Outdoor Gaming Table
Easily a weekend project if you don't have much time, this is an ideal combination of an outdoor dining and gaming surface. It is durable and functional.
It can seat six people; it's portable and can easily fit on most patios.
You need cedar board, wood glue, and tools like jigsaw, drill, and hammer for this DIY gaming table.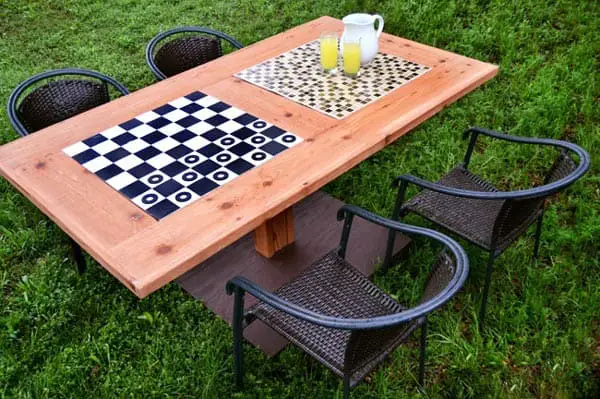 A Black and Decker contributor walks you through the detailed process of building a portable outdoor gaming table.
#5 Outdoor Gaming Table
If you are just starting out, this DIY outdoor gaming table is easy to handle.
The tabletop has a flipping functionality and is suitable for all kinds of board games such as chess, cards, and checker.
This doubles up as a place for coffee and drinks too.
You would need lumber, paint, wood glue, saw and chisel, and other basic tools to go through each step of the project. It can be made over the weekend easily in just a few hours of time.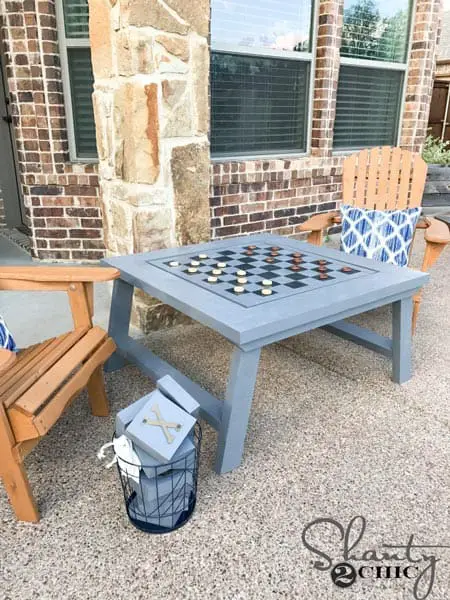 Read how the family at Shanty 2 Chic made their customized version with ease.
#6 Generic Board Game Table
An epic game night is what you need when everyone is snowed in!
Play all your favorite board games with this easy conversion hack.
You need blue neoprene fabric to cover the surface, and it can accommodate six players around it at its max.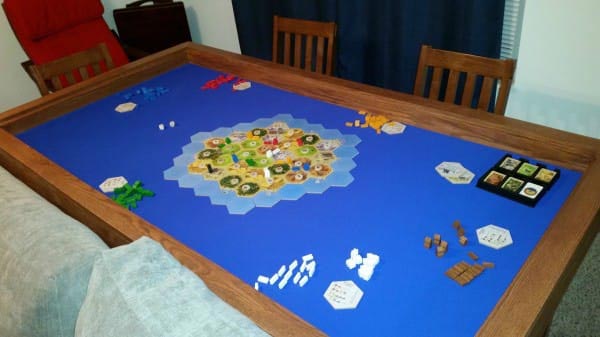 Ariana Seigel from Little Things shows how they did a transformation and made their own board game table for her husband.
#7 DIY Shuffleboard Setup
This DIY gaming table is a twist on the traditional shuffleboard equipment.
It needs sewing elastic and an old door to repurpose, and it even has a tabletop!
The sides have pre-primed edges installed to prevent the pucks from flying off.
You need wooden legs, paint, tape measure, screwdriver, drill, and other materials.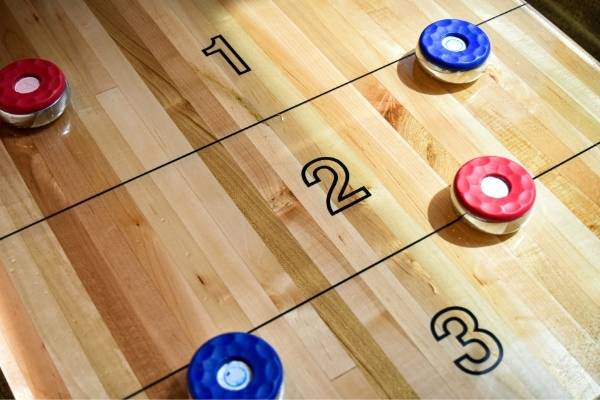 Go through the detailed tutorial at This Old House by Jennifer Stimpson.
#8 Assembled Board Game
This DIY requires significant experience with woodworking. You build a board game from scratch – create the individual pieces and assemble together including the top, legs, edges and finished surfaces.
You can purchase a few readymade parts, but the fun is getting your hands dirty!
It will take a couple of days to complete each step. A lot of wood, sandpaper, drill, circular saw, wood glue, and other hand tools are required.
Play any board game as you like or use the it for dining or maybe as a table to groom your dog on?
Hey, the point is this one is one versatile, multifunctional piece of furniture.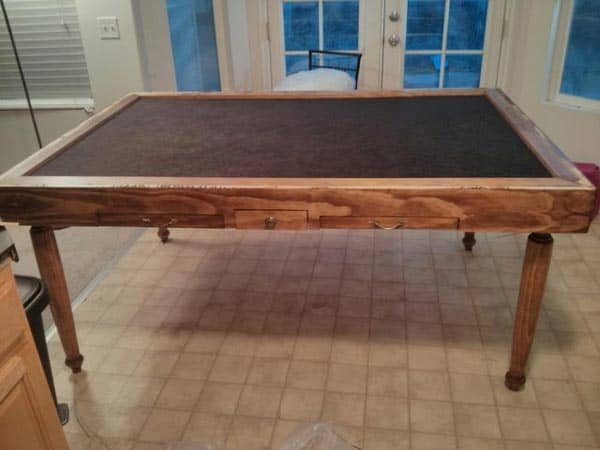 An unnamed person wrote a detailed journal hosted at Imgur about how the construction of a board game helped him to handle depression.
#9 Go Classic with Maple
The DIY needs an advanced level of woodworking knowledge. Made with high-grade maple wood, the classic gaming table is a transportable one.
It has 3 inches deep vaults and has seven desks.
The DIY project will take around a month to complete in its entirety.
It has cabinet pulls, added hinges, storage areas.
You'll need a high-end toolkit to accomplish this.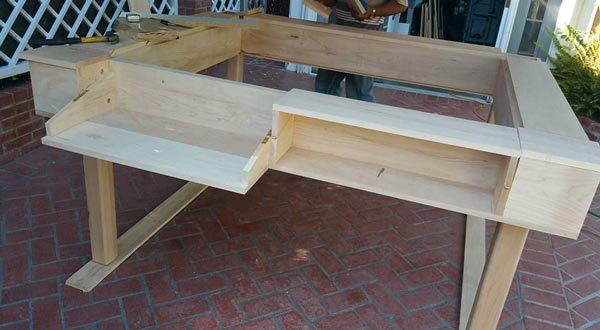 This is our second entry from Board Game Geek with a detailed tutorial from Stephan Reese.
#10 Custom PC Gaming Desk
Online gamers have specific gaming desk requirements.
While readymade ones sold online are good enough, professional gamers need unique and custom setup gaming desks.
A DIY PC gaming desk is what you need. The Ikea tabletop modified with inbuilt functionalities such as chargers and cables, gaming equipment, and other gadgets works best.
You can combine two together to set up two PC monitors and hard drives.
It can be a gaming station and a workstation, combined.
The PC Battlestations video shows how to build a gaming desk with multiple PC monitors and valuable, high-end gadgets.
—
The best thing about a DIY gaming table is that you can design, modify, and build on these ideas. Build a piece that works best for your needs, hobbies and life style. Cards, board games or electronic entertainment can work!
All you need is determination, a table to repurpose, and time. Go basic or build an elaborate one – it's all up to you!
Which DIY ideas above is going to get you the most inspired?