There is something so lovely about suspending a touch of nature indoors. I've been wanting to make my own macrame planter for a while now, and over the weekend I got inspired to take the plunge and learn how to make one of my own. Now, I have a plant hanging oh so pretty in my kitchen.  Oooooo la la…
Wanna learn how I made my planter?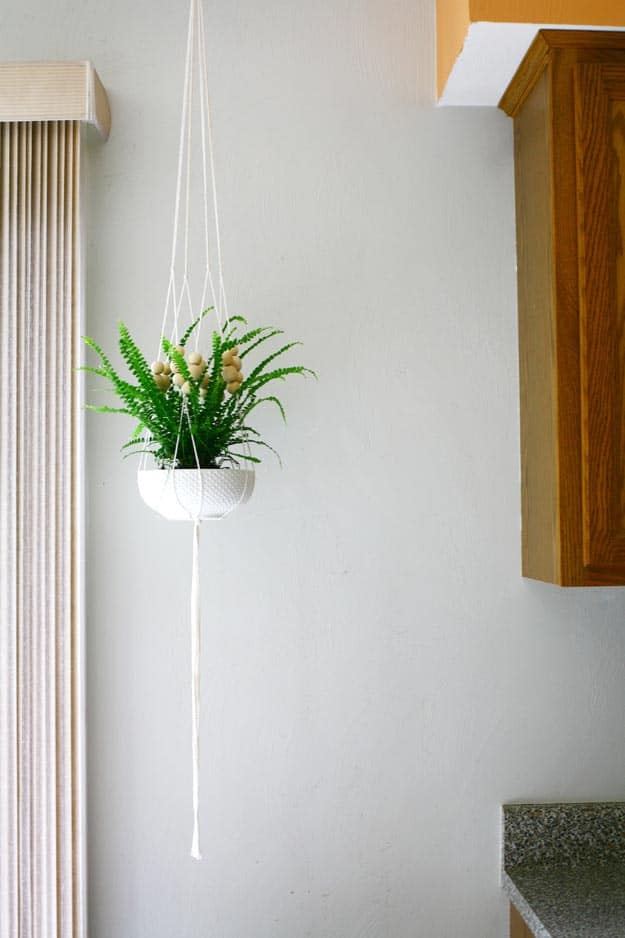 HERE'S THE HOW TO:
Since macrame is new to me, I was on the lookout for a simple design.  I ended up using this 10 Knot Plant Hanger from Macrame For Fun for my basic design.  I loved it's simplicity and knew it would be the perfect pattern for a beginner like myself.
Of course, I had to add a bit of my personality to my project as well.  First off, I jazzed it up a bit by adding some wooden beads to the cords before tying the second set of knots.
Also, since I wanted my planter to have a clean and modern look, I knew I was gonna need to find the perfect pot to fit that aesthetic.  Wanna know the best place to find stylish and modern planters?? Here's my tip…. be sure to check the home wares section of retail stores!  Yep, that's right. In fact, the "pot" I used is actually a cereal bowl from Target. Shhhhh… don't tell, it will be our little secret.  😉  Just be careful when watering your plant, since there aren't any drain holes.
Another tiny, little detail I added was that I wrapped yarn around the hanging ring to give it a more cohesive look.
And, since I wanted to suspend my planter from all the way up at the ceiling, I made my hanger a bit loooooonger than the video suggests.
Project Details:
Supplies: cord, wooden beads, ring for hanging
Pattern: 10 Knot Plant Hanger by Macrame for Fun
Plant: I'm actually not sure what kind of plant this is.  The tag just said "tropical foliage". Helpful, no?!  😉 Any small fern would give you a similar look.
———————–
I had so much fun dabbling in macrame for the very first time, and this little touch of greenery is such a lovely addition to my kitchen.  This project was super easy, affordable and quick to whip up. Plus, it looks simply fantastic to boot. Gotta love that!
I've really been enjoying adding more plants around my house.  This planter is the most recent of several new green additions.  Although, to be honest, I'm also trying my best not to neglect them, as I don't have the greenest of thumbs. However, I'm thinking that since this one is always in sight, right next to my kitchen sink and sitting in an eye catching hanging planter…. hopefully I'll remember to keep my eyes on it and give it the care it needs, right?! 😉
P.S. I know my planter is hung off center, but  the dang stud in the ceiling wouldn't allow placement directly in the middle of the wall.  That's ok, though…  I'm now planning to add some art to the bare wall to fill up that extra space. I think it will be more interesting that way anyways!