A party feels incomplete without the right decorations. Adding some trinkets and tinsel uplifts the tone of the room and sets the mood.
But there's one decoration you simply cannot overlook: the table skirt!
The right table skirt alone can make a room look lively and party-ready, especially if it compliments an attractive table cloth.
But that's not even the best part:
You won't believe how easy it is to make a table skirt yourself!
In this post, I'll take you over 11 of the best DIY table skirts on the internet that you can make in hours!
1. Elegant and Refined Table Skirt
If you're looking for an easy-to-make table skirt, Shelley from the Crazy Wonderful blog has just the design for you!
She first places a perfectly sized piece of plywood over her old buffet. It gives her buffet cleaner corners and also removes the need for her to staple the skirt to the table directly.
While Shelley uses a plain drop cloth, she staples it to the plywood stylishly, which is what gives it an elegant look.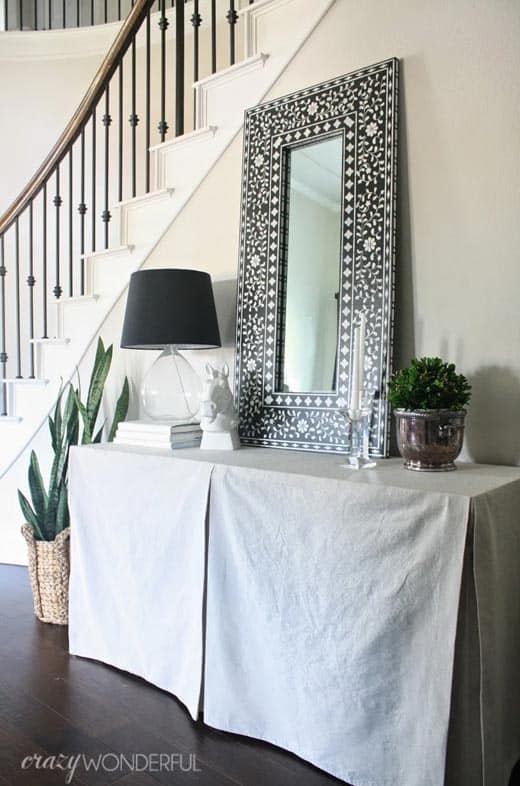 Find out how Shelley achieves this elegant effect over at the Crazy Wonderful blog.
2. Striking Pink Table Skirt With V-Fold
In her tutorial, YouTuber Jasmin DIY wonderfully explains how she made a table skirt with box pleats, level folds, and a V-fold.
Making the box pleats is very simple – you just have to pin single pleats the right way. But her intricate level folding technique is what gives the skirt its charm!
3. Frozen Movie Themed Tulle Table Skirt
Jo from The Mamanista blog describes her design perfectly – it has a dramatic, yet beautiful feminine vibe.
Her formulas for cutting elastic and tulle remove the uncertainty from how much of them you need to buy, which is excellent.
Positioning the loops of tulle correctly and pinning them in place is all you need to do to make the adorable table skirt!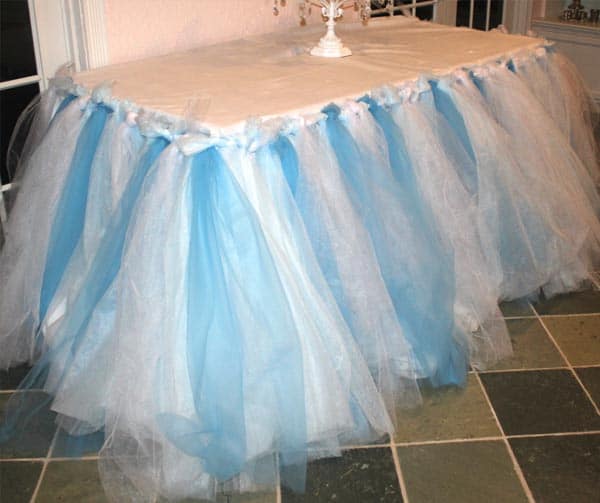 Read Jo's nine-step method of making this skirt on The Mamanista blog.
4. Mickey Mouse Clubhouse Themed Table Skirt
Blogger Johanna Spaulding has cracked the code when it comes to hosting the perfect Micky Mouse themed birthday party!
While she doesn't make pleats as Jasmine DIY does for her skirt, she does fold the plastic cloth to make tasteful ruffles.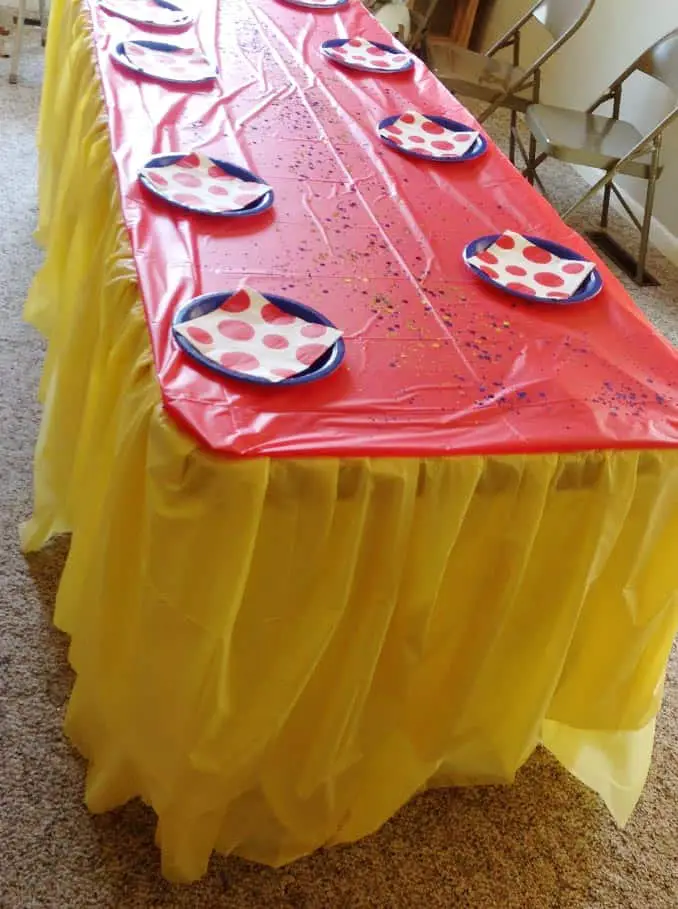 Find out how Johanna made this cute table skirt for $3 on her blog, My Crazy Blessed Life!
5. Gorgeous Ruffle Table Skirt
Michele shows how easy it really is to make a ruffle table skirt on her YouTube channel Celebrate! with 27 Layne.
She makes a spiral on a piece of paper and cuts her cloth using it as a guide. After cutting out a few dozen cloth spirals, she pins them to her table cloth to achieve the ruffle effect.
6. Lively Teal Table Skirt
While most of the table skirts on this list are for parties, Megan from The Homes I Have Made blog tailors her table skirt for a printer station.
Megan uses the teal fabric she got for $5/yard and stitches the perfect hem for it according to her table's measures. And that's the only stitching she does!
She staples the cloth on the table's underside, and the white top of the cabinet contrasts beautifully with the teal cloth.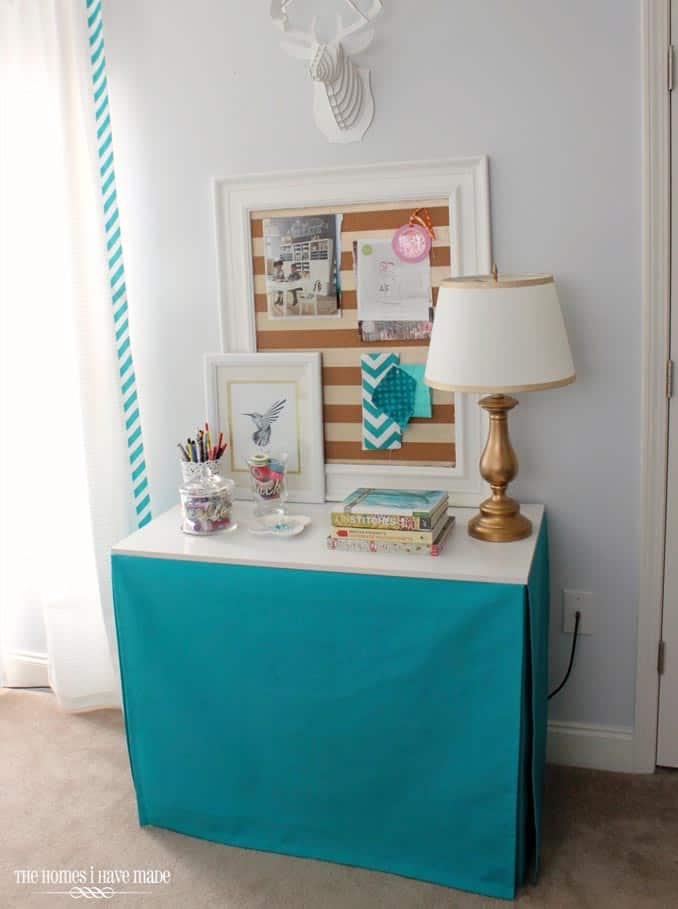 Megan shares the full instructions on her blog, The Homes I Have Made.
7. Beautiful Table Skirt For Baby Shower
Baby showers are a very, very special occasion, and putting up the right decorations is essential.
But there's an easy way to nail the table skirt's look – make large box pleats using a simple white cloth, and make table swags with pink fabric.
If you don't have buckles for the swags, you can also use pink roses!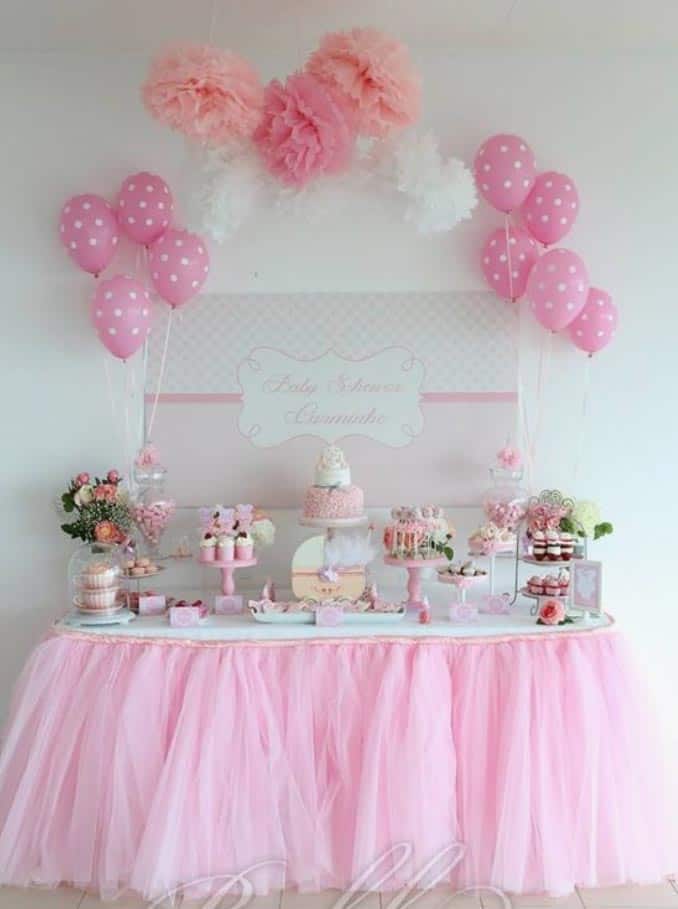 Get inspired from Little Wish Parties and this incredibly sweet table skirt.
8. Bright-Colored Table Skirt
Instructables user jessyratfink's comprehensive tutorial shows you how you can make the sweetest table skirt for a craft fair.
She first cuts a blue fabric for the top of the table and then cuts her yellow cloth for the table's skirt. She recommends cutting an inch extra from the table's height.
Using her sewing machine, she gathers the cloth and hems the skirt, and adjusts the gathering on the table.
She then pins the skirt to the top cloth and stitches them together.
Easy!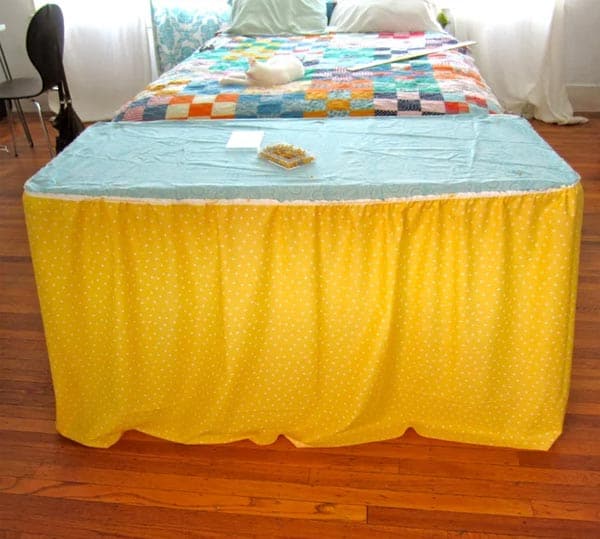 You can read Instructables user jessyratfink's tutorial by clicking here!
9. Princess/Ballerina Party Table Skirt
Birthday parties call for a special dessert table, and what better than an adorable pink tulle table skirt to give it that look?
Jillian Leslie's design is simple: she covers her table with a white tablecloth and wraps the elastic around the table, pinning it at several points.
She then loops pieces of tulle on the elastic, and when all of the elastic is covered with tulle, Jillian glues a blue trim to it using Fabri-Tac adhesive.
Gorgeous, isn't it?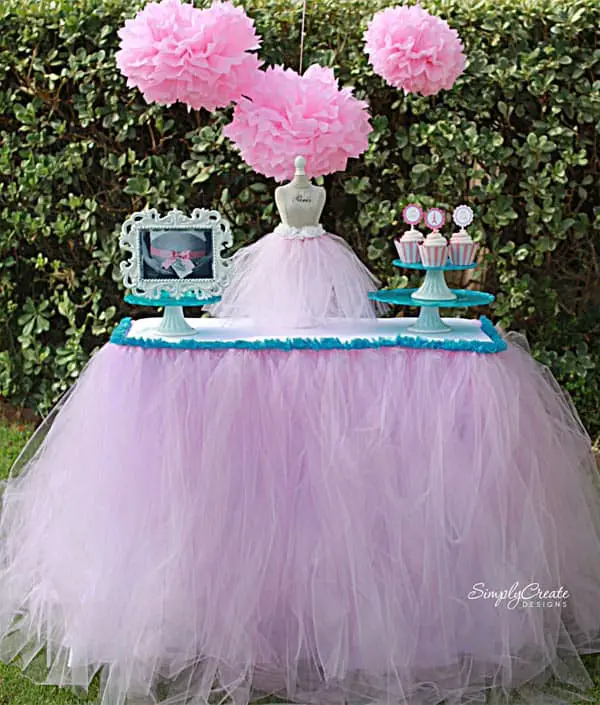 You can follow Jillian Leslie's tutorial over at Catch My Party and make one for your party!
10. Neat and Graceful Purple V-Fold Table Skirt
This is Jasmine DIYs second entry on my list – her designs are too good!
But this time around, she makes double pleats and not box pleats, which allows her to make the beautiful diamond design.
11. Eye-Catching Diamond Table Skirt
While RLM Tube's design is gorgeous, it's also the most intricate of DIY table skirts one can make.
He starts by making 16 pleats in the center of the table, and then box pleats for the rest of the table.
He makes several diamond patterns using the 16 initial pleats, and this could take you very long if you've never made a skirting before.
But the effect and the compliments you will receive certainly make it worth the trouble!
—
You now know how to make table skirts – excellent!
But you must remember that you don't have to use the same cloth colors or use just one of these ideas.
There's nothing wrong with mixing different designs on this list to make DIY table skirts that match your style and taste!