Any decor or celebration becomes extra special when you add candles. They give a touch of elegance, class, and beauty to any setting.
While there are tons of creative products when it comes to candles, there's something cozy and simple about the tea light variety.
Not only are they cheap, but they are incredibly versatile depending on what kind of holder or container you put them in.
Let us take a look at some of my favorite DIY tea light candle holders you can put together yourself and create exactly the scene you want for whatever mood you're in.
#1 Washi Tape Tea Light Candles
Thank you, thank you to the creators of washi tape!
Enliven those boring silver metal trays holding these little wax candles by decorating it with colorful washi tapes. Place them alongside other event decors to light it up!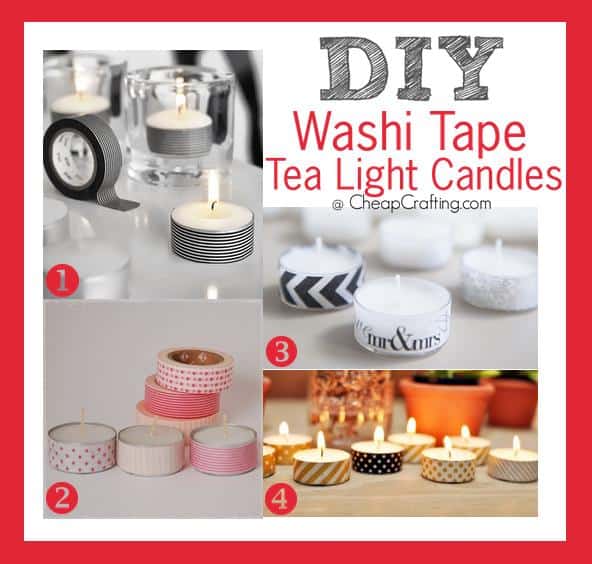 Cheap Crafting shows how tea light candles wrapped in patterned washi tapes change the decor of any event.
#2 Seashell Handmade Tea Lights
Create stunningly unique refitted handmade tea light crafts by repurposing seashells.
If you have seashells lying around, convert it into tea light holders using pre-waxed candle wicks, wax pellets, and medium-sized seashells. The seashells should sit upright and not tilt over.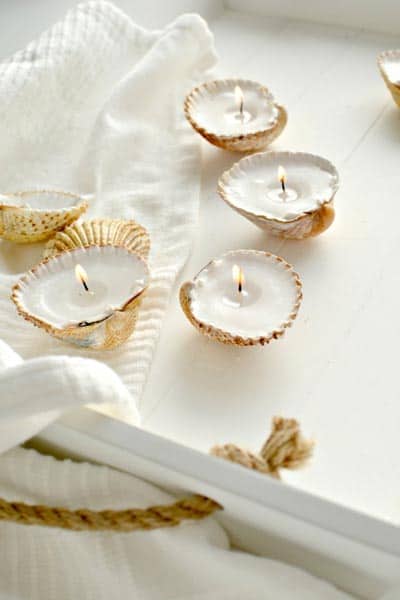 Burkatron walks you through the DIY seashell handmade tea lights process.
#3 Coffee Bean Tea Light Votive
Would you like to wake up to the aroma of fresh coffee? The scent is just heavenly.
Take a mason jar or a ramekin, and fill it with high-quality coffee beans. Place a tea light in the middle and light it up – simple!
The warmth of the candle will send a waft of coffee aroma around the home.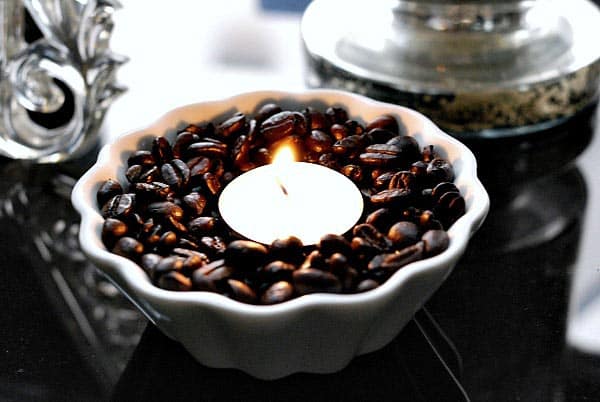 What's Mary Doing explains the right DIY way to create the DIY coffee bean tea light votive.
#4 Walnut Tea Light Centerpiece
Welcome the change of season celebrating nature.
Create a beautiful DIY centerpiece with empty and halved walnut shells. Set the tea light candle in the walnut shells and viola! Your tea light candle holder is ready.
#5 Laced Cement Tea Light Candle Holder
This is perfect for spending the summers outdoors!
Create small cement holders using silicon shapes and embed lace patterns on the outer fold, creating intricate lines of art in concrete. Place the tea lights inside, and you are done!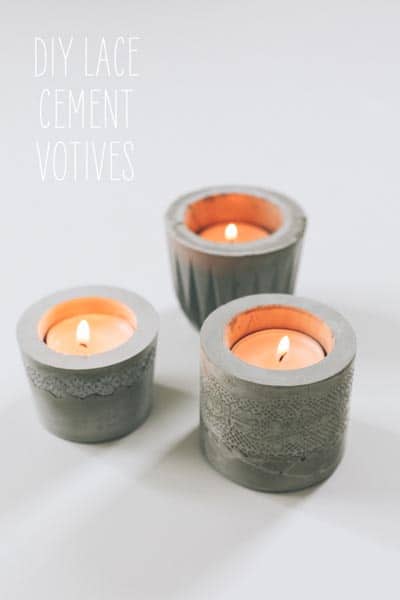 Learn about this and other cement tea light candle holder variations at Say Yes.
#6 Paper Quilled Tea Light Holders
The skill of paper quilling makes for intricate artworks.
Create stunning spirals and swirling paper quilled hearts, which, when joined together, create an excellent piece of DIY tea light holders.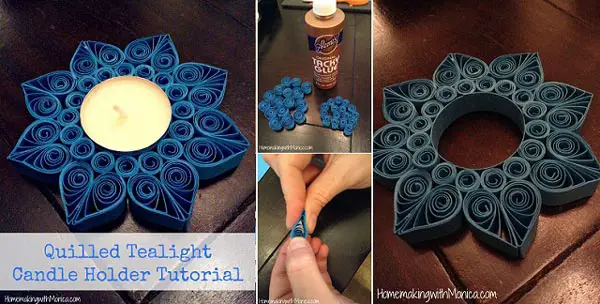 No worries if you're doing paper quilling for the first time! Our Daily Ideas explains the DIY steps with ease.
#7 Silver Bead Martini Glass Tea Light
Whether you want to celebrate the New Year or a birthday, jazz up the decor with the silver bead martini glass tea light candle holder.
Put a tea light in a martini glass and surround it with silver beads…that's it! Place them as a centerpiece on all tables, and watch how the glass, fire, and camera does magic.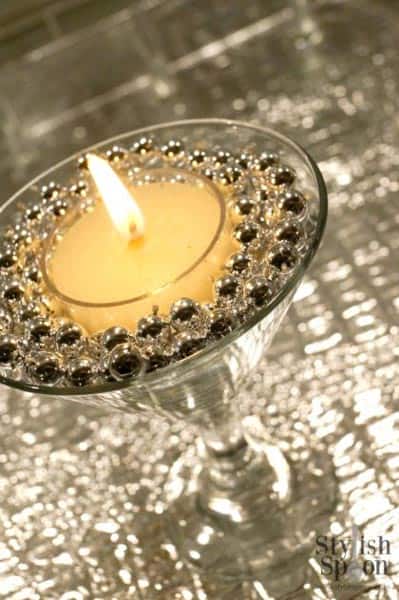 Read about this DIY on Stylish Spoon.
#8 DIY Wooden Branch Tea Light Holder
Do you want to experience woodworking? Start with this DIY. Take a piece of wooden branch and convert it into a candle display.
You need power tools to drill the wood and create the crevice. Put the tea light – use this as a centerpiece in the drawing-room or your garden.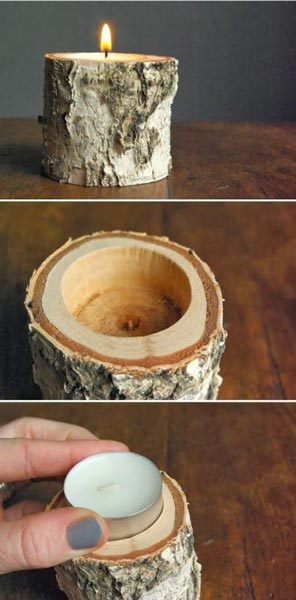 The DIY Cozy Home tutorial gets you started on the woodworking process step-by-step.
#9 Imperfect Clay Tea Light Holders
Creativity is imperfect; celebrate it with these imperfectly shaped tea light holders made with air-hardening clay.
Role the clay and place the tea light in the middle. Let it dry before cutting the semi-hardened clay into any shape you like. Sand it for finesse.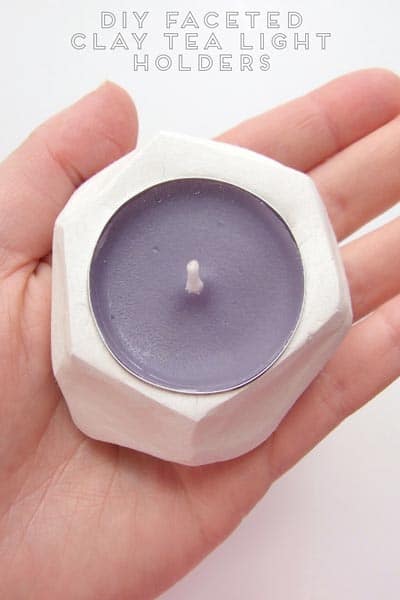 Gathering Beauty explains how the DIY is done.
#10 Gemstone DIY Tea Light Candles
Get creative with simple glasses lying around the house and store bought multi-colored gemstones.
Color the glasses using fevicryl glass colors. Stick the gemstones around the glasses in any desirable pattern, and the tea light candle holder is ready.
It is ideally suited for parties and get-togethers.
Watch the gemstone DIY tea light candle holders come alive at the Dream Garden YouTube channel.
#11 Knotted Hanging Outdoor Tea Light Candle Holder
Make your outdoor space cozy and comfortable with this perfect DIY outdoor tea light candle holder decor.
All you need is a mason jar and jute strings to tie a knot. Once done, place the tea light candle it in and hang it from the ceiling.
Watch how to create the knotted hanging jar at the Spirit YouTube channel.
#12 Autumn DIY Tea Light Holder
A nature inspired interior decor; the autumn-themed DIY tea light candle holder needs few dried golden leaves to complete the look.
Take a mason jar and glue the dried leaves in any desirable pattern. Pour a few white pebbles on the inside and place the scented tea light on top of the pebbles.
A very chic yet simple tea light decor!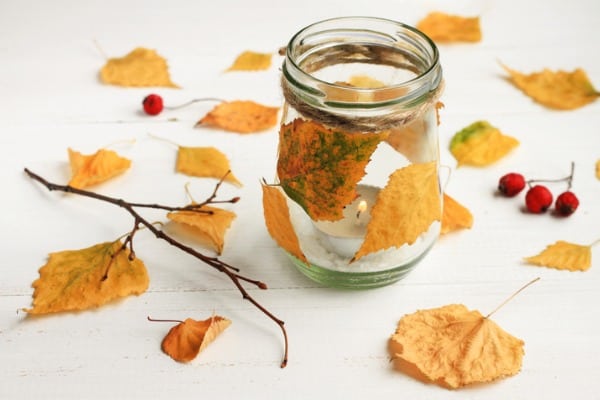 #13 Wooden Tea Light Holding Plate
A really simple DIY that requires a wooden plate and few garden pebbles.
Put the tea light in the middle of the accented wooden plate and decorate it by arranging the pebbles around it.
Experiment with various scented tea light candles for the right aromatic experience.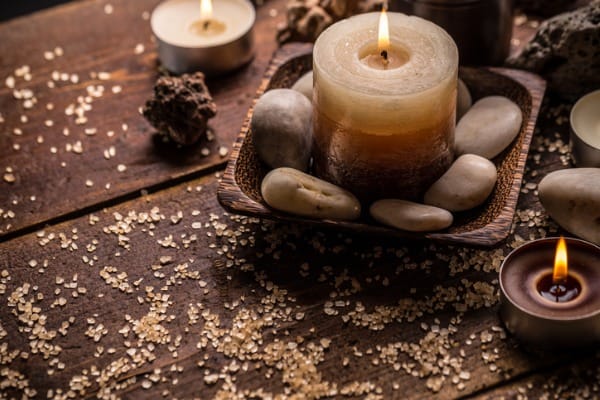 #14 Eggshell Tea Light Holders
Similar to the seashell DIY we have on #2, this is a lovely Easter-themed DIY which even kids can try their hands on!
All you need to do is collect the eggshells, clean the leftover membrane inside, and dye it with the desired colors.
Once dried, place the tea lights inside carefully, and your eggshell tea light holders are ready!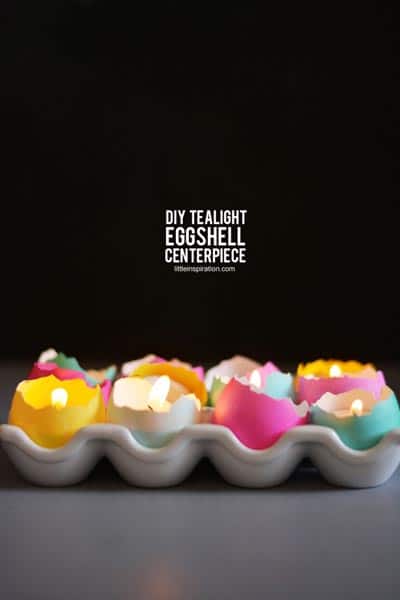 Little Inspiration has a detailed DIY tutorial on creating these fantastic eggshell tea light candle holders.
—
Let your mind wander and experiment with the above tea light candle holder ideas. You can even create your own match holder for the full DIY effect here.
Mix up the materials and patterns to create a unique DIY candle holder of your own.