If there is one room in your home that you'll want to get exactly right in terms of your design ideas, it's your kitchen.
This room is not known as the heart of the home for no reason, and it's highly likely you spend a lot of time in there, whether you're hanging out with friends and family, you use it as a spare workspace, you do a lot of cooking, or it's all of the above.
This is why it's so crucial to make this hub of activity look beautiful and elegant.
You don't want to spend time in a room that makes you uncomfortable or, at the very least, whose design you're not fond of.
Plus, don't forget that if you are going to sell your home, a wonderful kitchen could make all the difference.
The new owners will know they don't have to make any changes and can start using this important room right away, so they could be more likely to make an offer, and you might be able to realise more money for the house in the end as well.
As you can see, there are many reasons why an elegant design for your kitchen is a good idea.
Read on to find out what design elements you might use to create the room of your dreams.
Change The Tiles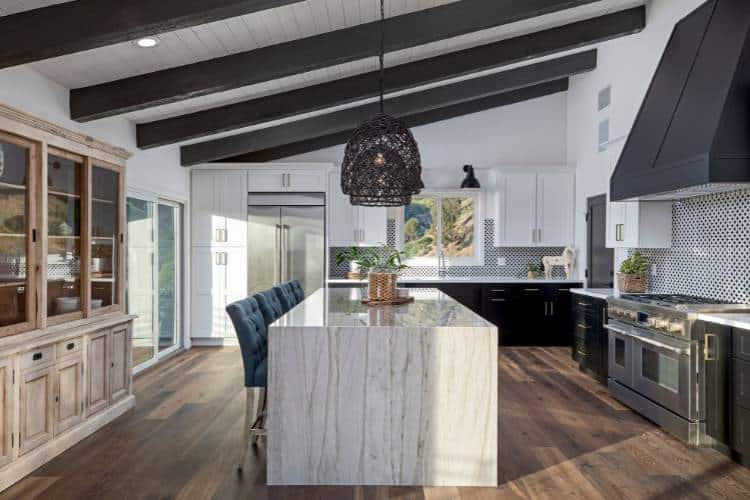 If you're designing a new look for your kitchen, the best place to start is the tiles.
After all, you'll need tiles on your floor, which will be a big area, and you might also choose to install them on your walls.
Even if you only have a tiled backsplash, this will still need some deliberation to decide exactly how it should look.
If you want an elegant solution, you'll have a few different choices, such as marble and stone.
However, if you want elegance, durability, easy cleaning (with no need for chemicals), and a timeless look that you can keep for many years to come, the best option is porcelain.
Not only is porcelain a hard-wearing and beautiful material to use, but you can find a plethora of colours and designs, ensuring that you can make your kitchen look as unique as you are.
Just take a look at mystonefloor.com to see exactly what we mean. You might be surprised by the versatile nature of porcelain tiles, but once you use them, you will love them.
Change The Colour
The colour of any room can make or break the design, and if you use a colour that was popular in the past in your kitchen, it will immediately date it.
Rather than having a timeless, elegant kitchen, you'll have one that looks old before its time.
Changing the colour of your kitchen is a good idea to add some elegance, but you must ensure you choose colours that can stand the test of time rather than whatever is 'of the moment' or you'll only have to change things sooner than you might have anticipated.
The best colours to use are neutral ones, like grey, cream, blue, and white. However, these don't have to be boring just because they are known as neutral, and you can use different shades to match your preferences.
Plus, of course, you don't have to change your entire kitchen just to change the colour – you could repaint your cabinets, which would give them a new lease of life and make them look more elegant.
Use Open Shelving
You might shy away from the idea of open shelving because it would mean all your food and equipment would be on display, but it can actually look very elegant in your kitchen when it's done right, so it could well be something you consider.
What you should remember when it comes to open shelving is that you don't have to have everything on display.
In fact, you only have to have a small number of your more beautiful things on these shelves, and everything else – including food which you more than likely don't want to have on display for aesthetic and hygiene reasons – can be hidden away behind cabinet doors.
Some people choose to display their best crockery on open shelves or their most attractive wine glasses.
Others reserve these spaces for flowers in vases or ornaments.
Having these shelves brings a little more interest to the room and ensures you can display the things you want in the best way.
Use Layered Lighting
You're going to need good lighting in your kitchen.
This is because it's not just a space to relax in; it's a working area, and whether that means homework for your kids, work for you because you work from home, or you need the right lighting to be able to see what you're doing when you're cooking, the point is, lighting is crucial.
What you don't want is ugly lighting that's too harsh, and yet you do need lighting that will actually help you do what you need to do.
The answer is layered lighting.
Layered lighting means having different kinds of light in different areas.
You'll have one main light, or perhaps some spots, but you can also add extra lighting over kitchen work surfaces where you spend the most time, or above a kitchen table, for example.
Think about where your lighting is needed most, and install elegant fittings that look beautiful.