Learning how to decorate with flowers is a unique skill, as so few of us even keep live plants or florals in our home as it is.
There's a reason why flower arrangement is such an art, but you can still use your knowledge of colors, space, and height to improve any space with decadent blooms.
Use the following suggestions to adorn multiple rooms in your home with nature.
How to Decorate with Flowers in the Kitchen
Start in the kitchen and branch out to the other rooms in your home, as this space is often minimalistic and free of decor.
There's a reason why flower arrangement is such an art, especially if they are flower arrangements from places like Flower Chix, but you can still use your knowledge of colors, space, and height to improve any space with decadent blooms.
Flowers are inviting, welcoming and evoke a positive emotional response, which is appreciated in such a creative space.
No matter your style, a clear vase is the easiest way to add florals to the kitchen, but it's best to use common or repurposed items.
For example, you can place blooms in fine China, teapots, silver bowls, or teacups.
Found items will make your vase look less out of place and more Cottagecore (learn more here).
Use vintage cans, mason jars, and containers for an equally rustic look, but it plays more to the casual bohemian style.
Alternatively, you can use repurposed wine or perfume bottles instead.
For a low-maintenance option in kitchens with little light, buy potted succulents and place them on the windowsill.
How to Decorate With Flowers in the Bedroom
In the kitchen, it's unwise to put a large, potted, or stemmed plant on the floor as it can easily be knocked in a high-traffic area.
It's safer to put a sunflower bouquet like these in a tall vase in this room.
If your room is carpeted, or you feel uneasy with a vase on the ground, take advantage of your bedside table, bookshelves or dressers instead.
Short, square vases are safe to put next to your bed in case your arm knocks the blooms while you sleep.
Flowers that are safe from flailing limbs can be taller and more pronounced. Use clear or marble-lined vases for a classy look.
Bedrooms with large, wooden vintage furniture could get away with more eclectic vases, like a Greek Garden flower pot.
Put lavender specifically on your bedside table for its calming effects.
How to Decorate With Flowers in the Bathroom
When decorating in the bathroom, you need to pay careful attention to the humidity levels in this space.
As some bathrooms don't have windows and are often dark, most flowers will die unless they enjoy shade and wet climates, like the orchid.
If your bathroom has a small window, you can purchase a large fiddle-leaf fig tree that will feel right at home in a sunny bathroom.
Moss-walls will look beautiful next to an open bathtub; just be sure to panel the back properly so the moss doesn't seep into the tile.
Any plant you put in the bathroom should have a vase that complements the overall color scheme. If your accessories are brown, buy a brown vase.
Low-maintenance plants, like bamboo and the snake plant, will stay healthy in any bathroom, but you still need to ensure you don't overwater them.
Compensate for the steam and moisture.
How to Decorate With Flowers in the Living Room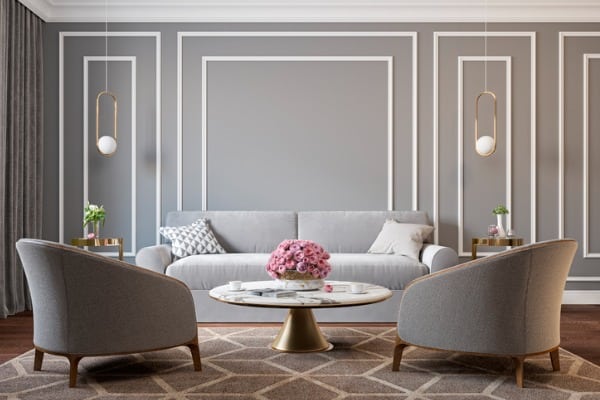 Living rooms thrive off of symmetry: one couch, two chairs, and a center coffee table. To maintain that symmetry, you'll have to use artificial flowers in bulk to take up negative space in the room.
A living room with an accent window could use tall flowering trees that complement your curtains, but a space with a shorter window frame should use stockier vases.
Fill up your side tables and coffee table based on their width. Long coffee tables would benefit from a short vase and large blooms, like the ranunculus, and square tables need longer-stemmed flowers.
Depending on the size of your living room, you may be able to get away with one large plant that serves as a focal point for the space, like a massive hydrangea bush or amaryllis.
Take advantage of the floor space in your living room, unless you have pets or children that may eat your plants.
While you can place trees on the ground, you can also add long-stemmed flowers in a tall vase.
Make sure the vase is thin and tall if it's placed up against the wall or shock and stocky for the middle of the room. Otherwise, you may knock it around.
How to Decorate With Flowers in the Dining Room
When styling your dining room with flowers, you always have to consider the centerpiece of the room: the table. Most of your guests and family will eat dinner here, so make the space special.
A long dining room table should add multiple simpler flower, height, and vase bouquets that provide symmetry.
The amount of vases you use isn't determined by the length. A 6-seating table could have 4 small square vases, while a 10-seating table may have 2.
What matters is how much space you want to take and how much space you have left for food and plates.
A grand dining room table (12-seats or more) can get away with large bouquets filled with different colored flowers, as there's more space.
Some long, narrow dining room tables can only use tiny vases or long boxes. Using boxes or found items will give your place a rustic feel.
Round or square tables look best with a true centerpiece. A wider table needs a larger vase, but small, 4-seaters look best with short vases and sprawling flowers, like hydrangeas.
Long-stemmed flowers add height, but they look best with high ceilings without a chandelier.